Article
Kris Heaton Band Gets Wild with "World Gone Mad"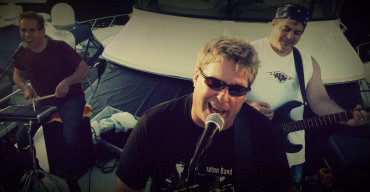 The Kris Heaton Band have recently released their epic record, "World Gone Mad." With an astonishing 6-releases on his belt, Heaton provides us with his best and most ambitious release yet. His sultry brand of Rock, Blues and Pop bring his musicianship to whole new levels. With accolades throughout his career, it's safe to say that Kris Heaton Band is on the rise, and steadily so. 
 
I love songs that transcend labels and genres, songs that introduce you to a different side of a band. "One Thin Line," by Kris Heaton Band does just that as it enters with a cold bass line and some really knocking drums before the band enters with the perfect line, "…one thin line between here and the other side." Kris' husky voice is so diverse and compliments the theme of track he's a little bit of blues mixed with rock and hints of pop. The track is mellow, and reminiscent of southern rock with the melodic tempo. The story is not just presented in the form of the lyrics but in the tone of Kris' voice, it's sorrowful, its passionate, it's the tale of good versus bad, strong versus weak and the fight for the greater good. Standout tracks on the record also include "Something New," and "I Want You," which offer up a musical greatness throughout. On the record it is evident what the Kris Heaton Band have garnered so much praise. Just give one listen to "World Gone Mad," and you'll be hooked!
 Listen via Spotify:  https://open.spotify.com/album/46yw1rTVFSRiL75WLO7ya6
 
Get Social Here:
http://krisheatonband.com/
https://www.facebook.com/pg/KrisHeatonBand/
https://itunes.apple.com/us/album/stand-up/id1088579781
https://www.youtube.com/user/KrisHeatonBand
https://store.cdbaby.com/cd/krisheatonband3