Article
Land of the Rising Sound
Exploring bluegrass and authenticity in Japan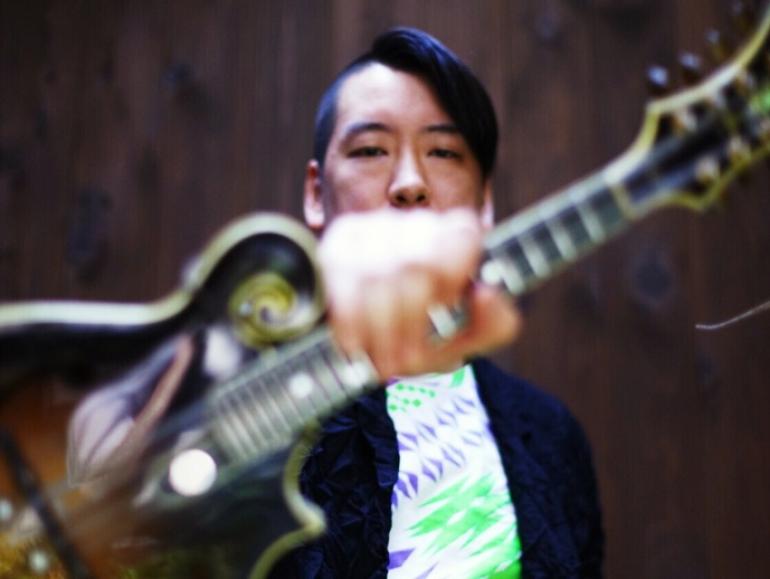 Editor's Note: The following article appeared in our Spring 2016: Roots & Branches issue of No Depression in print. Its author, Denis Gainty, was working on a book about the history of bluegrass music in Japan, and contributed another related article to our forthcoming Summer 2017 issue. When we learned that Denis died this spring, at the age of 46, leaving behind him a family, students, and close friends across the world, including our publisher Chris Wadsworth, we wanted to make sure his passionate exploration of Japanese bluegrass could be shared freely. Please read and enjoy.  
***
I arrive at the festival late in the afternoon. It's August 2013, and the sun is still high in the sky when I get out of the car, stretch my legs, and walk with my new friend Kaz up the slope from the grassy parking area. Kaz's stately, long Jaguar stands out in the parking lot of compacts and micro-compacts, battered pickup trucks and shiny minivans. He's carrying his guitar, and I have my mandolin, my backpack, and a camera. I check in at the lodge at the top of the parking area and pay for the luxury of a dorm-style room with air conditioning. Walking farther, we pass cleared dirt campsites where large, open tents have already been set up. Small children run shrieking around twenty-something adults in folding chairs gather around makeshift cooking areas. Further up the hill, the path cuts to the left and passes a large stage, where workers bustle around with microphone cables and other gear. Camp chairs and blankets dot the terraced hillside, and an imposing wooden lodge looms on the right. In the dim interior of the lodge, I can see college students milling around institutional-sized cooking vats. A long table at the front of the lodge advertises food, soda, and beer for sale. I smell meat.
I drop my bag in my room, take a moment to appreciate the window overlooking the mountain pond, and join Kaz to walk further up the hill. He greets other festivalgoers with a quiet, serious word.  He tells me as we walk about a young group from North Carolina at the festival this year; I should enjoy talking to them, he says. He points out one of the two brothers who founded the festival in 1972, making it the world's second longest-running bluegrass festival in continuous operation. It's a point of pride that only Bill Monroe's Bean Blossom festival has been operating for longer.
I wave to a luthier I met earlier that week, and he walks over to chat. He knows Kaz; everyone knows Kaz.  I promise to come back later, and we continue up the hill. Finally, we reach a small clearing where several camps have been set and a fire has been lit, anticipating the cool mountain evening. Kaz introduces me to another luthier – an imposing older man with a sharp nose, cropped white hair, and sunglasses. He hands Kaz a new mandolin with a bold, emerald-green finish over beautifully flamed maple. I introduce myself, and tell him that I'm a history professor from Georgia.
"Oh really?" he says.
I tell him I'm conducting research for a book on the history of bluegrass music in Japan.
"Oh really!" he repeats, but this time he smiles.
This is my first Japanese bluegrass festival – high on a hilltop with almost a thousand other bluegrass fans in Hyogo Prefecture, in Sanda, north of the city of Takarazuka from which the festival takes its name.  While this is undisputedly the king of Japanese festivals – founded by the brothers Watanabe Toshio and Inoue (Watanabe) Saburō, members of the trailblazing Japanese bluegrass band Bluegrass 45 – it's one of a great many that take place annually in Japan, from the northernmost island of Hokkaidō to the southern reaches of Okinawa. Like the settings in which they're held, festivals range in character from the familiar camping, picking, socializing model of American festivals like Bean Blossom to ad hoc meetings in urban parks, suburban community centers, and university dormitory common areas. Like American festivals, most are held from May to October, drawing crowds of various ages and backgrounds. And like American festivals, they are at least as much a chaotic celebration of the bluegrass community – of the social meaning of bluegrass in the lives of the people who love it – as they are a formal exercise in listening to live music.
But despite the similarities – or perhaps because of them – the Japanese bluegrass community is, for an American observer, a delightful dip into the unique blend of familiar and strange that turn-of-the-century German psychologist Ernst Jentsch called the uncanny. Things at Takarazuka – and at Asagiri, Tokushima, Yagumo, and the other festivals I've had the pleasure of attending in Japan – sound and feel so close to my experience with bluegrass festivals at American campgrounds. They carry the same serendipitous movement from picking circle to picking circle until and beyond daybreak, the same happy greetings, the same invitations to share food and drink around a fire. A Lester Flatt G-run on a Martin D-28 guitar sounds the same in Ginza as in Galax. Close your eyes, shut out the smells of dashi and yakisoba, and you could be anywhere in the States, listening to high, lonesome odes to rural innocence, times gone by, parents deceased, moonshine brewed, lovers murdered, and trains.
Then, of course, the little discontinuities creep in – the stereotypical but real swapping of R's and L's, the odd shaping of vowels, and the occasional, phonetically learned nonsense lyric. Still, most singers in Japanese bluegrass are expert at producing the classic high, lonesome sound. When non-native English accents emerge, then, it's all the more jarring against what is almost pure Appalachia. Like Mick Jagger's carefully crafted American blues diction – or, for that matter, like Jessye Norman's Italian in Aida, or Placido Domingo's Russian in Eugene Onegin – Japanese bluegrass vocals are tuned to producing a non-native sound. To be sure, some of this tuning is from familiarity. 
My friend Kaz – Inaba Kazuhiro, one of the very few Japanese bluegrassers who have made a successful career as a professional musician – has spent a great deal of time in Virginia, North Carolina, and other Eastern American mountain states. His fluent English has an organically acquired Appalachian twang. Inoue Taro, a genre-bending mandolin player in Tokyo and son of festival organizer, bluegrass pioneer, and banjo picker Inoue Saburo, speaks the profanity-laden near-native English he acquired during his time as a college student in East Tennessee State University's bluegrass program. But most Japanese bluegrass musicians have only high-school English, a close pedagogical cousin to the near-universal failure that is Spanish language instruction in American public schools. Many have never been to the United States. And despite this, most sound almost perfectly American.
This linguistic variation at the edge of Japanese bluegrass vocals captures the basic sense that Japanese bluegrass is just slightly out of alignment. When I first encountered Japanese bluegrass in 1993, in a small town south of Osaka, I had only recently arrived in Japan. I had almost no Japanese language, and I was feeling increasingly far from home. The sounds of a bluegrass band at a local izakaya, or pub, should have been a welcome reminder of home, comforting me in an otherwise strange setting, soothing my culture shock. And of course they were. But at the same time, there was something disturbing, brought about precisely because those songs – "Rolling in my Sweet Baby's Arms," "Nine Pound Hammer," "Blackberry Blossom" – were so familiar.  My confusion was heightened when I went to congratulate and thank the band, and discovered that several of them – including the guitarist who'd been belting out such sweet, high tenor vocals – didn't speak English.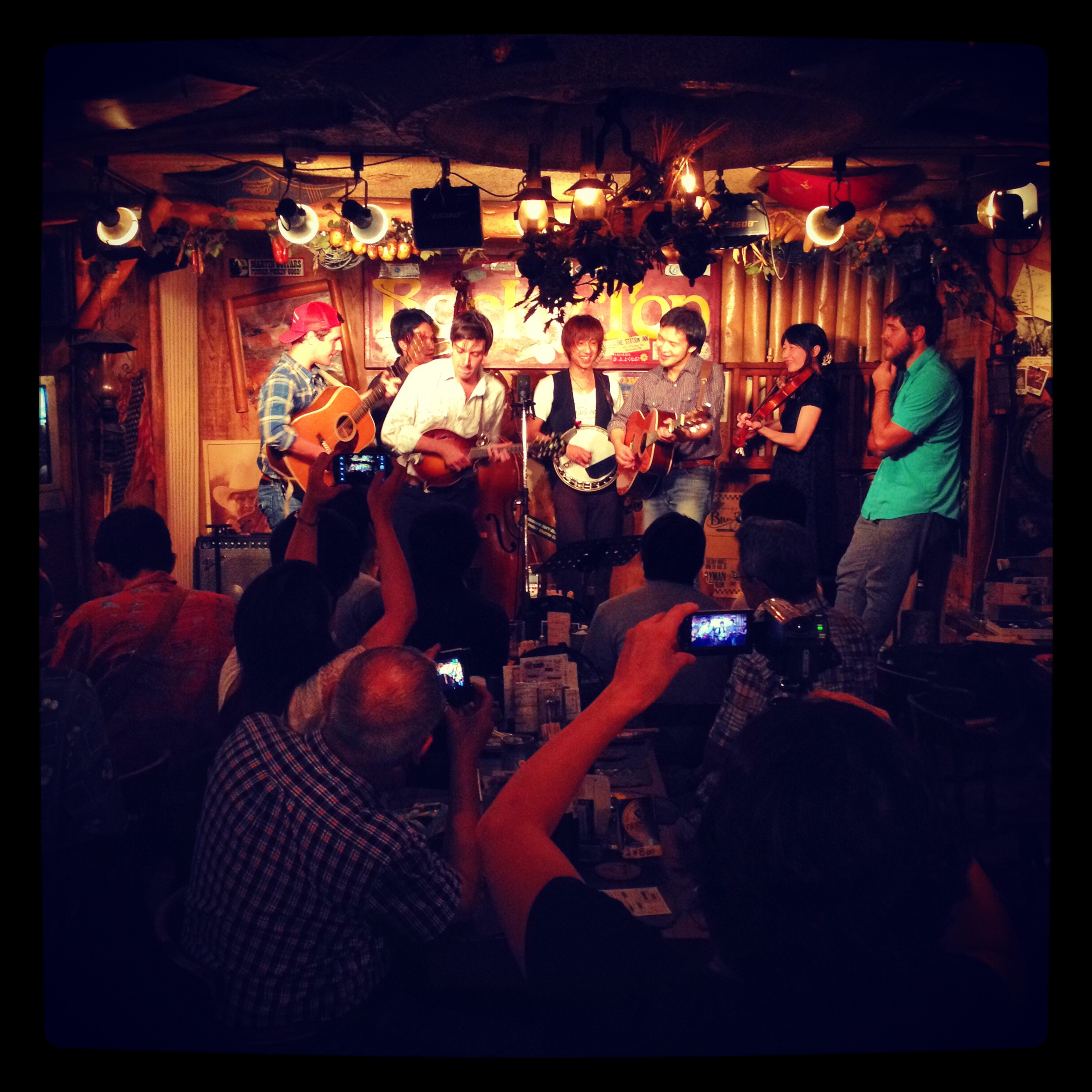 Americans On Parade
It's not just the language that marks Japanese bluegrass as somehow different from its American cousin. Some of the differences are rooted in culture; others are simply quirks. At the 2013 Takarazuka festival, the Kobe University student-run kitchen was the only food and drink for sale, and the nearest store was a four-mile hike away. Upon waking up the first morning, I learned that there was no coffee to be had, and aside from packaged snack foods, beef over rice – gyūdon – was the only food item for breakfast, lunch, and dinner. Okay, I thought, what the hell. I ordered gyūdon for breakfast.
After a pained silence, a student told me apologetically that the beef wouldn't be ready until 11 a.m.
"What is there?" I asked.
The student looked helpfully with me at the posted, handwritten menu.  "There's … um, beer?"
Along with beer for breakfast, Japanese festivals offer a more democratic approach than their American counterparts. Partly due to the relative scarcity of professional bluegrassers in Japan, the typical festival lineup includes literally dozens, and sometimes more than a hundred, acts. The usual set is 10 to 15 minutes, and the resulting effect is less that of a concert than of a small-town variety show. Everyone, it seems, is welcome to participate; the emphasis is on community more than expertise. 
At Takarazuka, the stage is a constant bustle of activity from mid-morning to well past midnight, as acts cycle on and off, laughing and joking together, striking up tunes they'd just played, or were about to play again, in one of the innumerable jam circles. The distinction between audience and performer is, for the most part, a joyful mess.
At the same time, there's a palpable heightening of attention and energy when American acts take the stage.  At the Takarazuka festival, some of the loudest applause was reserved for American performers like the North Carolina trio Mipso and Anya Hinkle, fiddler and vocalist for the Asheville group Tellico.  Mipso's mandolin player, Jacob Sharp, first visited Japan as a University of North Carolina undergraduate in 2012, and he brought his band for a return visit in 2013. Hinkle had traveled south to the festival with her husband and child from her husband's native home in Hokkaidō. Both were greeted with thunderous applause from what had been a relatively reserved crowd.
Crowds at Japanese festivals – at any Japanese bluegrass performance – are not exactly quiet, but they don't whoop quite like Americans do. During a 2013 performance at the Tokyo club Back in Town by the immensely talented Berklee College alumnus Arita Hiro (Yoshihiro), I gave a holler after a particularly juicy solo. Heads turned. A couple of songs later, Arita explained helpfully to the crowd – almost entirely Japanese, male, and over 50 – that at bluegrass shows in America, it was customary to make noise outside the designated applause periods. Several Japanese men turned and smiled at me approvingly, and one gave me a thumbs-up.
This and other experiences made me feel like some kind of cultural authority was conferred simply by my American identity. The same year, I attended a show at Moonstomp, a club in western Tokyo. The mandolin player interrupted the set to call attention to my presence in the crowd, and then invited me to explain for everyone the meaning of the English word "jubilee."
Both as performers and audience members, then, it seems that the presence of real live Americans carries a sort of cachet for Japanese bluegrassers – a peg onto which to hang the collective hat of authenticity. This speaks to a basic question: what is it about our national identity that feeds into bluegrass? Why should making a certain kind of sound be tied to what we look like, what language we speak, or where we're from? And how, for both Japanese and Americans, do these questions affect the way we respond to the idea of bluegrass music in Japan?
With a few exceptions, both American and Japanese players and fans seem acutely conscious of bluegrass's American identity. In American settings, this can come out in overt ways – American flags or patriotically-themed caps or T-shirts, for example – but we don't need to hear the word "Americana" or the Jim and Jesse McReynolds song "Thank God for the USA" to know that bluegrass is American. What marks bluegrass in the States, much of the time, is the undertone of nostalgia and belonging generated by an implicit reference to an authentically American past.
Bluegrass is, in many ways, the theme song to the modern economic history of the United States. Born of a Depression-era labor diaspora from rural Appalachia to Southeastern (and then further-flung) urban centers, the popularization of bluegrass's immediate ancestors – known as "hillbilly music," "mountain music," or by other names – served a paradoxical desire to communicate rural authenticity to a displaced, urban population that longed for a home that never was. Bluegrass musicians employed modern technologies and emerging capitalist networks to evoke a feeling of family-centered stringband simplicity at a neighbor's farmhouse.
That these audiences were mostly white Protestants largely unaware of the profound African-American influences on their favorite musical stylings is itself reflective of so much American history. In the same way, it's also reflective of America's diversity and inclusivity that bluegrass's modern popularity is based so clearly in the folk music boom of the 1950s in New York City, when disenchanted Americans – usually college-educated, urban, and often Jewish – began to celebrate bluegrass as a genuine American tradition. Folklorists and enthusiasts like Moses Asch, John and Alan Lomax, Mike and Pete Seeger, and Ralph Rinzler labored to codify and communicate "authentic" American music, even as they helped to create a new, sophisticated web of production and consumption.
 As Saburo – Sab to his many bluegrass friends – is fond of pointing out, the one-and-a-half-century-long American presence in Japan began with the banjo.
Banjo Diplomacy
In this sense, it's hard not to see bluegrass as American, and its presence in Japan as evidence of American influence. If so, it's warmly welcomed. As the historian Neil Rosenberg noted in his 1985 study of bluegrass, there is no country outside North America in which bluegrass has found more of a home than Japan. Along with the many annual festivals, countless live venues dedicated to bluegrass and related genres are found across the country. At universities from Hokkaidō to Okinawa, students gather in bluegrass circles – many with impressive names like "American Traditional Music Research Society" – to explore and celebrate the music together. Various periodicals include the monthly bluegrass publication Moonshiner, produced by Inoue Saburō, who, with his brother Watanabe Toshio, also runs the internet-based mail-order outfit B.O.M. (Bluegrass and Old-Time Music) Services.
In some ways, too, it makes sense that an American musical form would put down roots all over the world, and especially in Japan. America's modern cultural dominance is well documented, and it's no longer surprising to find Kentucky Fried Chicken in Moscow or to see NBA jerseys in South Africa. But bluegrass roots in Japan go to the very beginning of American efforts to stretch beyond its borders and flex its imperial muscles.
As Saburō – Sab to his many bluegrass friends – is fond of pointing out, the one-and-a-half-century-long American presence in Japan began with the banjo. In 1853, the naval officer Matthew Calbraith Perry, veteran of the War of 1812 and other conflicts, sailed with his small fleet of ultra-modern steam warships into Edo (now Tokyo) Bay. With guns trained on the port of Uraga, Perry communicated to the shogunate – Japan's military government, ruling in the name of the hereditary sovereign in Kyoto – the suggestion that Japan might like to sign a treaty allowing the United States access to Japanese ports. The following year, Perry returned to Japan with an even larger force – a quarter of the entire American navy at that time – and Japan signed the first of a series of treaties with foreign powers.
All of this was momentous in world history. For Japan, the intrusion of American force meant the end of roughly two centuries of carefully limited international relations. Within 15 years, Japan's hereditary military government was replaced by a modern, constitutional monarchy; within 25 years, Japan had built its own steamships and was using Perry's tactics to force its neighbor Korea into trade agreements.
But for our purposes, all this is background noise to the major event of 1854: celebrating the signing of the first Japanese-American treaty, Commodore Perry and his Japanese counterparts arranged a series of gifts and entertainment. For the American sailors, Japanese officials presented an exhibition of sumo wrestling, hoping to impress their guests. For the Japanese, the Americans assembled and operated a one-quarter-scale steam locomotive with 350 feet of track. And to the reported delight of all concerned, the American sailors put on a blackface minstrel show, complete with fiddles, percussion, and banjos. In one fell swoop, America's brand of racially imbalanced power structures and the banjo – originating in Africa! – came to Japan.
According to one source, Perry told the crew that "the success of his treaty depended on the success of the entertainment" for the Japanese dignitaries. By this measure, the banjo was effective well beyond Perry's fondest dreams. Catalyzed by the American intrusion, the newly formed Japanese government itself began to reach beyond its borders to engage with and learn from the modern West. The Japanese government sent scores of young men to America and Europe, charged with studying government, military, and other matters.
In 1870s Boston, the young Isawa Shūji studied with Luther Mason, then America's premiere music educator, and under Mason's influence introduced a number of Christian hymns and Western songs to the Japanese national curriculum. Many of these, including the American school song "Lightly Row" and the Scottish anthem "Auld Lang Syne," popularized by Robert Burns, were given Japanese lyrics deemed more appropriate to Japan's national ethos; however, the melodies remained, and began a reshaping of Japanese musical sensibilities that would continue through the present day. (The tune of "Auld Lang Syne," known in Japan as "Hotaru no Hikari" [Light of the Firefly] is still well known there as a signal for closing time at stores and other establishments.)
Many Japanese bluegrass fans point to the early exposure to Western scales and harmonies as a reason for bluegrass's success in what is a quintessentially non-Western society. Following the rapid transformation of Japanese society at the turn of the 20th century, American music – especially jazz – began to gain popularity until World War II, when American and British music was officially discouraged in favor of German songs and Italian operas.
Following the war, however, American musical influence came back with a vengeance. This, broadly, took two forms. The first was radio. Even before the world's first nuclear attacks incinerated much of the cities of Hiroshima and Nagasaki – and before the unthinkably intimate radio address by the Shōwa emperor, Hirohito himself – announcing the unconditional surrender of the Empire of Japan to American forces, hillbilly music was inexorably wafting through the Pacific air. 
Shortly after the Japanese air attack on United States naval forces at Pearl Harbor, Hawaii, in December 1941, the first Armed Forces Radio broadcasts began in the Aleutian Islands. These broadcasts became common throughout the Pacific Islands, made available both through official broadcasting centers and via an ad hoc network of 50-watt transmitters placed at the top of palm trees by intrepid Marines – often before an island was fully wrested from Japanese control. The first Marine station, located in the Solomon Islands, used an indigenous Solomon Islander version of the 1939 hillbilly tune "You Are My Sunshine" as its signature song to open every broadcast, marking both the popularity of hillbilly music and one instance of its absorption and interpretation by non-American musicians. As US forces moved north through the Pacific Islands, they continued to set up a series of medium-wave stations comprising the so-called "Mosquito Network" and broadcasting a variety of news, spoken word, religious programming, and musical entertainment – again including indigenous Solomon Islander musical groups, who performed both Anglican hymns and secular songs such as "Humonderange" (Home on the Range) and "Cummin Round the Montan."
Following the 1945 surrender of Japanese forces, the Mosquito Network was largely dissolved, and occupying American military forces were served instead by broadcasts using the infrastructure of the Nippon Hōsō Kyōkai (Japanese Broadcasting Corporation, known today as NHK). Under the banner of "democratization," the Allied Occupation – under Gen. Douglas MacArthur – reformulated NHK broadcasts to include popular songs, game shows, informational programs, and political debates. Many NHK facilities were taken over outright by Occupation forces, who established the Far East Network (FEN), broadcasting from Tokyo, Osaka, and other major cities. Intended for American personnel, these broadcasts included popular American radio shows and music, but also locally produced programs by US occupation musicians.  "Hillbilly music" was particularly popular; according to a 1947 issue of the military publication Pacific Stars and Stripes, the Osaka program "Cowboy Clem" received more fan mail than any other show. On the flagship FEN station WVTR in Tokyo, programs such as "Honshu Hayride" and "Chuck Wagon Time" broadcasted hillbilly music to the nation's capital and surrounding regions.
As American forces demanded, produced, and consumed hillbilly music, it was of course also made available to Japanese listeners. From at least 1947, Japanese hillbilly groups such as the Western Melodians, the Western Ramblers, and the Chuck Wagon Boys played American hillbilly music – often with lyrics learned phonetically – for American audiences. The popularity of Western films at the time also helped to generate broad if unfocused interest on folksy, country-ish American music – for lack of more precise adjectives – but the inclusion of "hillbilly" music in the general mix is clear.
In October 1958, the first Japanese bluegrass group – the East Mountain Boys – was formed under the guidance of American music fan Arita Tatsuo in the city of Kobe. It included musicians Sano Don ("Don Sano") the brothers Ozaki Yasushi and Ozaki Hisashi, and veterans from bands such as the Foggy Mountain Boys and Tennessee Shanty Boys. These bands consisted largely of students at Doshisha and Ritsumeikan universities, whose well-to-do prewar childhoods were already attuned to American music.  Through playing for Occupation forces, Japanese musicians began to acquire a more polished sense of American hillbilly and related musics, and the names of their groups reflected their understanding of Grand Ole Opry stars such as Roy Acuff.
It's significant, and maybe surprising, that a supposedly traditional American musical form like bluegrass would take hold in Japan just after World War II. During MacArthur's occupation, Japanese national traditions around a divine emperor and a proud and self-sacrificing warrior culture were actively discouraged. For the Allies, Japanese national traditions were largely seen as problematic, and replacing bushidō with banjos seemed like a great idea. But cultural transmission is always a two-way street; MacArthur struggled mightily to encourage Christianity, for example, with almost no success.
One clue to Japan's fondness for bluegrass is found in a closer look at exactly which Japanese were tuning into the Grand Ole Opry, watching American Westerns, and buying secondhand instruments from American GIs. Bluegrass historians – including the dean of Western musical folklore studies in Japan, Mitsui Toru – note that most early Japanese bluegrassers were from relatively wealthy families.  This trend continued throughout the 1960s and '70s, and Japanese bluegrass players and fans grew from a population of largely college-educated, upper-middle-class urbanites. From the late '60s, those young Japanese began to associate folk music and acoustic instruments with a growing political and social consciousness, pushing back against the perceived materialism of the 1950s and early 1960s. Faced with the ongoing American military presence in Japan, American involvement in the Vietnam conflict, and the global leftist movement of the 1960s, young Japanese saw acoustic music as symbolic of populist authenticity.
This should all seem pretty familiar to Americans. Like so-called "citybillies" and folklorists active in American cities, colleges, and universities, educated Japanese urbanites were consciously appropriating bluegrass and related folk musics as a way to express the twin ideas of dissatisfaction with consumerist modernity and a yearning for "authenticity."  In January 1970, the already successful Takaishi Tomoya abandoned the Brothers Four/Kingston Trio-inspired Japanese folk scene to seek the roots of folk music in the United States. After months of travel and inspired by artists such as Bill Monroe and the Carter Family, he returned to Japan, and in 1971 founded the Backstep Country Band, later renamed The Natarsher Seven, for Takaishi's hometown of Natasho in Fukui Prefecture, north of Kyoto.
This emphasis on authenticity was curiously combined, however, with Japanese lyrics. Unlike most bands then (and since!), the Natarsher Seven not only wrote their own songs in the traditional American style, but also translated songs such as "Bury Me Beneath the Willow," made famous by the Carter Family in 1927. 
When I spoke with former Seven member Shirota Junji – still an active musician in Ireland and Japan – he was unequivocal about the band's significance. "The most important concept," he said, "was singing in Japanese and playing in the bluegrass and old-time styles."
And if it's odd to imagine that Japanese would seek authentic, traditional qualities from a national culture not their own, it might help to remember that the famous American folklorist Moses Asch was himself a Polish immigrant, and that Mike Seeger – half-brother to Pete and the creator of the first bluegrass LP in 1957 – learned about "traditional" American music from his musicologist father, his composer mother, and their African-American maid, Elizabeth Cotten. Granted, the Ozaki brothers Yasushi and Hisashi might not have a clear sense of what life was like back in the holler when they listened to American mountain music in secret, in a closet, despite fears of arrest by Japan's military police. They may not have perfectly shared Bill Monroe's vision of a "Little Community Church" when, lacking instruments in the immediate postwar years of anxious scarcity, they built their own from cigar boxes and shamisen strings. But neither, perhaps, did the Boston-born, Philips Exeter and Amherst College alumnus and banjo pioneer Bill Keith, nor the New Jersey fiddler Gene Lowinger.
As an added wrinkle, it was a combination of these two non-Appalachian groups, united in their interest in authentic American music, that brought Japanese bluegrass to America. In 1970, Charles R. "Dick" Freeland, the owner of Rebel Records and a bluegrass fan from suburban Washington, DC, visited Japan in order to explore business possibilities there. While in Japan, Freeland heard the young Kobe-based group Bluegrass 45, including the brothers Toshio and Sab, and organized their US tour in 1971. The tour, including a stop at Bill Monroe's Bean Blossom Bluegrass Festival in Brown County, Indiana, introduced Japanese players to the American bluegrass community.  When Toshio and Sab returned to Japan with tapes of various festivals, from the staid to the outrageous, they used those sources as inspiration to create one of Japan's first bluegrass festival at Takarazuka in 1972.
Reception of this kind of quest for authenticity is complex. At the 2014 meeting of the International Bluegrass Music Association (IBMA), I asked Pete Wernick, past president of the IBMA and banjoist for Hot Rize, about his own experiences with Japanese bluegrass, both in Japan and in the United States. He noted with some ambivalence Bluegrass 45's performance at Carlton Haney's 1971 festival at Camp Springs, North Carolina, immortalized in the film Bluegrass Country Soul.
"It was instantly clear how talented and well-studied they were," Wernick said. "But then they completely ripped off one of the Country Gentlemen's main pieces of original stage shtick, a hundred percent. … Everyone thought it was the cutest and most amazing thing in the world. I don't know what Charlie Waller thought of it."  
For Wernick, the fact that the Country Gentlemen were appearing at the same festival made it all the more problematic: "Copying is a Japanese thing," he added, "and we understand it's based on respect. But they just weren't aware of our very different norms regarding imitation."  On the other hand, Wernick was quick to note, "They did it extremely well."
Wernick's comments give another, crucial perspective into the troubled celebration of authenticity that is bluegrass. Much like Monroe's famously negative reaction to the early success and attention Lester Flatt and Earl Scruggs received, even the sincerest forms of flattery can feel like unwanted imitation.
Indeed, even before the genre acquired its official name in the mid-1950s, bluegrass was celebrated for its authenticity by listeners and participants from both within – and maybe more often beyond – its original, Appalachian, Bill Monroe-centered community. This celebration of "authentic" bluegrass represents its own kind of claim about how bluegrass can and should be defined – a sort of well-meaning rhetorical power grab by East Coast urban intellectuals, folklorists, radio DJs, record company executives, and festival promoters. Moreover, within these efforts to define authentic bluegrass, the definitions of inside and outside, authentic and imitator, have shifted considerably. It now seems quaint at best that Monroe referred onstage to Gene Lowinger as "our Jewish cowboy" – a practice abandoned at Lowinger's request.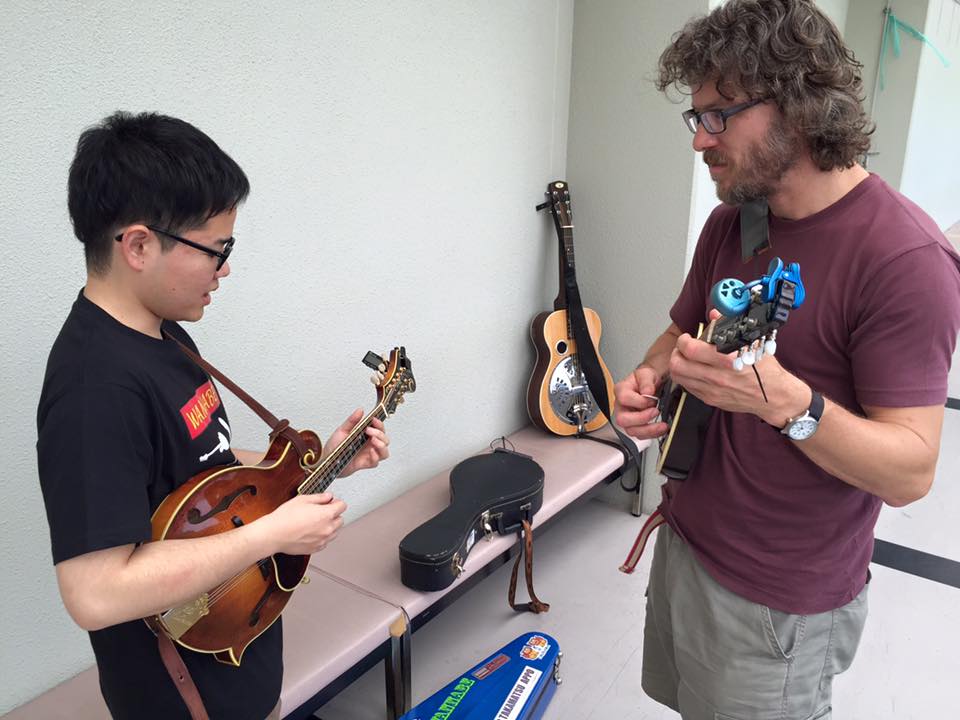 Chewing on Rawhide
For Americans and Japanese both, then, bluegrass often tends to signify something particularly and authentically American. But this isn't always the case. When I visited Inoue Saburō at his home in Takarazuka a year after attending his festival, in 2014, my own assumptions about national identity and bluegrass were regularly turned upside down. Part of this might have been the sheer, zany energy that is Sab. He's a lean, handsome man in his mid-60s, sharp-witted and well-read, with a ready if sardonic smile. He invited me to stay in his home, like so many itinerant bluegrass musicians and fans have before. Jerry Douglas has been there, he says, and so has Peter Rowan. At the 2015 FreshGrass festival in Massachusetts, Rowan remembered Sab fondly. When I asked Tim O'Brien in 2014 about his experience with Japanese bluegrass, his first response was, "Do you know Sab? You should talk to him."
I showed up at the train station and walked with Sab the short distance to the small apartment he shares with his wife, children, and sometimes his mother-in-law. In that short walk, he talked about his lack of a car, the current issue of the bluegrass periodical Moonshiner that he publishes, and the ideas of his favorite 19th-century Japanese philosophers. It was lucky, he said, that his daughter was out of town, as now I'd have a room to sleep in. I got the strong sense that he hadn't really worried much about that detail either way.
The next day, I found myself hurrying after Sab as he strode through the crowds in Osaka's Umeda Station, as he headed off to teach his bluegrass fiddle class. I had brought my mandolin along, just in case. And even though I'm used to the sheer profusion of shops, restaurants, exits, entrances, turnstiles, advertisements, vending machines, and human beings moving in every direction through the multi-level, maze-like structures that are urban Japanese train stations, I was having a hard time keeping up. Sab darted suddenly to the side and almost disappeared down a small escalator, and I caught up just as he stepped into a small shop whose windows, I realized, were full of acoustic instruments. Inside, he was delivering a handful of CDs from his backpack, and I realized he was making a side delivery for the B.O.M. mail-order CD service that he and his brother Toshio operate alongside Moonshiner.
I was looking at a nice 1950s Gibson F-4 mandolin while Sab talked, and then suddenly he was off again, and I had to rush to catch up. More twists and turns, and then we stopped in a small food court, several levels – who knows how many – underground. We ate ikayaki, a sort of crepe with squid pieces that's one of the specialties of the Osaka area. Like many from the region, Sab's obviously proud of his roots there. The minute we finished eating, we were off again.
A few breathless minutes later, we had somehow left the station, but I didn't notice where. We rushed along city streets and then into the kind of slightly dingy office building characteristic of Osaka. If Tokyo is like New York, then Osaka is Japan's Chicago. It's a rough-around-the-edges merchant's capital, where warmth, humor and food are more highly valued than manners or aesthetics or status. 
 And this, I've come to realize, is what happens without fail when I play bluegrass with Japanese players. As much as I'm trying to learn about bluegrass in Japan, I'm learning instead about bluegrass, period.  
I followed Sab into the tiny elevator – another specialty of Japan, where physical closeness with strangers is taken for granted on subways, in department stores, and almost everywhere – and we emerged into a corridor that led to an office suite. We used this tiny windowless conference room, barely fitting five small chairs, for Sab's class.
The participants all seemed to be professionals in their 50s, maybe 60s, with classical violin training and a passion for bluegrass. They were welcoming when Sab introduced me, but intent on learning, and we dove in. "Okay, everyone," Sab said, in Japanese – "let's play 'Back Up and Push.'" And they were off, as I realized, to my shame, that it was another Bill Monroe tune that I, a supposed mandolin player, didn't know. I picked up the chords, more or less, and when it was my turn to play a break, I did my best to sketch out something melodic. The same thing happened again and again, with "Rawhide," with "Wheel Hoss," with "Dusty Miller" – whatever they chose, it turned out I'd heard it, but didn't really know it. I – the American – grew up imitating David Grisman and Sam Bush, not learning until much later about the bluegrass at the heart of it all.
At Sab's bluegrass jam class the following night, his students played and sang "Are You Washed in the Blood of the Lamb" and "I Saw the Light," but I was too wrapped up in trying to learn the songs to think about how strange it was to hear Christian hymns from Japanese.
And this, I've come to realize, is what happens without fail when I play bluegrass with Japanese players. As much as I'm trying to learn about bluegrass in Japan, I'm learning instead about bluegrass, period.  
Last summer, I visited the Kyoto University bluegrass circle, and the club's leader – a Ph.D. student researching Indian religions named Kanabishi Akihiro – was kind and patient enough to teach me "Cherokee Shuffle." I learned "Big Mon" from Ohno Makoto – a recent graduate of Kobe University and the former head of their student bluegrass club – at the annual Tokushima Bluegrass Festival, hastily relocated to a nearby community center thanks to a sudden rainstorm.  
I still haven't learned "Rawhide," although my good friend Honma Masatoshi – mandolin player for the band Nessie Expedition and founder of Japan's first bluegrass magazine, June Apple, in 1974 – has generously played it for me more times than I'd like to admit.  It was Masatoshi who, in his converted garage space man-cave in suburban Tokyo, surprised me with the gift of an authenticated chunk of wood from Uncle Pen's cabin, where Bill Monroe lived and learned much of the basis for his musical style.  My supposed authenticity as an American, based on the flimsy foundation of my national origin and cultural roots, may be easily exposed – but at the same time, I'm acutely aware that in these experiences, the songs and sounds and meaning of bluegrass are being passed on, kept alive, by folks who live within sight of a very different set of mountains.
For Sab, in fact, the question of national identity has never had much traction. As he puts it energetically and regularly, to anyone who will listen: "Bluegrass is not American music – it's my music! … Like jazz or classical music, bluegrass is universal music … the kind of music [that transcends] country, race, religion and language." 
For Sab, his first experience with bluegrass was itself tied to something transcendental, beautiful, and close to home.  He heard his first bluegrass tune, "The Old Hometown" in his early teens: "I still remember the day very well," he says. "The light-green waves of [the] rice field from my window where I can see the grove of the village shrine – such beauty … not American, [but] very Japanese!" From then, Sab tried to copy Earl Scruggs' banjo picking – "not to imitate, but to learn!" – and, following the success of Bluegrass 45 and his work in establishing the Takarazuka festival, Moonshiner, and the B.O.M. mail-order music service, he began to spend at least some time every year in the United States. From his position as secretary of the IBMA in 1995, he was able to spread the gospel of universal bluegrass.  As Sab puts it: "I said on the board meeting, 'Sorry guys, but bluegrass is not an American music anymore!' The board members' mouths were fully open."
But what about the English lyrics, I asked – the model church, the blood of the lamb? Doesn't that mark the music as American, even for Japanese folks? And while they're at it, doesn't that seem odd to Japanese singers – that they're professing a very Christian notion of this world and the next? As a rule, Japanese singers tend to shrug this off. If they give the question any thought, it's clearly for my benefit. 
At Sab's class, one student told me patiently, as if to a child: "Here in Japan, we are Buddhist or Shinto.  So we don't care." Sab went further: "In Christianity … words are very important, I guess. But as you know, in Japan, especially before the Meiji (1868-1912) period, words are just words, and silence is more important."
 Like jazz or classical music, bluegrass is universal music … the kind of music [that transcends] country, race, religion and language.
The Genuine Trouble with Authentic Identity
Almost none of this so far has touched on the deep, inextricable, relatively ignored history of African-American music within and around bluegrass. This, in fact, almost renders most assertions of a particular kind of American authenticity in bluegrass absurd. Despite a recognition of Arnold Schultz, the African-American multi-instrumentalist, and his profound influence on the young Bill Monroe; despite the importance of African-American musical forms throughout all American music; despite the recent prominence of artists like Rhiannon Giddens; despite no less august persons than Abigail Washburn and Bela Fleck reminding us of the Africanness of the banjo – despite all of this, the role of Southern whites in bluegrass seems to swell until it occupies most of our attention. With this kind of omission still familiar, it's hard to take definitions of "authentic American bluegrass" that deal with another national identity too seriously, when our own conception of ourselves has been so confused for so long.
In the end, maybe we're focusing too much on details like words, and missing the important silence. Maybe we're missing the lawn for the blades of bluegrass. Maybe our preoccupation with whether the Japanese are "copying," or "authentic," misses the essential journey that we're all on as we enjoy this music – from Bill Monroe's adaptation of Arnold Schultz and his Uncle Pen all the way to a young Japanese boy, faithfully knocking part of the headstock off his mandolin so it looks like Bill Monroe's.
And maybe we can look forward to a time, maybe soon, when bluegrass players from Tibet, or Ghana, or Japan will excite no more comment than a banjo-picking Jewish kid from Hackensack or an African-American fiddler from Seattle. This doesn't mean that we should disregard the shades of meaning, the cultural weight and the generations of identity, that Appalachian players lovingly crafted into their music – or the American recognition and pride in a music that our big, generous, loud culture has helped to create. They're there, and that's that. But the example of Japanese bluegrass might mean that bluegrass music is big and rich enough to allow for more joyful variations, more kinds of authenticity, more flavors of genuine than we can now understand or imagine – and that's something to look forward to.