Article
Larry Campbell and Teresa Williams, Intimate in Italy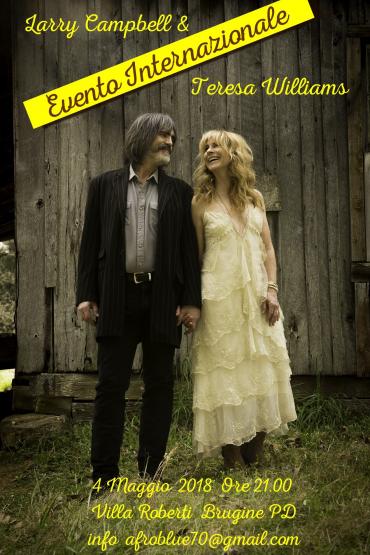 This afternoon I saw the announcement of a small — very small — concert in Italy, and I instantly yearned to be at this villa in the prettiest and freshest early days of May.  A house party with Larry and Teresa?  Yes, please.  Oh, yes.
Of course you know how talented Larry Campbell and Teresa Williams are.  In these pages we've followed their separate careers and, so happily, their more recent times together.  How would you like to have first begun making music regularly with your talented spouse when you were both good enough to be in Levon Helm's house band?  To me that's the essence of not only artistic accomplishment, but romance.
Campbell and Williams, longtime New York City residents when they weren't somewhere across the world from each other on separate buses, put down roots in the Woodstock, NY area in the 2000s.  Together with some of the finest musicians you'd ever find gathered under one small roof, standing on a battered red oriental carpet held down at its crucial points with good old silver duck tape, they performed indelible new versions of songs I thought I'd heard as well as they could be done.  One of the most popular numbers at any Midnight Ramble was always Teresa's passionate lead on "Long Black Veil."
Campbell shone on the sexy old "Deep Elm (or Elum, or Elem) Blues"
...and "Chest Fever," which was never, ever the same way twice — or even stayed the same way in one performance!
Here, just compare these.  It's such a joy to do so.  Larry always figures out a different way to scorch you and dazzle you.
They grace others' stages regularly:  Phil Lesh, often with Phil Lesh and Friends; Jorma Kaukonen; Happy Traum.  To the delight of anyone who listens to good music. Campbell and Williams are now spending most of their time — finally! — as the duo fate created them to be.  Their second record together, Contraband Love, received excellent reviews and forms the heart of their current tour; no one can perform those original songs the way their makers do. 
Larry and Teresa are in Italy at the beginning of May, and, if you're in the vicinity of Chiari,  Bolzano,Modena, Torino,  Savona, or the Villa Roberti you are in luck.  Check out the venues on their website for ticket information, unless the show you are after is the tiny, private gig at the Villa Roberti.  Those who email afroblue70 at gmail.com in time will be the truly fortunate ones, and when you speak of me, do speak well.