Column
Last Night with Dylan and McPherson in the North Country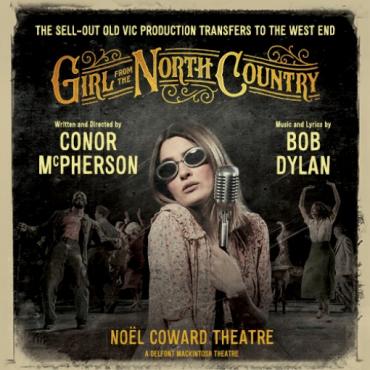 On March 24, the musical Girl From the North Country closed its premiere run in London. After a critically celebrated and popular opening at the Old Vic Theatre on South Bank in late 2017, the show transferred in early 2018 to the West End and the jewel box once called the Albery Theatre on St. Martin's Lane — now the Noël Coward. Reviews remained raves and tickets were scarce, particularly as the end came in sight. We were there for the final performance.
Dublin-born playwright Conor McPherson wrote a supernatural play called The Weir when he was 25 years old. It made him a literary sensation upon its London premiere in 1997; since then, he's continued to win awards for plays and screenplays as both a writer and director. It was a surprise to him, one day "about four years ago," as he tells it, to get a call from Bob Dylan's record company asking him if he'd consider using Dylan's music in the theater. Initially, McPherson thought no. Then he had the idea of a play set in a boarding or guesthouse in Duluth, Minnesota, during the darkest early days of the Great Depression — a decade or so before Dylan was born in Duluth, in May 1941. McPherson wrote up an outline, to which he received a positive reply; in his words, "Bob Dylan has read it, likes it and is happy for me to go ahead. I was like, oh okay, I guess I have to do this." Soon after, he got a shipment of 40 Dylan albums, with the only directive being that he could use the songs he chose as he wished.
Girl From the North Country is not the story of the eponymous song of 1963. Set, indeed, in a guesthouse in Duluth, it is the story of the fall and rise of the Laine family: a father, mother, son, and daughter. Around them swirl the visitors, some sinister, some kind, some consequential, and some ephemeral. The local doctor, functioning a bit like the Stage Manager of Thornton Wilder's Our Town, explains and foreshadows and ties up loose ends as the play goes along. McPherson is fond of stages set in claustrophobic, even haunted, little rooms; like The Weir and The Seafarer, Girl From the North Country lives out its life in a small space: the Laines' shabby but not unwelcoming home.
With McPherson spinning the story, it was unsurprising that the original cast featured Irish stage royalty — actors he's worked with before and who have brought light and life to his plays. Ciaran Hinds originated roles for McPherson in The Seafarer and The Birds. In Girl From the North Country he took the leading role of Nick Laine, a man driven to his knees but surprisingly unbroken by the Great Depression, his wife's mental illness, his son's alcoholism, and his adopted daughter's pregnancy (when McPherson writes sorrows, they come not singly but in battalions). Bronagh Gallagher, the sassy, sexy Bernie of The Commitments, shone as Mrs. Burke, the mother of a doomed man-boy. The utterly excellent Shirley Henderson is known to far too many people as Moaning Myrtle from the Harry Potter movies, and not as Gail in Trainspotting and — in my opinion, her best movie performance to date — Sally in Intermission. As Elizabeth Laine, her mind unhinged and freed to think, and give voice to, whatever it likes, the tiny Henderson filled the stage. She raged, loved, stripped, danced, cowered, and overwhelmed. Her flutey, passionate, liberated "Like A Rolling Stone" stopped the show.
Dylan's songs used in the show are eclectic, sometimes surprising, and seemingly independent of any context in the play, sometimes spot on to speak for characters in a situation where words fail or are inadequate — this last being the general point, after all, of song in a musical. The Laines' son Gene (Sam Reid), a would-be High Modern novelist already damaged by that condition that hurt so many Modern writers in real life, alcoholism, is in love with local girl Katherine (Claudia Jolly). She finally gives up on Gene, and comes to see him, announcing that she is heading to Boston to marry another Duluth boy who has gone back East and made good there. Their goodbyes are bright and artificial; but this is suddenly the subtext, as they begin to sing the text of their love above it: "I Want You."
Elias Burke (Jack Shalloo) is almost an adult but still an infant in mind and actions, spitting out his food, grinning and gabbling, as his parents try to tend to him, and save him from others and from himself. McPherson refuses to be explicit about the Burkes, pushing their plot along by suggestion alone. The implication swiftly becomes that they are on the run from a terrible, accidental crime Elias has committed. A charlatan traveling preacher (Finbar Lynch, further Irish dramatic royalty) threatens to expose the Burkes; shortly thereafter, Elias dies while fishing by the frozen river with his father. The implication here is that Burke has allowed his son to be drowned, sparing him the organized justice of America's court system or rough frontier law. In one of the finest numbers of the night, a resurrected Elias, resplendent in white formal dress, rollicks through "Duquesne Whistle" before making his final exit.
Sheila Atim, as the Laines' adopted daughter Marianne, gave not only one of the best dramatic performances but possesses a singing voice of richness and deep heart. The teenaged Marianne has been twice abandoned — first by her birth parents, who leave the little African-American baby in a bag at the Laines' boarding house. Loved and cared for by Nick and Elizabeth, raised along with Gene (in some ways to replace his toddler sister who died in a terrible accident, we learn almost in passing), she has now been abandoned by a riverboat man, the father of the child she carries. Her rendition of excerpts from "Tight Connection," eliminating the "tight connection to my heart" lingering over the "has anybody seen my love," were simply perfect.
Just as the Big River and Great Lakes take away, they also bring back: Enter Joe Scott (Arinzé Kene), a prizefighter who has escaped wrongful imprisonment to, finally, take Marianne to Chicago and a new, prosperous life. That Scott is a prizefighter formerly in prison seems only an excuse for a particularly fine performance of "Hurricane," but I'll take it. McPherson says that he selected the Dylan songs to create and complement his own words: "I was looking for songs that had a verse, a bridge, a chorus, a middle eight, all that stuff, that give the performers the chance to lean into something emotionally and go deeper and deeper and deeper into the music." I have no idea why he included some of the songs, like "Señor," but am glad that the range spreads fifty years, from 1963 to Dylan's most recently released original songs, those of Tempest (2012).  "Slow Train," "You Ain't Goin' Nowhere," and "Sweetheart Like You" are bright moments in the show; the concluding "Forever Young" is one to hold and cherish. As they joined to sing it, one final time, many of the cast members were in tears.
Girl From the North Country will have its North American première in Toronto at the Princess of Wales Theatre in February 2019. If there's any justice in the theater world (a debatable proposition, I realize) this musical will make its way to Broadway with as much of the original cast as is possible intact.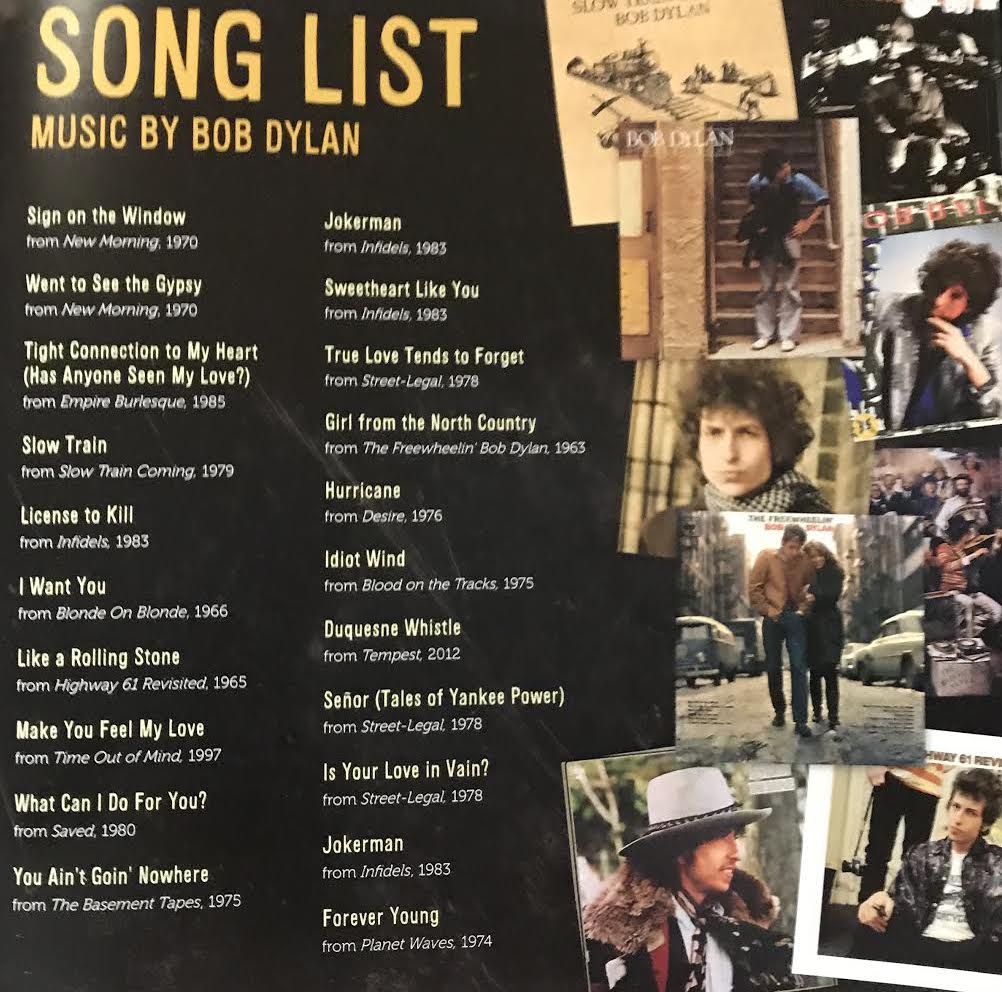 *Author's Note:  this will be my last "Rock and Roam" column for No Depression.  I've loved writing it over the past years, and will, of course, continue to write for ND.  Thank you so much for reading.  AMD