Article
Listen to Fleet Foxes' Newest Music in Six Years, 'Third of May / Ōdaigahara'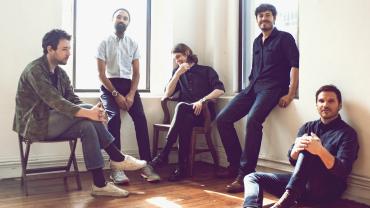 Robin Pecknold and his merry band of Fleet Foxes have been threatening a return to the stage (and to record stores) for quite some time now. Today, the wait is finally over, for the pastoral-inclined group has released their first new music in six years — a double-sided song called "Third of May / Ōdaigahara."
Both tracks will be featured on Fleet Foxes' next record Crack-Up, out June 16 on Nonesuch Records. 
Fans of the band will recognize the acoustic rhythms, big choruses, and vocal harmonies of "Third of May" which acts as a dramatic throwback to the Foxes' early days. You can almost hear the waves crashing upon the rocky outcrops of Pacific Northwest beaches throughout the tune.
"Ōdaigahara," on the other hand, is much more ethereal and would work just fine on the speakers at a fancy Brooklyn spa (that ain't a bad thing).
One thing is for certain: both tracks are a beautiful return to form for Fleet Foxes, who haven't put out an album since 2011's Helplessness Blues. You may notice that the group sounds just a bit different (and possibly more serious) since the departure of member Josh Tillman. He's since gone on to much bigger things. 
Stream "Third of May / Ōdaigahara" below via the band's new lyric video.