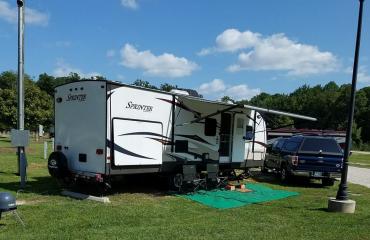 Irene and I have just attended our last bluegrass festival as RVers. We'll be heading north by a circuitous route over the next six weeks, with stops to see friends in what have become habitual hangouts for what we've called our movable cottage. For instance, we'll be staying at our lake cottage at Moss Lake Campground near Shelby, North Carolina, home of the Earl Scruggs Museum and a number of friends we've made over the past two decades. We'll then move on to Kodak, Tennessee, for a stay at the home of the Dumplin Valley Bluegrass Festival and then on to a major campground in College Park, Maryland, for D.C. museums and more friends. The day we get home, our 7-year-old travel trailer and the truck that pulls it will go up for sale. We've made a decision for both safety and comfort.
Since Merlefest 2003, our first major music festival, we have equated our joy in bluegrass music with live performances experienced by driving from event to event in our various trailers over the years. We've downsized and then slightly increased the size of our rigs, before settling into the one we've hauled from New Hampshire to Florida to Tennessee and North Carolina. For years we attended about 20 festivals a year, in addition to visiting jams, music stores, music-oriented museums, and the homes of musicians who had become friends. We've sat in studios as recordings were made. We've ignored warnings that you don't want to watch the sausage being made.
We became trusted enough to be asked to a rehearsal of a band just beginning the process of building new material for a recording. My photography has come to be seen as valuable by musicians, while we are welcomed at festivals we choose to attend, preview, and review. Soon after we started this journey, Irene became tired of sitting in her chair while I schmoozed, took pictures, collected information, and enjoyed myself. One day, at a festival in Florida, she noticed that the members of Nothin' Fancy seemed tired. She volunteered to watch their merch table for them so they could get a rest between sets. This first effort of hers exploded into her being asked by one promoter to become merch manager for the entire area. She often has handled four different tables, one out of each pocket, at the same time, while organizing the use of tables to make it easier for bands to sell their merchandise successfully. We became known as Ted & Irene.
Irene seeks no thanks for the work she does for bands, seeing it as giving back for the pleasure they provide. Meanwhile, companies and agents send us copies of the latest CDs, and we buy some, too. Neither of us finds that we experience bluegrass music best through recordings. While many others listen to, collect, and archive music recorded back to the days of 78 rpm 10" shellac records, we prefer live performances in the outdoors with all the problems attendant to doing that. Lately, we noticed we aren't quite as likely to sit in the rain to enjoy a show or to stay until the bitter end in the evening when it's chilly and damp, but our bluegrass experience is still defined for us as live performances, mostly in the outdoors. This summer, we'll be attending fewer festivals, while staying in nearby motels. Next winter season, we've already booked Airbnb's and VRBO houses for the Florida season. Beyond that, we're uncertain what our plans are, but we're still making plans.
Changes in environment change the nature of experience. How will we come to experience the music and lifestyle that has helped define our lives during the past nearly 20 years? Night driving isn't much a part of our lives these days, and the risk of falling is a reality. I guess that means we're getting old, but, in many ways, bluegrass has kept us young. A recent research study indicated that experiencing live music can increase your longevity and your keep you interested and younger by increasing your feelings of well-being and zest for life, both of which contribute to longer living.
What does all this mean for how we'll be experiencing bluegrass music and, in a wider sense, the small world in which we live? It's possible I'll be writing more reviews of recordings, if they still make them, though I've become less certain that recordings showcase instrumental and vocal versatility as much as skill on the sound board and with Pro Tools. How does the sound found in a recording, no matter how one experiences it, compare to the experience of a live performance? Can the enjoyment I feel at hearing our friends the Gibson Brothers on a CD possibly live up to the brotherly banter we experience seeing them on stage? Everybody makes their own festival, in terms of what they choose to see, but producers tell us what to hear on a recording. A recent article about my friend Mark Dillon, who teaches studio skills at a North Carolina community college, doesn't help alleviate my concern. Surely, I'll continue reading music biograpies as they appear, listening to new music streamed as I read, and writing reviews exploring what I learn. Certainly, Irene and I will continue to attend some festivals and concerts and involve ourselves in other musical events. We simply don't know how that will work out right now. All we know for certain is that there's a change in our lives, and it's time.