Article
Love Lives On: Dana Fuchs on Life, Loss and Her New Album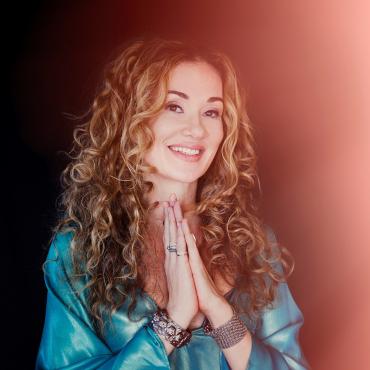 No one can ever say that blueswoman Dana Fuchs hasn't paid her dues.  Born in Florida to a family with a history of alcoholism and mental health issues, Fuchs learned early on to take refuge in music.  At the age of 19, she moved to New York City and found an apartment on the lower east side.  "It was still cheap and dangerous in those days," she notes.  Fuchs loves to tell the story of how she met her longtime collaborator, guitarist Jon Diamond.  "My brother was visiting.  We were walking in the neighborhood when I heard the most incredible guitar solo coming from a club.  It was Jon Diamond playing 'I'd Rather Go Blind."  An enormous man they called 'Moose' played bass and sang like no one I'd ever heard.  During a break, I introduced myself and told them I was a singer.  They invited me onstage, and I proceeded to butcher 'Stormy Monday.'  Afterwards, Jon told me, 'You've got a great instrument, but you don't know how to sing blues."  Diamond gave Fuchs a list of musicians to listen to and told her to call when she was ready to become a blues singer.
Never one to admit defeat, Fuchs took Diamond's advice.  "I was a good little student.  I got albums by Etta James, Esther Phillips, Koko Taylor, Buddy Guy and Muddy Waters. I called Jon a few months later, and he invited me over to watch Otis Redding's set in the film Montery Pop.  I became obsessed with Otis Redding, and I'm still obsessed to this day." The two musicians began gigging regularly in Manhattan, performing covers and working up original material.  Fuchs made her recording debut in 2003 with the acclaimed Lonely for a Lifetime.  Fuchs' rasping, blues drenched vocals won her a role playing Janis Joplin in the musical Love, Janis.  "Janis Joplin wasn't a role that you could act.  You needed to have lived it – you needed the mileage.  You needed the experience of singing in clubs night after night like Janis did.  The role was challenging in the best way.  It was a master class in singing and performing."   After the foray into theatre, Fuchs continued to refine her unique mix of blues and rock both in the studio and on the road.
Love Lives On, Fuchs' seventh album, stirs a little southern grease into the musical mix.  Fuchs traveled to Memphis and  recorded with a band that included veteran STAX Records drummer Steve Potts, longtime Hi Records organist Charlie Hodges and a spandex-tight horn section.  "It's the first time I just completely put my trust in a vibe and a history," says Fuchs.  "This was the most effortless album I've made.  We brought demo recordings into the studio.  Even when hearing a song the first time, Steve Potts would begin tapping out a drumbeat and Charles Hodges would write out organ chords in time as the demo was playing.  They would say, 'I feel this one. Let's cut it!' It would be done in one or two takes, max.  These guys were just princes.  They were masters of music and presence.  We finished the album in eleven days."
Despite the impressive amount of musical muscle on the album, Fuchs' inimitable voice and heartfelt songwriting never take a backseat.  "Backstreet Baby" kicks off the proceedings with an energetic blend of rock and soul.  Pott's drumming kicks the band into gear while the horns add a layer of deep Memphis soul.  Fuchs' raw and heartfelt lyrics draw from her own hard-bitten background.  "Sedative," a song which deals with addiction, sports a wonderful retro R&B arrangement fleshed out by deftly played keyboards and a honking baritone sax.  "Sittin' On" is an aching tale of lost love, but Fuchs and the band inject so much energy into the arrangement that it's sure to get listeners' feet tapping.
Fuchs is no stranger to heartbreak in her personal life.  Both of her parents and three of her siblings have passed away.  In Fuchs words, "With each loss, I feel a combination of wondering how I'll ever get on stage again and a realization that the stage is the only place where I can express myself in such a cathartic way."  "Callin' Angels" is one of the most beautifully personal tracks on Love Lives On.  The horns sound straight off of an Otis Redding album, and Hodges' organ adds a strong dose of gospel grit.  Fuchs says the song came together when she was in Jon Diamond's studio in New York.  "Jon was jamming on a guitar riff and singing 'Come on angels.'  I didn't know what was going on since he's a Jewish atheist.  He said the words just popped into his mind.  It's fascinating, because I'd recently gotten so many condolences for the family members I've lost.   One friend had told me, "You have so many angels looking over you now.'   I told Jon to keep playing the riff, and the lyrics just flowed from my fingertips.   When the song was done, I realized that each verse was about a relative I've lost."
Fuchs' impressive original material is complemented by a pair of well-chosen cover tunes.  Fuchs' take on Otis Redding's "Nobody's Fault But Mine" sports some of the album's finest ensemble playing.  Pott's aggressively funky drumming holds down the groove while Jon Diamond channels the spirit of Steve Cropper.  "Ring of Fire," a hit for Johnny Cash, shows off another side of Fuchs' talent.  While her voice retains its signature rasp, a mix of acoustic guitar and pedal steel give the track a warm and intimate feel.  Fuchs has always been a talent to reckon with.  The passion and expanded musical palette displayed in Love Lives On indicate that she's one of the most exciting acts on today's blues scene.
Love Lives On is available May 18th from Get Along Records