Column
The Mammals Return on the Ashokan Express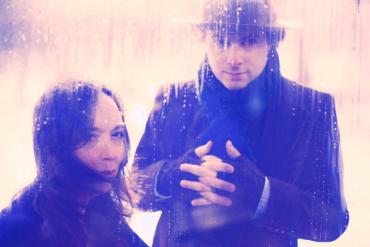 The last time I inhaled was 23 years ago and it didn't take long for the cravings to fade away. My motivation coincided with the birth of my first child, and the fear we'd go to the supermarket together one day and I'd forget to bring him home along with the potatoes, bacon and eggs. The image etched inside my mind was of driving off behind the wheel as he remained strapped into the metal cart all alone in the parking lot, crying and bewildered. And so I traded smoke for fatherhood and have happily walked the peaks and valleys with a clearer head, and quickly discovered that music, art and the written word could still deliver a mountain high without an altered state of consciousness. 
On the morning of April 20th – a special day of celebration for those who still appreciate the power of things green and leafy – two of my favorite musicians and storytellers released a new album featuring a group of collaborators and old friends. Minus original founding member Tao Rodriquez-Seeger, The Mammals have re-emerged from their self-described hibernation with a collection of songs that weave together and showcase a unique ability to easily slide in and out of the various nooks and crannies of roots music that expand the fluid borders of Americana. 
When I posted the video of the album's title track "Sunshiner" on my Americana Roots Music Daily Facebook page, this is what I wrote: "Lovin' the new album from The Mammals. The title track sounds to me like this is what happens when you blend a Mazzy Star vibe with two-part harmony, and sprinkle in some cosmic country dripping with pedal steel magic." What I didn't share was that for a brief moment I had a strong desire to allow myself one more chance to fall under the influence, lay down in a meadow of wildflowers and float away into space. Instead, with my eyes shut and ears open, I arrived at the same place sans the four-twenty experience. 
From their home base and humble abode in Woodstock, New York, Mike Merenda and Ruthy Ungar have raised their family in a supportive arts community steeped in history, continuing in the tradition of past folksingers who have traveled the musical ribbons of highways across America. On their Web site, this is how they describe what they do: "Woody Guthrie's guitar killed fascists. This family carries the torch." A Mike + Ruthy concert, now performing again as The Mammals, has always touched me as a two-foot process: one planted in the past traditions of old-time music, and the other into the yet unexplored. 
No Depression's former editor Kim Ruehl recently posted a review of Sunshiner over at Folk Alley, and I'd be a fool to try and improve on her words:
"The Mammals are here to reorient us to the beauty of the natural world and our place in it, and the opportunities that lie therein. Nature, after all, contains plenty of reminders to slow down and step back. (Consider how many generations can come and go—with all their petty squabbles—in the lifetime of a single tree.).
Similarly, music has a practical role to play in helping us survive times such as these, whether by providing an escape route or a tool box for building a better way. Count Sunshiner among the latter.
For context, the Mammals have populated these songs with the moon and the stars, the water, the birds, and a path into the unknown. There's a floating leaf from a maple tree, an ode on solar power and geothermal energy (the title track, of course). There's the abundance of children, family, and friendships, graceful confrontations with mortality, and even the very human (mammalian?) desire to be alone for just a moment."
The reference to Ashokan that I used in the headline of this column refers to the center and retreat in the Catskill Mountains, whose mission is 'to teach, inspire and build community through shared experiences in nature, history, music and art." Founded in 1980 by Ruthy's father Jay Ungar and his wife Molly Mason – themselves a beloved performing duo of traditional roots music – in addition to a number of educational programs, they also run a series of popular week-long music camps "where people come together to become better fiddlers, guitarists, mandolin players, uke players, percussionists, singers, dancers and teachers."  
In 2013 Mike, Ruthy and other musicians from the area began a festival series called The Hoot, that takes place twice a year in Winter and Summer at Ashokan. Described as a "down-home, multi-generational celebration of live roots music, local food & crafts, and the joyful spirit of this amazing community where the Catskills meet the Hudson River Valley," this summer it runs August 24th – 26th. 
The Mammals have listed upcoming tour dates on their site, and the album is available either directly through them or from the usual suspects. If you get the chance to see them live – they usually do either small venues or open air festivals – it's easy to fall under the spell of their charming observational stories that they weave with music that's easy on the ears and gentle on the mind. Good people, good times. No need to inhale. 
Many of my past columns, articles, and essays can be accessed at my own site, therealeasyed.com. I also aggregate news and videos on both Flipboardand Facebook as The Real Easy Ed: Americana Roots Music Daily. My Twitter handle is @therealeasyed.