Column
The Man in Black Comes Around Again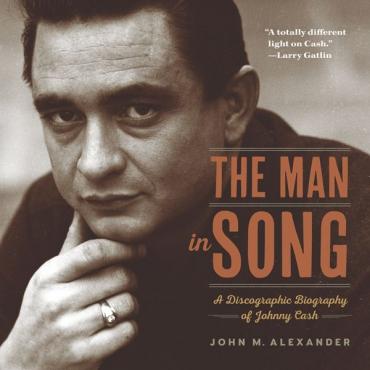 The release a few weeks ago of Johnny Cash: Forever Words reminded us just how strongly Cash's lyrics endure and how his presence continues to tower in roots music. This new album gives us a chance to imagine the Man in Black striding onto the stage once again, guitar slung behind his back, and watching as a variety of artists put his unpublished and unrecorded poetry and letters to music. The album gives Cash a voice long after his physical presence has left us. All of this is fitting, for long after the tales of violence, drug abuse, and depression fade into the distance, Cash's words and his songs tell his story the best, and music writer John M. Alexander recognizes this. Alexander's new book, The Man in Song: A Discographic Biography of Johnny Cash (Arkansas), tells Cash's story in roughly chronological order by examining all the songs he wrote and recorded.
Reflecting on "Songs That Make a Difference," which Cash wrote for the Highwayman album, Alexander discovers what for many Cash fans has long been self-evident, but which provides the direction for his book: "This is precisely what Johnny Cash was all about: writing and recording songs that made people think, feel, and react, with joy, sorrow, anger, or with a newfound understanding of what life, love, and the human condition are all about. His songs could be brutally honest and revealing or touchingly tender in their execution, but the one common trait they all possess is that they mattered greatly to Cash, and ultimately to the listener. The goal of Cash and these songs is to enrage, enrapture, enlighten, and entertain us as no one has done before."
Using titles from Cash's songs, or phrases associated with Cash, as chapter titles, Alexander groups various stages of Cash's life into groups of songs. Thus, "Five Feet High and Rising" is devoted to an exploration of "autobiographical, geographical, and societal songs"; "Ring of Fire" covers "songs for June"; "Heroes" focuses on "Hank Williams, Bob Dylan, and other musical influences"; and, "I've Been Everywhere" follows "travelin' Cash," for example.
In the chapter on his relationship with June Carter, Alexander repeats the oft-told story—which Cash told in his autobiography—of how Johnny and June met backstage at the Grand Ole Opry. He'd already fallen for her beauty and her voice, but he was married to Vivian. When they met backstage that night at the Opry, though, Cash told Carter: "You and I are going to get married someday." A string of songs follows, including "I Still Miss Someone" and "Ring of Fire," among others, that chronicle and reveal aspects of their relationship in song. According to Alexander, "a strong case can… be made that Cash's heartbreaking 'I Still Miss Someone' was inspired by his love for June. After all, the lyric clearly states, 'I never got over those blue eyes, I see them everywhere.' June had blue eyes, while Vivian's were brown. There's an ache and a longing in the song that mirrors Cash's conflicting emotions volleying between his feelings for Vivian and his growing burning passion for June." "Ring of Fire" similarly wrings out the couple's smoldering passion.
One of the best chapters is on the songs that Cash recorded that were written by others, such as Kris Kristofferson, John Prine, Marty Stuart, Rodney Crowell, and Guy Clark. These stories illustrate Cash's generous way with fellow artists, as well as his deep appreciation for musical collaboration. Cash cuts Crowell's "Song for the Life" and "turns in a haunting performance of the poetic lyrics" about a man looking back at his youth. Cash records Clark's "The Last Gunfighter Ballad," among others, but he famously recorded "Desperadoes Waiting for a Train" for the Highwayman album. Alexander carefully points out the differences in Cash's version of a song and the original. For example, Cash recorded Prine's "Paradise" on The Adventures of Johnny Cash; Cash alters the names of location of the abandoned old prison in the song—from "Adrie's Hill" to "Adrian's Hill"—and sings "coal companies" rather than "coal company" to indicate that more than one company assaulted the land. According to Alexander, "little flourishes like that only serve to make this a very good performance of a great song." While this might be so, it would have been nice if Alexander had illustrated in a fuller way why such little changes makes such a great performance.
To be sure, The Man in Song is a fan's notes. He reveals his hagiographic attitude, bordering on the fawning, toward Cash very early in the book: "To this day I say that the three greatest milestones in my life are the day I married my wife, the birth of my three children, and the first time I met Johnny Cash… in no particular order. People do get married and have kids, but not everyone gets to spend a day with Johnny Cash."
Fans of Cash will find very little new material here, and the book comes across as very superficial. To be fair, though, Alexander scurries over all Cash's songs and records, and that covers a large territory. Listeners new to Cash will find this a nice introduction to the man and his music and Alexander's book will send them in search of the music, which, in the end, may be accomplishment enough.