Column
May a Thousand New Books Bloom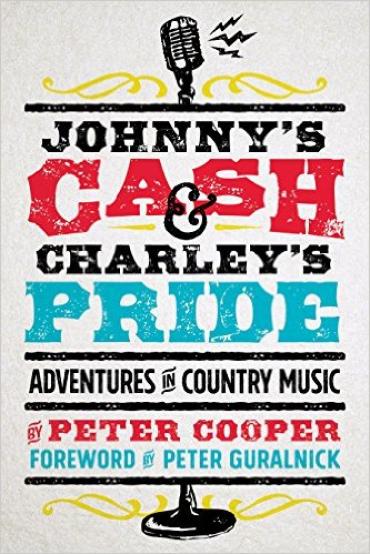 As winter rolls into spring—and winter has often felt more like spring this year here in Chicago—publishers cultivate a new crop of books, sending the fruits of the authors' long labors into the arms of readers waiting for the lush, and sometimes juicy, harvest. This spring sees memoirs by Jessi Colter, Jimmy Webb, and John Oates, as well as how-to manual on writing memoirs by the queen of rock memoirs, Pamela Des Barres. In future columns, I'll have interviews with Colter and Des Barres, and I'll be writing about almost all of these books in the weeks to come. I've compiled this list from publishers' catalogs and announcements and from the stack of advance readers' copies publishers have sent me; thus, there are no self-published books on this list, and there are no books on the list that don't have a distributor in the US. Feel free to add titles about which you've heard that aren't on this list, for there is no way any such list can ever be complete. Also, these titles are listed in no particular order.
Jessi Colter, with David Ritz, An Outlaw and a Lady: A Memoir of Music, Life with Waylon, and the Faith that Brought Me Home (Nelson/HarperCollins, April)—Although Colter gained fame as the wife of the hard-drinking, wild-living country outlaw Waylon Jennings, music flowed in Colter's life long before she met him. In this memoir, Colter offers a fast-paced chronicle of her life, loves, and the faith that underlies it all.
Roger Steffens, So Much Things to Say: The Oral History of Bob Marley (Norton, July)—There are a number of books out there on Bob Marley, but reggae historian Steffens draws on over 40 years of intimate and candid interviews with Marley's friends, family members, band members, lovers, and confidantes to offer a revealing narrative of Marley's life.
Katey Sagal, Grace Notes: My Recollections (Gallery Books/S&S, March)—Vulnerable, tough, sassy, funny, Sagal invites us into her living room, sharing wild, hilarious, poignant stories of growing up, struggling with addictions, and finding herself. Although most folks remember her as Peg Bundy on Married…with Children, she decided early in her life that she wanted to follow music as a career and has sung behind Bette Midler as one of the Staggering Harlettes and also with Etta James, one of her idols.
Ryan White, Jimmy Buffett: A Good Life All The Way (Touchstone/S&S, May)—Any Parrotheads out there? I think that A1A, Buffett's second album, was his last best album, but White's a dyed-in-the-feathers Parrothead who provides a fan's notes on Buffet, and most importantly examines the singer and writer as the canny entrepreneur that he is. To play on the titles of one of Buffett's early songs, he's making money from music and just about every product he's patented to sell to his adoring, and rabid, fans.
David Weigel, The Show That Never Ends: The Rise and Fall of Prog Rock (Norton, June)—Yes is now touring again, and King Crimson is about to hit arenas again in their "reunion" (minus the late, great Greg Lake, of course) tour. Weigel, a Washington Post reporter who interviews key figures in progressive rock, examines the music's ascent to popularity and the way it paved the way for successors such as Rush and Styx.
Jonathan Gould, Otis Redding: An Unfinished Life (Crown Archetype, May)—Drawing on previously unavailable sources of information, as well as on the cooperation of the Redding family, Gould offers what the publisher is calling the first comprehensive portrait of the singer's background, his upbringing, and his professional career.
Pamela Des Barres, Let It Bleed: How to Write a Rockin' Memoir (TarcherPerigree, April)—The author of the best-selling memoir I'm with the Band: Confessions of a Groupie now teaches popular classes on the art of writing memoirs. In this book, she distills her wisdom, encouraging writers to find their voices and tell the stories that they've been wanting to tell.
Peter Cooper, Johnny's Cash & Charley's Pride: Lasting Legends and Untold Adventures in Country Music (Spring House Press, April)—Former Tennessean columnist Cooper shares tales of his encounters with many of country music icons since his coming to the Tennessean in 2000. He offers an original take on the early days of WSM as well stories of his conversations with David Olney, Merle Haggard, Taylor Swift, Loretta Lynn, and others.
Ben Greenman, Dig if You Will the Picture: Funk, Sex, God & Genius in the Music of Prince (Henry Holt, April)—The title says it all, and I can say—although I've read only about 50 pages thus far—that Greenman's book is easily one of this year's best music books because of his thoughtful explorations of the music and the man, as well as his beautifully engaging writing.
Jean R. Freedman, Peggy Seeger: A Life of Music, Love, and Politics (Illinois, March)—Freedman draws on a wealth of conversations with Seeger to tell the story of one of music's most charismatic performers and tireless advocates.
Jim Dickinson, I'm Just Dead, Not Gone (Mississippi, April)—The late, great producer Dickinson (whose sons Luther and Cody are, of course, founding members of the North Mississippi Allstars) tells the stories of his times in Memphis with musicians as diverse as Aretha Franklin, Ry Cooder, Duane Allman, and Arlo Guthrie in his own words, collected here and edited by Ernest Suarez.
Jimmy Webb, The Cake and the Rain: A Memoir (St. Martin's, April)—Webb is a legendary musician whose appetite for fast cars and drugs nearly killed him, but whose appetite for writing a great song kept him alive. Webb chronicles his life in the fast lane and the stories behind many of his hundreds of songs.
John Oates, Change of Seasons: A Memoir (St. Martin's, March)—Oates gives us a glimpse behind the scenes of his days with Hall & Oates and chronicles his own evolution as a musician.
Rick Massimo, I Got a Song: A History of the Newport Folk Festival (Wesleyan, May)—Journalist Massimo offers extensive new interviews with the people who were at the iconic folk festival and who made it all happen, including festival producers George Wein, Bob Jones, and Jay Sweet; artists such as Pete Seeger, My Morning Jacket's Jim James, Judy Collins, Peter Yarrow, Colin Meloy, and Jeff Tweedy, as well as audience members from every era.
Bill C. Malone, Sing Me Back Home: Southern Roots and Country Music (Oklahoma, April)—For over 50 years, Bill C. Malone has researched and written about the history of country music. Today he is celebrated as the foremost authority on this distinctly American genre. This new collection brings together his significant article-length work from a variety of sources, including essays, book chapters, and record liner notes. Sing Me Back Home distills a lifetime of thinking about country and southern roots music.

Brent Hayes Edwards, Epistrophies: Jazz and the Literary Imagination (Harvard, June)—Thelonious Monk and Kenny Clarke copyrighted "Epistrophy" in 1941, and it became one of the best-known compositions of the bebop era. The title of the song invokes a literary device—the repetition of a word or phrase at the end of successive clauses—and Edwards examines the ways that this device signals the eternal conversation between music and language.