Column
Nashville Cats on a Tennessee Ant Hill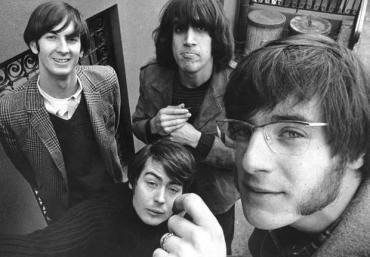 Yeah, I was just fourteen way back in 1966 and "you might say I was a musical proverbial knee-high." My entire life swirled around the sounds of the times as a compulsive record collector and a late-night radio-dial twirler who was all ears and in possession of a Silvertone guitar bought straight out of the Sears and Roebuck catalog. I was teaching myself how to play by sheer repetitive listening, catching the latest riffs of the day from the opening notes from songs like "Sounds of Silence" and "Last Train to Clarksville."
It was the year of the mixed bag, with the airwaves not dominated by one band or genre over another, but a hodgepodge of one-offs and classics. Wilson Pickett blended into the soundtrack with Herb Alpert's Tijuana Brass and Ike and Tina; Nancy's boots walked alongside The Supremes' chiffon dresses and choreography; The Beatles, Stones, and Beach Boys pumped out one hit after another, and one song released the week of Thanksgiving became my obsession.
Yeah, I was just thirteen, you might say I was a musical proverbial knee-high
When I heard a couple new-sounding tunes on the tubes and they blasted me sky-high
And the record man said every one is a yellow sun record from Nashville
And up north there ain't nobody buys them and I said, "But I will."
Released two years before Gram Parsons and the Byrds' Sweetheart of The Rodeo, considered by many to be the keystone to modern day Americana, John Sebastian's slightly geographically misplaced love for country music and the folks who played it — Sun Records was 200 miles away in Memphis — it was both a lyrically poetic and instrumental masterpiece that didn't sound like anything else being played on the radio at the time. "Nashville Cats" was the ninth track of the Lovin' Spoonful's third studio album, Hums of The Lovin' Spoonful, and each song sounds different from the next. The first big hits were "Summer In The City" and "Rain on the Roof," and the only commonality with the other 15 tracks were that Sebastian either wrote or co-wrote each song and sang lead on most.
Well, there's thirteen hundred and fifty-two guitar pickers in Nashville
And they can pick more notes than the number of ants on a Tennessee ant hill
Yeah, there's thirteen hundred and fifty-two guitar cases in Nashville
And any one that unpacks 'is guitar could play twice as better than I will
I've read that Johnny Cash's "I Walk The Line" was one of Sebastian's influences, since he was indeed just thirteen and living in Greenwich Village when it was released on Sun Records. The real story of how the song came about can be found here in this interview Sebastian did in 2016 for Epiphone, but the inspiration was the late Danny "The Telemaster" Gatton.
Zal Yanovsky was the guitarist and co-founder of the Lovin' Spoonful, and I must have listened to him playing on "Nashville Cats" ten thousand times while trying to capture and replicate that great lead he did on his big Fender. When he passed away in 2002, Rolling Stone ran his obituary and quoted Sebastian on his playing: "He could play like Elmore James, he could play like Floyd Kramer, he could play like Chuck Berry. He could play like all these people, yet he still had his own overpowering personality. Out of this we could, I thought, craft something with real flexibility."
Thirty-three years after it first came out, Del McCoury and his band covered it on his album The Family. Although I'm not able to confirm it, I think he may also have performed it with Steve Earle on The Jools Holland Show in 1999. In addition to Johnny Cash's version and the Homer and Jethro parody, it was also done by Flatt and Scruggs. And while I hate to throw in this pretty awful novelty record, for you completists out there, this is The Lovin' Cohens.
Nashville cats, play clean as country water
Nashville cats, play wild as mountain dew
Nashville cats, been playin' since they's babies
Nashville cats, get work before they're two
I'll close this out with Tony Jackson, the former Marine and banking executive who had a viral video (over ten million Facebook views) with George Jones' "The Grand Tour" a couple of years ago. Hustled into a studio to record his debut album that came out in May 2017, he was backed by an incredible group of musicians and covered "Nashville Cats" for his first single, featuring John Sebastian, Vince Gill, Steve Cropper, Billy Thomas, Glen Worf, and steel guitar legend Paul Franklin. It's a mighty fine version of the classic song that takes me right back to those late nights in my bedroom alone with my Silvertone, tryin' hard to "pick more notes than the number of ants on a Tennessee ant hill."
Many of my past columns, articles, and essays can be accessed at my own site, therealeasyed.com. I also aggregate news and videos on both Flipboardand Facebook as The Real Easy Ed: Americana Roots Music Daily. My Twitter handle is @therealeasyed.