Column
From Nellie McKay to Marc Ribot: Seven Stunning Upcoming Roots Music Releases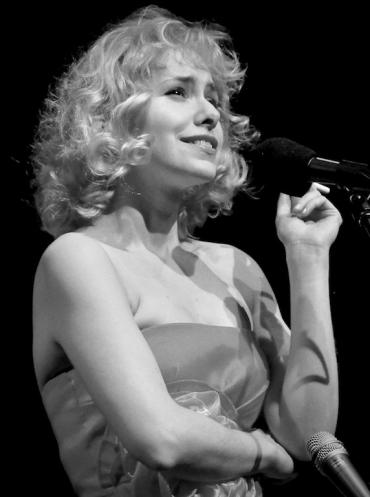 While I have pretty much recovered from MerleFest, it has helped to have a slew of new and upcoming releases that I am so excited about. Some have links to tracks you can hear that'll give you an inkling of what you can expect. From the sublime Nellie McKay to the no-wave Marc Ribot to the stunning US debut of Tami Neilson, this an outstanding collection. 
Nellie McKay - Sister Orchid (May 18) 
There are three ways to approach the Great American Songbook: Cabaret, supper club, and saloon. I have heard McKay sing these songs before, but not quite as she does here. On this outing, McKay sheds her Blossom Dearie-like mannerisms and becomes more akin to Hugh Shannon (king of the saloon singers). But what is it exactly, you ask? It's more existential, and cinematic, in nature. Think of an old, smoke-filled bar, not seedy exactly, but a place where down-and-outers congregate to drink and share their past troubles, usually romantic. It's as if you're in the coastal bar in the 1948 picture Road House where Ida Lupino is singing "One More for My Baby." 
As with Sinatra's Only for the Lonely album, in McKay's telling the songs are more than stories, they are the way one lives every day (and night), full of regret and hope that the next one's going to be the one, the big score. While McKay can disappear in "Angel Eyes," and make you forget Helen Merrill's version of "The Nearness of You," she can also sing the World War II staple "Where or When" as if she were a barfly looking for that next drink. 
The most poignant moment comes with "Small Day Tomorrow" as it's writer, Bob Dorough, just passed away. Last week NPR featured the song and an appreciation of their friendship. In the article McKay notes, "Turn your back on the cold light of day and embrace the warmth of a shot glass." My suggestion is turn the lights down low, pour a stiff one, light one up if you have it, and let Sister Orchid take you on a journey, sometimes sentimental, sometimes not, to that shadowy coastal Highway 101 bar. 
Hawktail - Unless (May 11)
I had the good fortune to hear one of this quartet's first public appearances last Fall during AmericanaFest, in an ideal setting: Lindsay Lou's living room. The name may be new, but you have heard these folks before as three of them had been the trio of Haas Kowert Tice, with the first two being members of the Dave Rawlings Machine. Now, Dominick Leslie, a mandolinist with an unparrelled rhythmic sensibility, has been added.
While they are well versed in the old-time traditions, their music is fresh, lively, and consequential.  In other words they are not imitators or replicators. As I said of them in my AmericanaFest wrap-up: "Without a doubt their set was my favorite of the week, a labyrinthine of complex yet accessible acoustic music that had me in a trance." This album does the same.
Fretboard Journal named Hawktail as one of their "favorite new groups" and premiered the title track here. 
Ry Cooder - The Prodigal Son (May 11)
A couple years ago, when Cooder was playing with Ricky Skaggs' band, Skaggs turned to him and said, "I bet you never thought you'd be playing gospel music." That struck me as odd, as one of Cooder's great gifts is to bore into a genre, live with it and its musicians, and come out with something all his own. This collection, including tunes by Willie Johnson, Alfred Reed, Carter Stanley and three originals, are not religious per se, but rather are songs done in a way that instill a sense of reverence, instead of blind adherence. In whole and part, the album is a deft commentary on the ailing moral state of our times, done as only Ry Cooder could.
NPR's First Listen has it streaming before its release here.
Parker Millsap - Other Arrangements (May 4)
While Millsap's voice and guitar playing belie his age and boyish good looks, he is a terror in both. Being from a Pentecostal family, he again embraces some spiritual songs on his third album in four years. While he keeps a bluesy base, he rocks out more and his songs are more relationship-centered, punctuated by both short, economical lyrics and even more amazing guitar licks. What is also amazing about Millsap is how he stays focused as he takes the listener on a trip that, due to his sudden stops, then bursts of heady energy, including chop-chop vocals, can be a bit disorienting. But only at first, because as soon as you get on his wavelength you realize he's on a par with his contemporaries: John Moreland, Jason Isbell, and others.
An Oklahoma native, Millsap had an insightful interview with his state newspaper. You can read it here and hear some tracks from the album.
Tami Neilson - Sassafrass! (June 1)
I am one up on most listeners here, as I have some of Neilson's New Zealand albums, and for her first release on this side of the Pacific she's pretty much stuck to an R&B sound that she perfected on her previous album, Dynamite! Hailing from Canada, the album is one of defiance, where she stakes out her claims. From the opening title track that rancorously takes on those who take issue with her being a musician and mother to the Smokey Robinson-inspired "Good Man," she traverses the many styles and nuances of American soul music.
In between,"Diamond Ring" was inspired by men hitting on her widowed mother; the chickens-coming-home-to-roost sexism of "Smoking Gun;" the Platters-influenced "One Thought of You;" the Bobbie Gentry-like "A Woman's Pain;" and the Rosanne Cash-eque "Manitoba Sunrise at Motel 6." Derivative, no. She's taken the many influences of the best popular music has offered and through her strong songwriting, distinctive sensibility, and the purity of her voice has made the album we've been waiting for, but never knew we wanted. Damn, it's good.
The Bluegrass Situation debuted the title track here. 
Marc Ribot's Ceramic Dog - YRU Still Here? (April 27)
As he did during the trio's recent Big Ears appearance, Ribot leaves no doubt in the listeners' minds as he starts the album off with "I got a right to say FUCK YOU!!!" as he howls at corruption, tyranny, life in general, and nothing in particular. This is William S. Burroughs on acid as he careens from punk to funk to flamenco to surf to rock and roll — all turned on their heads and smudged. If you only know him from his work with Buddy Miller, where he made you cry with "Cold Cold Heart," this album reminds us that now is a moment when anger is not only necessary, and unavoidable, but also necessary. Not for the faint of heart, but if you were ever attracted to punksters, this'll make them look like grade schoolers who can't tie their shoelaces, let alone tune their guitars. Adult music for the mind and body. 
Nicki Bluhm - To Rise You Gotta Fall (June 1)
Despite six years of touring with her band the Gramblers and recent high-profile collaborations (Phil Lesh, Infamous Stringdusters, Ryan Adams) and four outstanding albums, it seems to me that Bluhm has never gotten her due. Maybe it because her songs are a bit too considered, too easy-going with not enough dust and grit for a lot of Americana folks. I hope that changes with this album that was recorded at Sam Phillips Studio with a full band that includes Will Sexton on guitar and a Hammond B-3.
Following a divorce and move to Nashville, this collection of heartbreak songs serves as a catharsis and a journey to a new life and ultimate forgiveness, but she's also angry and hurt here. Prime example is "I Hate You," where, backed primarily with percussion and the B-3, she digs deep to hate someone enough to get them out of her mind. As with other great breakup albums, Bluhm's hurting results in a stunning album, sometimes quiet, sometimes restless, and never less than intriguing. 
You can hear the title track here. 
Now, those photos provided by the ever-present ND photographers. Please note that the photo of Tami Neilson is by Justyn Denney, used with permission.