Column
The Persistent Poetry of Rodney Crowell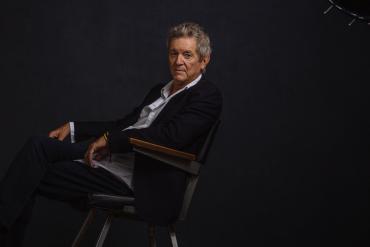 If the position of poet laureate continues to exist in the midst of budget cuts to the arts, then Rodney Crowell should surely be a candidate for it. Whether he'll accept it or not, he's now assumed the mantle of the late Guy Clark and Townes Van Zandt, two poets who could zero in on our emotions by telling wry, straight-as-an-arrow stories about the desiccated desolation of the failures or triumphs of relationships, or the battered denizens of small towns searching for truth, comfort, love, or refuge in their own halting ways. Crowell knows how to set a scene in his songs, and he creates an atmosphere that can be cloying or spacious, light or dark, depending on the story he's telling.
Crowell's always spoken with a poetic sensibility — think "'Till I Gain Control Again" — but with his new album, Close Ties, that vision is on full display. "Forty Miles from Nowhere," for example, offers a portrait of life on his plot of land: "it rained today/clouds rolled up at dawn/all hell burst wide open/and just like that was gone/your little lap dog chased a foxtail squirrel/right about now it gets quiet around here/what with nightfall on the wing/forty miles from nowhere/at the bottom of the world." Close Ties also ponders the close connections that tug and pull and persist, whether in life or in memory. With his clear-eyed poetic wisdom, Crowell ponders the power of memory, the shards of redemption, the bereftness of loss, and the vagaries of youth that tie us to others in the songs on the new album. Among the most moving are "Life without Susanna," where he works out his anger and love for Susanna Clark; "It Ain't Over Yet," featuring Rosanne Cash and John Paul White, which he started after Clark convinced him forcefully not to wallow in self-pity; and "Nashville 1972," a cinematic portrait of his first year in Nashville, when he met up with Tom T. Hall and others.
Crowell, whose poetry is also evident in his compellingly beautiful memoir Chinaberry Sidewalks, and I chatted by phone last week about his new album, his guitars, and Chuck Berry, whose death "hit me hard," Crowell said. "He had the best rhymes of all of them, and he was a brilliant poet, and in some ways a real rascal character. He had these great melodies, but I wanted to wring his neck because I don't think he took it seriously."
We also talked at length about writing, reading, and the book that shaped his writing. We also chatted poetry: When I quoted the first line of Wordsworth's "The World is Too Much with Us," Crowell right away chimed in with the next lines.
Henry Carrigan: What's the story behind this album?
Rodney Crowell: I'm always writing songs. I write songs because I want to make an album. Anymore, I've noticed that there will be a season of songwriting. After Emmy and I wrote the songs for The Traveling Kind, a number of really close friends of mine died — Guy Clark, Glenn Frey, my business manager of 38 years, among others — and songs like "Life without Susanna" and "It Ain't Over Yet" grew in that season. You know, close ties are the connections, the relationships; the most valuable part of relationships is what you learn. I wrote all but two of the songs on Close Ties — "Nashville 1972" is a few years old, and "I'm Tied to You" came to me a long time ago; I started it about 20 years ago — during this season of songwriting.
You've talked a bit about Americana artists sharing the common thread of the poet. What is a poet?
To articulate it, you're chasing a poetic sensibility. It might not rhyme, but you're chasing this narrative sensibility, this vision, whether it sells records or not. You know, really cutting-edge hip-hop was poetry, but as it became more commercialized it lost that poetry. The songs I'm drawn to in so-called country-flavored music are the ones by younger artists who are chasing this poetic sensibility — Jason Isbell and John Paul White are two. When I heard Isbell's "24 Frames," I thought, "Ah, there; that's an intelligent approach to establishing a song." Of course, people who sell fewer records can actually chase that poetic sensibility.
Other than Mary Karr, who are your favorite poets?
John Berryman, C.K. Williams, Richard Ford — even though he's not a poet; he writes fiction, but I love the way he chases a vision and uses language in his stories and novels — Wilfred Owen. I re-read Owen's poem "Dulce et Decorum Est" because it's unflinching in the way it expresses emotional truth. When I was writing "Life without Susanna," I was trying to write a poem like that. I wanted to write a love song to my very dear friend who I was angry at for 10 years because she seemed just to give up. Leonard Cohen: He did it well and left some breadcrumbs for us to follow. He was already doing it with Old Ideas, though. There's a lot of spiritual work going on there. First and foremost he took himself apart. I like that. If I'm gonna take the piss out of somebody, I'm gonna take it out of myself first.
If you could invite five writers, living or dead, to lunch, whom would you invite?
You know, I wrote a song that I've never released called "If I Could Speak to Leonard." I concluded that I'd likely just be silent and not say anything. So, I'd invite Leonard Cohen. Shakespeare: There's a lot that needs to shake out of that tree that hasn't yet. Raymond Carver: I want to know if it was him or his editor that carved out those sentences. Jane Austen: She could stick a pin in your balloon and do it in the most pleasant way. And Wilfred Owen.
What's the one book you wouldn't leave home without?
I don't know if there's just one, but there are a few that I re-read. I re-read Gabriel García Márquez's One Hundred Years of Solitude and Love in the Time of Cholera every couple of years. Anna Karenina: Once I found the right translation, I got to understand it better.
Tolstoy's Death of Ivan Ilyich: He really knows how to set a scene. Mary [Karr]'s Cherry: I re-read that first 20 pages often; it's such a moving stream of narrative. I'm also reading now this book called Cosmos and Psyche by Richard Tarnas, which I have to read slowly since he's covering so many ideas, and he's making these connections between our experience and archetypal stories; fascinating.
There's a connection to spirituality in that last book. On this album and in some of your earlier songs, there's an undercurrent of spirituality but it's never overt. Where do you find the spiritual?
It's in the earth. It's where I live. I have a grove of cedar trees, which I describe on "Forty Miles from Nowhere" on this new album, and I can sit and look out on it. I have a really lovely vegetable garden; I love this plot of land. I draw most of the spirit that recycles itself into my songs and on the page from the earth. It's like Yeats' poem, "An Acre of Grass." And I'm pretty worried now that the EPA is under new management, I guess you could say (laughs), because the most daunting thing to me is climate change.
What books do you carry on the road with you?
I don't carry many books with me since I don't have a lot of time for reading, but I always carry my notebook. Podcasts serve a good purpose on the road; there are plenty of great conversations you can listen to on hundreds of podcasts.
How do you read? On a tablet? Print books?
Print books; I'm old school. I like the sense of accomplishment I feel when I close a book and hear the thump of the cover. I love that musty smell of books and the feel of the pages.
What one book shaped you as a writer?
Thinking back to the 1970s, someone gave me a copy of the I Ching, the Book of Changes. They taught me how to throw the sticks and how to read the hexagrams. It opened me up to archetypal stories, and it stared to pay off. I wrote "'Till I Gain Control Again"—it's a meditation, a prayer. The book opened a door that I had yet to tap. It offers a wisdom that really comes in handy when I'm trying to access that mysterious and metaphysical place where songwriting lives.
Do you have a favorite guitar?
Yes. It's Black Betty, a 1932 Gibson L-00 with a white pick guard. I didn't really begin to play guitar until that guitar found me. I've had it for 25 years, and I carry it on the road with me and still play it every night. I want to be playing guitar with the guitar I want to play; that guitar and I belong together. It's the sun in my solar system.