Article
Power of Music Festival Packs a Punch Featuring Four Days of Top Songwriters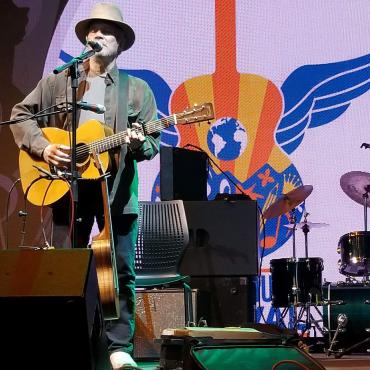 Last weekend the Power of Music Festival was held in Bentonville, AR, April 26-29 featuring world-class songwriters benefitting the I'll Fly Away Foundation's music education program, which brings songwriting into area schools to elevate test scores and classroom engagement. It was an action-packed four days filled with educational panels on anything from social media to how to pick a PRO, talks from industry professionals on publicity and music supervision, and of course, live performances from songwriters and artists alike.
Thursday kicked off with panels during the day, including guest speaker and soul icon Al Bell (Stax Rercords) offering a talk on music publishing and copyrights. A VIP party that evening featured David Starr, Steve Poltz, Gracie Schram and Melodie Pond. After a beer at the charming (and delicious) Bike Rack Brewing Co. the evening was in full force as The Accidentals rocked the room at the historic downtown Meteor Guitar Gallery.
The Accidentals perform at the Power of Music Festival. 
Friday featured a panel with hit producer Mark Wright during the morning with several options for live shows later on. A well attended round at the stunning Haxton Road Studios included Randy Goodrum ("You Needed Me," "A Lesson In Leavin'"), Colorado guitarist/songwriter David Starr, and Oklahoma singer/songwriter Carter Sampson. Later in the evening Farewell Angelina delivered a powerful set at the Meteor Guitar Gallery showcasing their stellar four-part harmony and serious songwriting chops.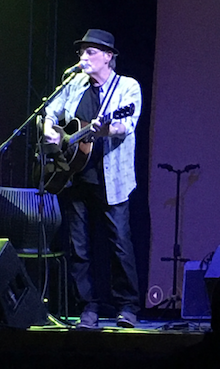 David Starr performs at the Power of Music Festival. 
Saturday legendary songwriter (and 2018 Songwriters Hall of Fame Inductee) Steve Dorff ("Through The Years," "Every Which Way But Loose") performed an intimate set of hits at Haxton Road. It was a star-studded night with cast members of HBO's True Detective, including Dorff's son Stephen Dorff and Oscar-winning actor Mahershala Ali, in the audience. Dorff also hosted multiple book signings throughout the festival for his new memoir I Wrote That One, Too…: A Life in Songwriting from Willie to Whitney.
Pictured (L - R):  Power of Music Festival's Betsy Brumley-Bernier and Kevin Bernier; Steve Dorff; Stephen Dorff; Mahershala Ali.
Afterwards the highly anticipated Hall of Fame Show did not disappoint with hit writers Roger Cook ("I'd Like to Teach the World to Sing"), Richard Leigh ("Don't It Make My Brown Eyes Blue") and Dennis Morgan ("I Was Country When Country Wasn't Cool") serenading an attentive audience while sharing stories behind the hits.
Pictured (L-R):  Roger Cook; Betsy Brumley-Bernier;  Richard Leigh; Dennis Morgan
In total there were 51 songwriters and artists in attendance and over 40 shows at six venues around Bentonville. While there was no way to catch them all, it was an absolutely wonderful festival that I would recommend to music lovers, aspiring songwriters, and anyone looking for a fun weekend jaunt packed with amazing live performances all while supporting a great cause.
The I'll Fly Away Foundation is named for the iconic song "I'll Fly Away," written by Albert E. Brumley. His granddaughter, Betsy Brumley-Bernier, founded the I'll Fly Away Foundation with her husband, Kevin Bernier.