Article
Ralph Stanley - The blue, blue grass of home
RIP Ralph Stanley 1927-2016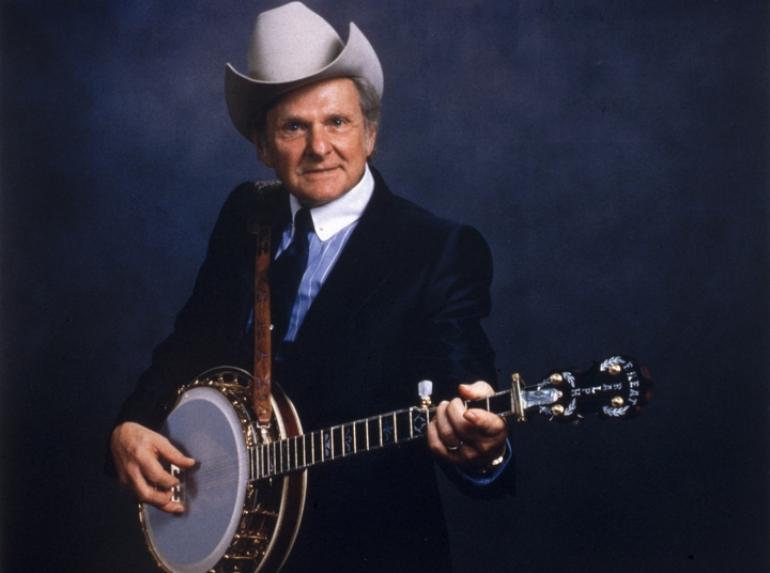 *Editor's Note: Ralph Stanley passed away at his home, "in the same mountains of southwestern Virginia where he was born in February 1927," according to a press release from the IBMA. To honor his memory, we're re-running this cover story from Issue #15 in 1998. 
Doctor Ralph Stanley has a new album coming out. That's hardly news in itself -- he's been putting them out biannually for the last 30 years or so -- but this one is different: Clinch Mountain Country, a two-disc set, pairs the 71-year old veteran banjo man with more than 30 guests in a project meant as much to provide a hot item for sale at personal appearances as it is to honor one of the most distinctive voices in the history of country music. He may be a legend and a national treasure, but Ralph Stanley is still a musician whose first concern is to work enough dates and sell enough albums to keep a good band together, a man for whom the "stock" in "stock market" still means cattle.
An interview with Stanley is, it turns out, somewhat easier to arrange than to pull off. After scheduling a meeting in Bristol, the Tennessee/Virginia border town that was pretty much the birthplace of Ralph's early career with his brother Carter, I asked for some tips from John Wright, author of a sort of oral history biography of Stanley (Traveling The High Way Home, University of Illinois Press, 1993). His response was more warning than advice: "It's hard to imagine that anyone can come up with a question he hasn't heard many times before."
That was certainly true as far as I was concerned, and added to that problem was this one: There is simply no way to tell the story of the Stanley Brothers' 19-year career, Ralph's 32-year history as a solo act after Carter's death, and something about the new album in the space of a single article. Something has to give, and this time, it's going to be history; a bare outline will have to do, so...
Ralph Stanley was born in Dickenson County, Virginia, on February 25, 1927. He graduated from high school in May 1946 and went straight into the Army. "I had never stayed away from home but maybe two nights until that happened," he says, "and I'll tell you, that was some lonesome days for me." Shipped off to pull guard duty in occupied Germany, Stanley found favor with his superiors through the banjo playing he had learned from his mother. They gave him an office job and tried to persuade him to stick around with offers of an open-ended string of promotions. He answered, "No thanks, I believe I'll go home," and returned to Virginia, where he was promptly pressed into service by older brother Carter, already in a band based in the little town of Norton.
Though he was clearly the less forward of the two, Ralph instigated the decision by the two to start their own band. As he tells it, "I joined this group and things didn't go just exactly the way I liked them, and so I talked to Carter, and I told him I didn't like the way everything was going. In other words, the leader played the fiddle -- well, he played a banjo too -- and during a show he'd come and take the banjo from around my neck and do a banjo tune. So I told Carter, 'If you want us to start a band of our own, I will, and if not, why, I'm gone.' So he agreed to do that and we started from there."
Establishing their new act on Bristol's WCYB radio station, the Stanley Brothers quickly became, in Ralph's phrase, a red hot band, working up to six nights a week at "high schools, grade schools and indoor theaters" in the portions of Tennessee, Virginia, North Carolina and West Virginia that surrounded Bristol. They recorded for the Rich-R-Tone label in Johnson City, Tennessee, then for Columbia and finally Mercury. They occasionally played in other areas (Raleigh, North Carolina; Huntington, West Virginia; Detroit, Michigan; even Shreveport, Louisiana, where they played the Hayride) and even worked for other acts (Carter spent a brief period as one of Bill Monroe's Blue Grass Boys). But "we'd just be gone maybe a month or two at a time and then we'd get homesick and come back to Bristol," Stanley recalls.
The hills of home held a powerful attraction for them, and not just emotionally. Ralph recalls "a time, during the early '50s, through this area, these three or four states here, Jimmie Skinner and the Stanley Brothers was all you could hear on the jukebox. Anywhere you'd go, you could hear Jimmie Skinner and the Stanley Brothers, that was it -- and I mean, it played and played." The Brothers did well enough that, in Ralph's account, they were able to sort through requests for engagements and "throw the sorry ones in the waste basket."
By the late '50s, however, it was another story. Rock 'n' roll had "starved about everybody out"; the Stanleys left Virginia for Florida, and switched from Mercury to the Starday and King labels, between which they shuttled back and forth for the next few years while carrying a minimal band and playing a lot of clubs ("I wouldn't want to do it now, [but we] just about had to then"). Though some fans disdain their work for King as compromised by commercial considerations -- "[owner] Syd Nathan didn't like a fiddle or he didn't like a banjo, all he wanted was two guitars and a bass....The Delmore Brothers had recorded with him and done well, and that's what they had, was guitars" -- the Stanleys felt generally well-treated by the label, and were still recording for King when Carter passed away in December 1966, most likely the result of excessive drinking.
The Stanley Brothers' legacy amounts to around 300 recordings, ranging from the pre-bluegrass sound of their first efforts for Rich-R-Tone to the full-bore sound of classics such as "Our Last Goodbye", "Nobody's Love Is Like Mine", "I'll Never Grow Tired Of You", "Think Of What You've Done" and "Ridin' That Midnight Train"; from sublime gospel classics such as "White Dove", "The Cry From The Cross" and "Rank Stranger" to the Syd Nathan-prescribed silliness of their version of "Finger Poppin' Time" and their post-Elvis reworking of "Blue Moon Of Kentucky", made at the behest of Bill Monroe himself ("You'd better do that if you want to sell some records," he advised the Stanleys).
For Ralph, left to carry on as a solo artist, this body of work amounted to a double-edged sword: He embraced it as profoundly his, yet wanted to distance himself from it. He went back to work within a week of Carter's death, and almost as quickly began to take his own music in a different direction -- back to the future, as it were.
Never a prolific writer -- "I've seen professional writers and they sit down and just write a song, but it's got to come to me, you know, I've got to...something tells me before I can write" -- he mostly relied on others to supply him with material. Curious about how he selects songs, I asked him what he looked for. "Well, I just listen...I listen mostly to the harmony, to the melody of it, actually more than I do the words," he replied. "Sometimes I can change some of the words....I just listen for something that I can put the old-time touch to....A lot of people, you know, they listen to the words that tells a story that they enjoy. Well now, I listen more to the melody than I do words; that gets me more than the words does."
While his banjo playing became more and more stripped down and reminiscent of his original, pre-bluegrass two-finger style, the size of his band grew. Perhaps believing that no single man could fill Carter's shoes, Ralph has usually carried five to seven band members over the years, occasionally even more. They've developed a sound no less identifiable by the way its guitar-heavy rhythm lurches forward at the start of a song than by his banjo style; meanwhile, his singing, always filled with a mournful tone even when applied to novelty songs such as "The Kitten And The Cat", became even more melismatic and haunting.
As these characteristics emerged Ralph Stanley & the Clinch Mountain Boys became an act that was no less a part of the contemporary scene for having a direct connection to the earliest days of bluegrass. With steady support from an irrepressible fiddler, the late Curly Ray Cline, and a stolid bass player and harmony singer, Jack Cooke, Ralph brought in a steady succession of lead singers and lead guitarists, as well as the occasional mandolin player. Among them were Roy Lee Centers, Keith Whitley, Charlie Sizemore, Ernie Thacker, Ricky Skaggs, Ricky Lee and Junior Blankenship.
They presented a show that was all the more appealing to Stanley's audience for being almost ritualistic in form and content, with a cappella gospel tunes, sales pitches, solo numbers, Stanley Brothers favorites, personal appearance announcements, new songs, and sideman features following one another in a sequence that hearkened back to the days of old.
The passage of some 30 years since Carter's death brought increasing recognition of Ralph Stanley's genius, as much a matter of iron-willed perseverance as it is of the music itself. With generations of musicians growing up learning Stanley Brothers songs and staring up at Ralph and his band from festival audiences, the Stanley influence strengthened rather than diminished, setting the stage for -- and this must surely sound odd when said of a man of 71 -- Ralph Stanley's ultimate breakthrough. Clinch Mountain Country is meant to move his career to a new level, and it's almost certain to do just that.
"Everyone just wanted to come in and do it," Stanley says of his new album. Produced and engineered by Nashville bluegrass and acoustic country ace Bil VornDick, Clinch Mountain Country features the Clinch Mountain Boys -- Jack Cooke (bass), James Alan Shelton (lead guitar), James Price (fiddle), Steve Sparkman (banjo), John Rigsby (mandolin) and Ralph's son, Ralph Stanley II (guitar) -- backing the elder Stanley, while bringing aboard a boatload of guests for a collection of songs that leans heavily, though not exclusively, on the Stanley Brothers canon.
The instrumental sound is vintage Stanley, with Ralph himself sometimes in the foreground, sometimes in back. While he mentions a duet with Patty Loveless on "Pretty Polly" as a particular favorite, the most elegant cut on the album features Diamond Rio doing a breathtaking trio on "How Can We Thank Him For What He Has Done", with Ralph doing Carter's recitation.
Other entertainers -- Stanley's word -- who appear are "some of my favorites that I wanted to record with me like George Jones, and of course Dwight Yoakam, Vince Gill, Patty Loveless [and] Alison Krauss." But there are plenty of others, some tapped by VornDick and some who got wind of the project and asked to be included, including Gillian Welch, Rhonda Vincent, Porter Wagoner, Junior Brown, Joe Diffie, BR5-49, Hal Ketchum, Tim O'Brien, Vern Gosdin, Jim Lauderdale, Connie Smith, the Kentucky HeadHunters...and Bob Dylan.
Dylan's presence is clearly a valued contribution, though his performance is the most widely divergent from the original. Ralph notes that "every bit of this, everybody that sung with me, sung my style, they used my band, and it's all got the old-time touch to it. Everybody that recorded with me was familiar with what I done and they didn't have a bit of trouble a-doin' it."
When I ask him about Dylan's cut, "The Lonesome River" -- Dylan is certainly familiar with what Ralph has done, but certainly does the song in his own fashion -- Ralph's comments reflect a complex mixture of friendship, wariness (toward the line of discussion, not toward Dylan), and recognition of his guest's enormous appeal: "I think Bob Dylan added a lot to this. I was glad to get Bob, and I understand that he turned down several groups this year, you know, that wanted him to sing with them. I really appreciate it....He had wanted to record with me, and I wanted him to record with me." When I reminded Stanley that the song was always done as a trio -- with Dylan it's transformed into a duet -- he gravely replied, "It's altogether different, it'll just be a different song. And I think it's good."
The feeling is obviously mutual, not only between Stanley and Dylan, who has been quoted as saying his appearance on the Stanley record "is the highlight of my career," but between the old master and all of his guests. That so many singers of such fame made their way to the studio to "stand beside me" -- an important reference to the fact that virtually all of the tracks were recorded live, rather than with parts dubbed in at another time and in another place -- is a source of obvious and legitimate pride to Stanley, but no more so than their familiarity with his material. "You know," he beams, "a lot of the entertainers that helped on this new project, see, they'd heard all these old songs. Most of the entertainers that sung with me on it, they picked the song they wanted to do, most of them, and they had heard all of that old stuff, and they wanted to do it."
That might not be surprising for some of the guests from the fields of bluegrass or gospel -- Marty Stuart, Claire Lynch, Judy & David Marshall, and former Stanley sideman Ricky Skaggs, for instance -- but it seems to apply equally to more unexpected guests, whose connection to bluegrass is certainly less obvious. Joe Diffie, for one, enthused about having "this legend standing beside me, singing together, and not just me singing along to one of his records."
VornDick, who spent "the better part of a year" on the project, says, "We have different musicians and singers interpreting where they feel the song is at in the 1990s." This is true enough, but where that is generally ends up meshing appropriately with the Stanley sound. Ralph's enthusiasm about the album is genuine, but he's not unmindful of its potential for opening new doors.
In the straightforward terms with which he usually addresses business matters, he notes: "Everybody that helped me out no doubt has got a lot of fans, and I figure that maybe all of those fans may become my fans and, you know, vice versa -- a lot of the people that listen to me, why, they enjoy hearing these other people, too." That two-way aspect is real, but not even Stanley would be likely to claim the traffic is going to run equally both ways, nor is it the purpose of Clinch Mountain Country to win new fans for platinum-selling country stars.
Clinch Mountain Country might be considered the capstone of Ralph Stanley's career, but that's hardly his motivation. In the ebb and flow of our conversation, the subject of "carrying on" never failed to stir his interest. I imagine that this was in part because he had recently lost mandolinist and high harmony singer John Rigsby, a young fellow who had left to join another ex-sideman, Melvin Goins. Biographer John Wright has described a cycle of estrangement and reconciliation with those who depart the Clinch Mountain Boys, but Rigsby's departure was so recent that Stanley was perhaps in a pre-estrangement phase, for he wasn't reluctant to discuss Rigsby, the role he had played in making Clinch Mountain Country -- "he done a good job" -- or the role he had given up in leaving the band.
Stanley wants the music to outlast him, and not only through recordings. After bringing a young banjo player, Steve Sparkman, into the band in 1994 when Stanley couldn't play for several weeks after an accident, Ralph kept him on, so that now the Clinch Mountain Boys are one of the very few bands to employ two banjos, and not with contrasting styles, either. He's had his son with him for several years, too, lately filling the lead singer role (Ralph II not only plays guitar on the new album, he sings three leads). "I knew that maybe someday I'd have to quit playing the banjo, and my son, Ralph II, I hope and expect that he'll carry on," Stanley said. "I figured Steve would be a good man then later on." But he adds later: "Of course, I'm not figuring on getting out, you know, until I have to. I hope I've got a few years."
The odds seem pretty good that he does. Ralph Stanley isn't one to let much get in his way. When I observed that his voice seems more powerful these days than it did a couple years ago, he unhesitatingly concurred, and when I asked him why that was so, he offered this explanation: "I guess just will; the will to do it, I guess. I just wanted to -- I didn't want to lose nothing, and I guess I just put out more." That's the view of a man for whom inactivity isn't something to be sought after.
As I took leave of him -- showtime at Bristol's restored Paramount Theatre was imminent, and the Clinch Mountain Boys were already tuning up -- I wondered aloud if he listened to any contemporary country music radio, the home turf for a healthy number of his guests on Clinch Mountain Country.
"When I'm not on the road playing," he offered, " I'm out doing something, and I just don't have time, or don't take time to listen to the radio." And what was it that occupied his time? "Well, I've got a little farm, and I've got cattle and so forth, and I -- I'm pretty much doing that. I may go to a stock market and watch a cattle sale, and sometimes I buy one or two, and sometimes take four or five to market. I've just got to be outdoors."
No Depression contributing editor Jon Weisberger first saw Ralph Stanley and the Clinch Mountain Boys in New York City in the early 1980s and credits the experience with preserving him from urban insanity.