Column
Randy Bachman on His Heroes and Favorite Albums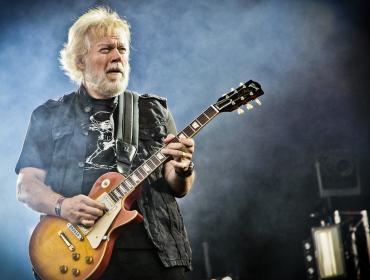 Randy Bachman says his musical heroes are "guys who don't stop, even though they can."
He names 10 such heroes:Neil Young, Sting, EltonJohn, Mark Knopfler, Eric Clapton, Bonnie Raitt, Joe Bonamassa, Robert Plant, Willie Nelson,and Tony Bennett.
As Bachman heads for his 75th birthday this September, he also fits that mold. The legendary Canadian guitarist and singer scored numerous hits with the Guess Who in the 1960s and Bachman-Turner Overdrive in the 1970s and hasn't stopped performing.
His new album, released in March, celebrates another one of his heroes, the late Beatle George Harrison. The album, titled By George — By Bachman, is comprised of 10 songs written by Harrison, one song Harrison wrote with the Traveling Wilburys, and two songs written by Bachman.
"I was always associated with George's songs, because, whatever band I was in, I sang George's songs," Bachman says. "I also bought types of guitars that he liked and had a black Gretsch Duo Jet, a Gretsch Country Gentleman, and a Rickenbacker. I was looking to do something different, and, in anticipation of George's 75th birthday party (Harrison, who died in 2001, would have turned 75 on Feb. 25, 2018), I thought to celebrate his songwriting. I reinterpreted a bunch of his songs in new styles and grooves to show how they stand up as amazing songs without the Beatles' aura and George Martin's production."
Bachman recalls a trip he made a few years ago to Liverpool, England, the Beatles' hometown.
"I got invited to Liverpool by my friend Jeff Parry, who produced the Beatles stage production Let It Be, which I saw in London and then went to the opening in Liverpool for John Lennon's 75th birthday celebration.  I stayed at the Hard Day's Night Hotel and did the Beatles bus tour of Strawberry Fields, Penny Lane, the CavernClub, the Casbah Coffee Club, and all the Beatles' houses.
"The next day at the Beatles museum, John's sister Julia came with John's favorite birthday cake — brownies with walnuts — and gave everyone a brownie and a pair of glasses like the ones John wore. It was amazing!"
Bachman comes back to the Beatles when I ask him to name the three best albums — by any artist — that he has ever heard.
"Any Beatles album," he responds. "The lightning in a bottle that George Martin managed to capture and release from these rock-and-roll animals was amazing. Putting together the forefathers of rock and roll, doo-wop, girl groups, George Formby parlor ukulele songs, four lead Beatles singers, and many guitar players was the most amazing movement the world had ever seen. 
"The body of work took us from 'yeah, yeah, yeah' to 'kaleidoscopeeyes and marmalade skies.' They used every trick in the book and then made up their own book of tricks. Every album is still amazing to this day. The writing, the arranging, the lead singing and harmonies, the guitar bits and solos, and George Martin's orchestral maneuvers were so amazingly perfect it can never be topped."
Bachman points to two other albums as the best he has heard — the debut albums of Led Zeppelin and Crosby, Stills & Nash.
The self-titled first Led Zeppelin album began "a new brand of heavy-metal blues that changed the world," he says. "By putting together this collage of odd musical tastes and personalities, Jimmy Page made grooves, riffs, howls, and thunder that still shake the world today."
The self-titled Crosby, Stills & Nash album, Bachman says, "heralded a new beginning in country rock — from the ashes of Buffalo Springfield,  the Byrds, and the Hollies — and is one of the greatest sing-along albums of all time. Zillions of people would sit around and sing the harmonies to Helplessly Hoping, Suite: Judy Blue Eyes, and all the other songs. When Neil (Young) joined and they became CSN&Y, they became more potent and totally rocked."
Young and Bachman have been friends since high school in Canada.
"When Neil moved to Winnipeg from Omemee, Ontario, with his mother, Rassy, and brother Bob, he started a band called the Squires," Bachman recalls. "We met at high school dances and community center gigs and shared amps, dreams, and guitar stories.
"I left town in 1964 with the Guess Who with the hit 'Shakin' All Over' (a cover of a Johnny Kidd & the Pirates song). Shortly after, Neil left and went to Thunder Bay, where he met Stephen Stills. Later they hooked up again and started Buffalo Springfield. Neil and my paths cross many times a year, and we still hang out together, record together once in a while, and email frequently. We have similar life patterns."
Young and several other guest guitarists — Bonamassa, Peter Frampton, and the late Jeff Healey — recorded solos over the finished mix on Bachman's 2015 album Heavy Blues.
"It was done to be heavy — off my beaten path, instantly created and recorded live off the floor with just me, drummer Dale Anne Brendon, and bassist Anna Ruddick. They were amazing. It is my heaviest album of all time as each song emulates and is a tribute to a late '60s British power trio — the Who, Cream, Jimi Hendrix, Led Zep, the Yardbirds, etc."
The Guess Who were superstars in Canada during that decade and had several U.S. hits, including "These Eyes," "No Time," and "American Woman." Bachman left the group in 1970, recorded a solo album, Axe, and formed Bachman-Turner Overdrive in 1972. BTO released numerous albums and had two huge singles, "Takin' Care of Business" and "You Ain't Seen Nothin' Yet." Bachman later rejoined the Guess Who for some years and recorded numerous solo albums.
I mention to Bachman that — unlike his groups— many other top Canadian musicians with exceptional songs have not found much commercial success in America.
So, how did Bachman's bands crack the American market in such a big way?
"I was willing to leave the comforts of home and tour relentlessly and endlessly," he says. "In the decades before MTV, VH1, and YouTube,  you had to do the roadwork, and we did about 300 gigs a year for 10 years. It has its rewards and its costs."
What's the legacy of the Guess Who, Bachman-Turner Overdrive, and Randy Bachman in the history of rock music?
"The Guess Who paved the way out of Canada into the USA and the rest of the world in the late '60s," Bachman says. "BTO repaved the highway in the early and mid-'70s, and I'm still doing it today. After each push into the USA, other bands followed — Bryan Adams, Loverboy, Rush, April Wine, etc. — further proving that Canadian bands can hold their own in the U.S.
"The legacy of the Guess Who and BTO will live on regardless of inductions into the Rock & Roll Hall of Fame. The facts are that we have sold 40 million-plus records and have fans all over the world, so I'll let the legacy speak for itself."