Article
Record Store Day 2018: ND Staff Picks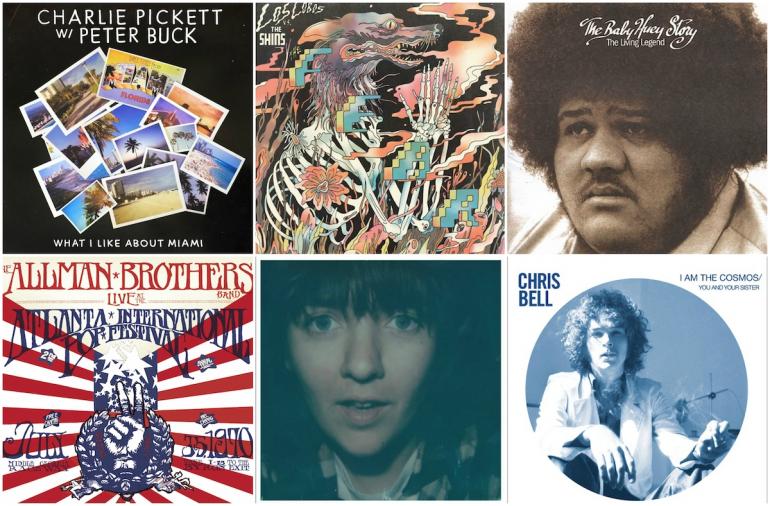 Record Store Day 2018 is upon us, taking place nationwide on Saturday, April 21. As we at ND prepare to celebrate in our respective communities, we've pulled together a list of the RSD releases we're most looking forward to (and most willing to wait in line for). Check out the list below, and be sure to let us which releases you're hoping to snag, too.
Hilary Saunders, Managing Editor
Charlie Pickett with Peter Buck — What I Like About Miami: I doubt I'll be able to find one of the 1,000 copies of the "What I Like About Miami" single in a land-locked state, but it's worth sharing, nonetheless. A Miami native and Bloodshot Records signee, garage rocker Charlie Pickett recorded this song with R.E.M.'s ‪Peter Buck after Hurricane Irma thrashed the city last September. Discerning readers still know that parts of Puerto Rico are still sin luz (without power), but many don't realize that areas of South Florida have still not fully recovered, either. So, all proceeds from the digital single are directed toward storm clean-up and relief, and this 7" also features the B-Side "So Long Johnny," a Buck-penned track from his debut solo record from 2012.
Rage Against the Machine — Live at the Democratic National Convention 2000: Pioneering political hip-hop band ‪Rage Against the Machine released its last studio album of original music, The Battle of Los Angeles, in 1999. But the following year, the group organized a protest concert outside the Staples Center in Downtown Los Angeles while the Democratic National Convention was held inside. Although the six songs from that set will be released for the first time ever this Record Store Day, the lyrics themselves are just as relevant as ever.
Various Artists — Hillbillies In Hell: Volume 666 (Country Music's Tormented Testament: 1952-1974): Of course, the last item on my RSD18 wishlist is one of the rarest of the bunch: Iron Mountain is only pressing 400 copies of Hillbillies In Hell: Volume 666 (Country Music's Tormented Testament: 1952-1974). This collection features 18 tracks of delightfully dark country songs culled from rare 45s and reissued for the first time. The compilation includes everything from well-known offerings like "There Ain't No Grave Gonna Hold My Body Down" and "I Saw The Light" to tracks no God-fearing classic country singer would ever dream of setting to music, with titles like "Get Thee Behind Me Satan." Even the slabs of wax in this comp are ominously named, as they'll be pressed on either "Hellfire Red," "Lucifer Ablaze Orange Splatter," or "Endless Torment Black" vinyl.  
Stacy Chandler, Assistant Editor
The Shins vs. Los Lobos— The Fear: If you like the Shins song "The Fear," or you just like to see a song taken apart and put back together in surprising new ways, this is something to check out. On this 12", "The Fear" is presented in its original form, a "flipped" version, and then in a version by Shins buddies Los Lobos.
Steve Earle and the Dukes — Live from the Continental Club: This double LP from a live performance at Austin's Continental Club has gems that span Steve Earle's career, including (of course) "Guitar Town" and "Copperhead Road," but also fun covers like "Dim Lights, Thick Smoke (and Loud Loud Music)" and "Are You Sure Hank Done It This Way."
The Lone Bellow — Live at Grimey's: You gotta love an in-store, especially on Record Store Day! This purple marble 10" was recorded at Grimey's in Nashville and includes two songs from Walk Into a Storm as well as two unreleased tracks, "Jessica" and "Lovely in Blue."
Wilco — Live at the Troubadour 11/12/96: In 1996, Wilco was just getting rolling, and this double LP captures a 20-song set at Hollywood's Troubadour that includes songs from A.M. and Being There, as well as some nods to Uncle Tupelo.
Sonja Nelson, Advertising
Baby Huey — The Baby Huey Story: The Living Legend: Ah, to wait in line, or not?  That is sometimes the question one must ask.  On a rare cold and rainy spring day in 2012, my then 10-year-old son and husband waited in line for 10 hours at Third Man Records to purchase two Jack White RSD 2012 liquid-filled "Sixteen Salteens" 12''.  One of those humans was a happy camper, the other was rewarded handsomely with free donuts. My point is, you gotta want it and I want the Baby Huey RSD 180g vinyl!  James Ramey, better known as Baby Huey, was a Curtis Mayfield protégé. Ramey's influence was huge, though his life was short, as he died of a heart attack at the age of 26.  His song "Hard Times" has been sampled by dozens of artists including Ice Cube, A Tribe Called Quest and Ghostface Killah. Once you hear it, you'll know. His robust R&B and funk will leave you wanting more. The lacquers for this release were cut directly from analog tapes. I hope to see you in line with me for this one.
Bobbie Gentry — Live at the BBC: When dissecting your RSD picks, you gotta decide the preciousness of the release. Are we talking unreleased tracks, or "never before in this order" tracks? Is the release something new or special, or just a broken up, previously released box set. I hate to admit it, but dangit, sometimes size does matter. When it comes to the Bobbie Gentry Live at the BBC RSD vinyl release, which has never before seen the light of day and features Bobbie in her prime, and I couldn't be happier. "Ode to Billie Joe," the title track of her first album of the same name, can still bring me to my knees every I hear it. The RSD blurb says the LP will be highly collectible for fans. I'm hoping through the magic of distribution, this gem can also get out in a wider release at some point.
Johnny Cash — At Folsom Prison: 50th Anniversary Legacy Edition: In 1965, while working for the U.S. Forest Service in Southern California, my dad fought a fire caused by a broken tailpipe on Johnny Cash's camper. My nature loving dad was ticked, and still is, about the loss of the beautiful forest due to Johnny's negligence and possibly the use of some questionable substances. Much to my dad's chagrin, I grew up loving Johnny Cash. As a child, I sang a "Boy Named Sue" at the top of my lungs and watched the Johnny and June variety show with my mom. At Folsom Prison was released in 1968, though Cash wrote the song, "Folsom Prison Blues" in 1955 and it was his first big hit. The 50th Anniversary Legacy Edition is jam-packed with Johnny Cash goodness.  Included in the 5 LP box-set are both full concerts, available for the first time ever on vinyl and a bonus 12'' single featuring previously unreleased audio of Cash and friends rehearing at a motel the night before the concerts. I've got my trusty turntable awaiting this new box-set, just don't mention it to my dad, please.
Henry Carrigan, Print Partnerships
The Allman Brothers Band — Live at the Atlanta Pop Festival, July 3 & 5, 1970: In 1969, the Allman Brothers were playing free concerts in Atlanta's Piedmont Park. By the summer of 1970, they were playing at the second Atlanta International Pop Festival held in Byron, Georgia, which also featured Johnny Winter, Jimi Hendrix, Hampton Grease Band, and B.B. King, among others. This album, released originally on Epic/Legacy in 2003, features the epic blues jams for which the band became famous after the release of their now-legendary At Fillmore East album in March 1971. The band opened the festival on July 3 and returned for an encore performance on the festival's final day. Disc one captures the band's July 3 performance, and standout tracks include "Statesboro Blues" and "Mountain Jam." Disc two captures the July 5 set, during which Johnny Winter joins them for "Mountain Jam." Legacy is releasing the album, available on vinyl for the first time, in an individually numbered, limited edition box set that includes photos and liner notes.
Gene Clark — Back Street Mirror: Guitarist and songwriter Gene Clark started the Byrds with Roger McGuinn, and he wrote or co-wrote some of their most well-known tunes, such as "I'll Feel a Whole Lot Better," "Eight Miles High," and "She Don't Care About Time." In early 1966, Clark left the band and tried to develop a solo career. In less than a year, he had joined up with the Gosdin Brothers to make an album, Gene Clark with the Gosdin Brothers. The six songs on Back Street Mirror come out of the period between leaving the Byrds and making the album with the Gosdin Brothers and feature the backing of the Wrecking Crew. The vinyl run of 1,300 arrives in a numbered silver foil jacket.
Lloyd Green and Jay Dee Maness — Journey to the Beginning: A Steel Guitar Tribute to the Byrds: Clark had left the Byrds by the time the group's now-classic Sweetheart of Rodeo was released in 1968. Gram Parsons had just joined the group, bringing his country-fueled vision with him. Green and Maness, the two pedal steel guitar players on that album, put together, along with producer John Macy, this beautiful new album on the 50th anniversary of Sweetheart of the Rodeo. The album's opening track, "You Ain't Going Nowhere," features Sam Bush on mandolin and Jim Lauderdale, Jeff Hanna, Matraca Berg, Herb Pedersen, Richie Furay, Jim Photoglo, and Bill Lloyd on vocals. Drenched in the lush steel guitar playing of these two masters, this classic album takes on new life for fans and new listeners alike.
Various Artists — Girls in the Garage, Vols. 2 & 3: Some of the rawest, close-to-the bone-and-heart music is made in garages and basements. While many albums focus on teenage guys banging away on drums and shredding guitars, there are plenty of girls rocking out in garages. These two new collections of female garage bands feature propulsive music from groups such as The Blue Orchids, The Virginia Wolves, The Liverbirds, and Ace of Cups, among others. These songs are pure heart-driving rockers.
Isa Burke, Editorial Assistant
Courtney Barnett — "City Looks Pretty"/"Sunday Roast": Australian singer-songwriter Courtney Barnett makes grungy, hooky indie-rock with clever, rambling lyrics delivered with her signature deadpan. I listened obsessively to her 2015 debut full-length Sometimes I Sit And Think, And Sometimes I Just Sit, an album whose title perfectly captures the way her songs elevate mundane observations to the level of the profound. Tell Me How You Really Feel, her second full-length album, doesn't come out until next month, but she's releasing two album tracks on 12" vinyl for a special Record Store Day-only preview.
David Bowie — Welcome To The Blackout (Live in London '78): This never-before-released triple live LP was recorded at Earls Court, London in the summer of 1978. This was an interesting transitional point in Bowie's career. He was midway through his "Berlin Trilogy" of three ambient/experimental albums made in collaboration with Brian Eno: Low (1977), "Heroes" (1977) and Lodger (1979). The concerts on this tour included songs from Low and Heroes, including lengthy instrumental numbers, as well as classic glam-rock hits from his early-'70s Ziggy Stardust era. According to Rolling Stone, this tour (the Isolar II Tour) had been going since March of that year, so the band was "a tight machine" by the time these concerts were recorded. I'm looking forward to hearing this recording of one of my favorite artists at one of the many high points of his singular career.
Linda Perhacs — I'm A Harmony: Most people don't know about psych-folk singer Linda Perhacs, but she has a more compelling backstory than almost any artist I've ever heard of. (This NPR profile of her career is a great read, full of wild plot twists and fascinating observations from a truly unique artist.) In the '70s, she worked as a dental hygienist in Beverly Hills. One of her clients was film composer Leonard Rosenman, and after she mentioned to him that she was a singer-songwriter, he asked to hear her songs. He then brought her into a recording studio and produced her first album, Parallelograms, which was released in 1970 and received almost no attention. It's a gorgeous album, though – many layers of vocals and beautifully impressionistic lyrics. Decades later, the album was rediscovered and reissued multiple times, and Perhacs returned to a recording career in 2014 at the age of 70. I'm A Harmony is her third album, released in 2017, and this double-LP release is exclusive to independent record stores for Record Store Day.
Brittney McKenna, News and Social Media Editor
Chris Bell — "I Am the Cosmos"/"You and Your Sister": The work of Big Star member Chris Bell is often overlooked in favor of that from fellow band member Alex Chilton, but Bell, too, was a formidable songwriter. Dying young at 27, Bell still left behind an esteemed body of work, including one of his most beloved songs "I Am the Cosmos." This RSD exclusive release is a reissue of the original single, featuring the B-side "You and Your Sister."
Living Colour — Live at CBGB's 12.19.89: A live show from funk rockers Living Colour in their heyday must have truly been a sight to behold, as even in studio recordings the band can take your breath away with their big, virtuosic arrangements. So for those of us who weren't around to catch those late '80s/early '90s shows, it's no small thing to see one of the band's CBGB performances set to wax. This RSD release marks the first time this particular performance has been released on vinyl, and is sure to take listeners back to both the club and the band's halcyon days.
Ennio Morricone — Autopsy (Original Soundtrack): Horror movies just wouldn't be the same without Ennio Morricone, an Italian composer known for writing scores as eerie and ominous as the films they accompany. One of those films is Armando Crispino's Autopsy, a 1975 film about a morgue employee turned murderer. The soundtrack has never been released on vinyl, and to commemorate the occasion RSD is doing it up big with marbled orange vinyl, remastered tracks, new artwork, and liner notes written by self-described "soundtrack nut" Lovely Jon.