Column
Riding the Mystery Train with Tim Rakel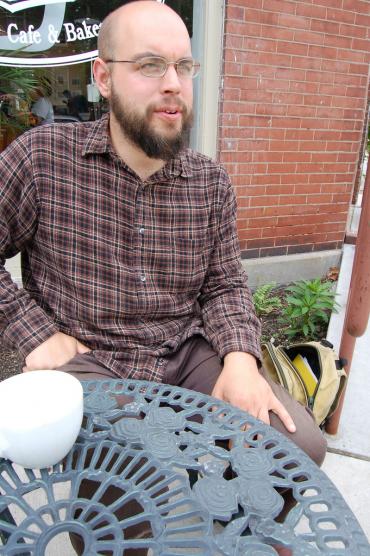 It's time to give a special nod to all the wonderful community — mostly volunteer — radio stations across the U.S. Many of these stations have no outside network feeds, just an eclectic mix of music shows, entirely locally programmed.  St. Louis' KDHX is one of those stations, and Tim Rakel is one of those music junkies who does a show there. 
Bill Frater: Where and when did you start in radio and what other stations have you worked at and what were the stations like?
Tim Rakel: I first did a radio show in college but it was a short-lived initiation. After I graduated, in the summer of 2002, I began my current volunteer DJ gig at KDHX in St. Louis. I have been there ever since. KDHX went on the air in 1987 and has been largely run by a small paid staff assisted by a large volunteer base. Currently there are over 80 DJs that do shows, two or three hours each week, as well as some podcasts and online content producers. The station's on-air content is almost exclusively music, with many genres represented. Blues, rock, and bluegrass feature most prominently. Besides being a DJ, I have worked as a musician and spent some time as doorman at a couple music clubs as well.
Where do you work now and what hours is your show on?
I volunteer at KDHX, 88.1 FM in St. Louis. Besides the 24-hour music programming, the shows stream online and are kept archived for two weeks after they air. In 2002, I began doing a show called "The Graveyard Shift" from 4-6 a.m. on Tuesday mornings. In 2004, I moved from that slot to Friday mornings, 6-8 a.m., and changed the name of the show to the present one, "Mystery Train." It currently airs from 10 a.m. to noon on Mondays as it has done since 2008.
How do you describe your show?
I describe "Mystery Train" as a variety show. I see it as a potential microcosm of the rest of the station, or at least a fair sampling of what I might listen to over a given week. The show includes as much variety as I can transition through in a two-hour period. There is often a focus on bands coming through St. Louis for live shows as well as local music and new releases. The show is scheduled between "Emotional Rescue," which features pop and rock, and "Radio Rio," which is a Brazilian music show. The usual course of my program flows from hard rock and pop nearer the beginning of the show into more folk-oriented material and ends up with some international selections towards the end. From song to song, I think things progress naturally. If someone happens to tune out and come back later, things might sound a bit different from where they left off. Rock features most prominently, along with various folk genres. Country, jazz, and metal can also wander into the show given some transitional lead-in.
For recent playlist archive, follow this link. 
How do you prepare for your shows and what thoughts go into preparing your sets? 
I listen to music quite a bit throughout the week, both at home and in the car. From there I usually set aside a physical pile of CDs and LPs to bring along for the next show. During downtime at work, I'll usually scribble out a tentative list for the upcoming program based on what I've been listening to, bands that are touring in the area and whatever else pops into my head as suitable material for filling out sets and making transitions between the initial selections. Often times, I lift sets from those lists and the rest gets set aside during the actual show. The list becomes a fallback plan when a better idea and another direction comes along with the flow of the live show. I don't put together too many theme shows but I do air an accordion-themed show once a year every October.
How much new releases, old stuff, and independent artists do you play?
I play at least a couple new releases every show. Some weeks it's more like 10 or 12, closer to a third or half of the show. I do play older material, from '20s and '30s blues up through '60s and '70s rock and also '80s-'90s rock and pop, which is probably considered "old" now too. I certainly play a lot of music from independent artists, most of KDHX strives to do that as an alternative non-commercial station. Whether the records are self-released by the bands or whether they are distributed by smaller labels, a large percentage of "Mystery Train" ends up being music that people may be less familiar with. 
What was the first artist or album that got you into roots music?
Although I'm not certain what came first, I know I heard the more acoustic-sounding R.E.M. records in the late '80s and early '90s as well as the first couple of Tracy Chapman records. Being from the St. Louis area, The Bottle Rockets and Uncle Tupelo were present, but I heard other things like Tom Petty and Jethro Tull sooner than that.
Early in my tenure at KDHX, I recorded a documentary special about Dock Boggs. He was one of the first encounters I had in college with older folk music. St. Louis figures such as Peetie Wheatstraw and Lonnie Johnson came along a little later, as well as Bascom Lamar Lunsford.
Aside from weird old folk music, the branches and roots of musical discovery seemed to lead in all directions, chronologically and across genres. I knew of Bob Dylan and Johnny Cash from an early age, but whereas Dylan turned me back toward Woody Guthrie and Lead Belly, Cash's American Recordings led to Nick Cave and Palace Brothers.
Who are your favorite artists from any genre and what artists define Americana music for you?
The first part of this question is always tough to consider because I know I'll forget something important. Rattling off some things that come to mind: Tom Waits, Giant Sand, Calexico, Midnight Oil, Silkworm, Fiery Furnaces, Minutemen, Sun Ra, Mekons, The Ex, The Handsome Family.

As far as defining "Americana," that's a tougher question. Are Woody Guthrie and Ferlin Husky in the same category? Is Jimi Hendrix considered "Americana"? I could go with an era-spanning list, inclusive of gender (i.e., Tom Petty, Neko Case, Bob Mould, Hurray For The Riff Raff, Six Organs of Admittance), but that still leaves a wide range of sound but small range of color. I understand the tag for purposes of selling music or defining radio charts, but I'm not really on board with it. I'll play Bombino or Gogol Bordello on the radio but I wouldn't call it "Americana."

How do you define what Americana music is? 
As I mentioned above, I don't really use the term as it seems a bit nebulous to me. Quintessential bands of the implied genre from whatever era are from Canada, like The Band, Neil Young, or The Sadies. "North Americana" as Leif Vollebekk put it? I have to laugh when someone like Billy Bragg is considered part of "Americana" when he's clearly British. Robyn Hitchcock and Jon Langford, some other favorites of mine, bring up similar issues, even though the latter's groups have set out to make music inspired by traditional American country music. The terminology problem I have can be seen in a category like "world music." What does that mean and how big is it? Also, importantly, who calls it that?
Where do you see Americana radio, or radio in general, going in the future?
Radio in general seems to be at a tough spot, as the entire music industry can attest. There is so much content out there and so many ways to get at it, radio might seem a nostalgic interest to some. However, in my opinion, radio has undeniable advantages over many other sources and devices, at least the way that free-form radio presents it. The idea that a human DJ can program a show based on their personal tastes and experience instead of a computer program guessing what you may want is by far preferable. A non-commercial radio DJ is also at the advantage of being free of any company interests that may be trying to push music as a product, letting money direct the content. With live free-form radio, the factors of randomness and personality are alive and any ulterior motives are off the table.
What recent albums or artists are you excited about?
I recently received new music from a Wisconsin band called Wood Chickens that I've enjoyed. I try to keep an eye out for interesting new releases from foreign places as well. I've recently featured Tinariwen (Mali) and Aquaserge (France) on the show. St. Louis has great local acts that feature on my program. Some of the new local releases include records by The Pat Sajak Assassins, The Vanilla Beans, and Beth Bombara as well as forthcoming albums from The Hooten Hallers, Grace Basement, and Grandpa's Ghost.
What are your most memorable experiences or memories from working in the music industry?
Throughout the past 15 years, I've met a lot of great people, both well-known musicians and beside-the-scenes DJs and music fans. I've had fun playing in bands, often on bills with acts much greater than my own.

Do you have any other interesting hobbies or interests you wish to share?
Besides music, I work in a brewery and bar and have some backyard chickens. I am also a musician. I played in a band called Bad Folk from 2003 through 2008. After that I began The Union Electric that still plays occasionally. Currently, I also lead The May Day Orchestra, which began as a side project in 2008. Both current bands are on Pat Todd's Rankoutsider Records label.
What inspires you or what keeps you going?
Besides coffee, the music keeps me inspired. The endless world of music out there keeps me listening and searching for things to share with a radio audience and for my own education and entertainment.