Column
Roger McGuinn on Skiing with Bob Dylan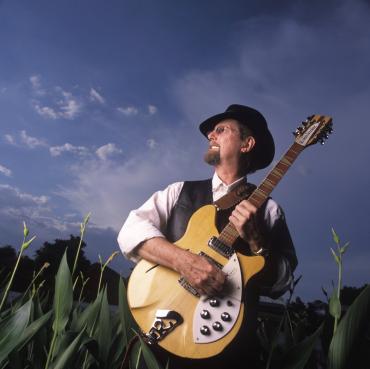 After decades watching Bob Dylan's odd, quirky movements and gestures on stage, I tell Roger McGuinn I can't picture Dylan as a coordinated athlete skiing down a mountainside in complete control. McGuinn tells me how wrong I am.
McGuinn says he and Dylan went skiing in Minnesota — near Duluth or Dylan's hometown of Hibbing — during a Christmas break in Dylan's historic 1975-76 Rolling Thunder Revue tour.
"He's fast," McGuinn recalls. "I was a beginning skier on the intermediate slope going down cautiously. I look to my right, and Bob goes vroom right past me."
Dylan, who celebrated his 77th birthday last week, also long ago sped past McGuinn as a songwriter, but McGuinn, as the leader of the 1960s band the Byrds, holds a special place, too, in music history. The Byrds, among other accomplishments, electrified Dylan's classic folk song "Mr. Tambourine Man" on the group's debut single, and it became the only Dylan song to reach No. 1 on the rock music charts.
The Byrds have been credited as influential in Dylan going electric and inventing or establishing folk rock, psychedelic rock and country-rock. This year marks the 50th anniversary of the Byrds' Sweetheart of the Rodeo album, which many have hailed as a record that made classic country cool and palatable for a wider audience, including young rock fans.
McGuinn, whose lead vocals and jangling 12-string Rickenbacker guitar chords made "Mr. Tambourine Man" and other Byrds hits so aurally appealing, is far too modest about his impact on music. For the past few decades, he has kept a low profile, traveling around the country with his wife and playing solo shows. Every month, he releases a newly recorded song in the Folk Den project on his website.
"I'm not really a great songwriter or great at anything, but I am very blessed that I've been able to make a living all these years," he says.
The first band McGuinn played in was the popular early 1960s folk group the Limeliters. He next played in the Chad Mitchell Trio and then with Bobby Darin before becoming the musical director on Judy Collins' third album, titled Judy Collins #3.
McGuinn met Gene Clark while doing a solo gig opening for Hoyt Axton at the Troubadour in Los Angeles.
"I was doing Beatle-y stuff," McGuinn recalls, "and nobody liked it, but Gene did. He came backstage and said 'Let's write some songs.' We started writing songs, and then David Crosby came around and started singing harmony. He said, 'I want to be in your band.' I said, 'We don't really have a band,' and he said, 'I got this guy who has a recording studio we can use for free.' So I said, 'Okay, you're in.' "
Producer Jim Dickson had the recording studio and took the trio under his wing. The trio called themselves the Jet Set, were renamed the Beefeaters, and later, with Chris Hillman and Michael Clarke added, came up with the name the Byrds while sitting at a Thanksgiving table.
The group asked Hillman, a mandolinist and guitarist, to play electric bass, and Clarke was an inexperienced drummer. Legendary session musicians the Wrecking Crew were called in to record the instrumental tracks of "Mr. Tambourine Man," and McGuinn, on his Rickenbacker, was the only Byrd to play with them. The harmony vocals of Crosby and Clark were later added.
"I don't think the Byrds would have had a hit single on the first song without the Wrecking Crew," McGuinn says.
Clark wrote or co-wrote most of the songs on the Byrds' first two albums, so I ask McGuinn how he became the initial leader of the band.
"I have a funny story why I was the leader," he responds. "When we did the Wrecking Crew session, I was looking at the contract, and Roger Webster, a friend of Terry Melcher (producer of the Byrds' first two albums) who was not a musician but the leader of the session, got $200.36, and I got $101.68. I said, 'Wait a minute. Why does Roger get $200.36?' They said the leader always gets double scale. I said, 'I'm the leader from now on.' That's how I got to be the leader of the Byrds."
It was a good thing he became the leader, because the Byrds, who also became known for terrific vocal harmonies, went through several personnel changes through the 1960s, and only McGuinn stayed in the band until its end in the early 1970s.
I lament that a wide spectrum of music fans, including younger generations, know the music and significance of the Beatles, the Rolling Stones, and Dylan but do not know the importance and beauty of the Byrds' music. Some of the staying power of those artists can be attributed to new recordings and live shows still being done by Dylan, the Stones, and the two surviving Beatles, Paul McCartney and Ringo Starr.
McGuinn isn't concerned about young generations knowing about the Byrds music, and, though Crosby and Hillman have stated they'd be open to a Byrds reunion, McGuinn appears uninterested.
"I don't see the importance of regenerating the Byrds and getting them popular with the younger generation," McGuinn says. "I don't see it as a high priority. We had our fun and people who appreciated the Byrds."
He says that Notorious and Younger Than Yesterday are his favorite Byrds albums. I ask why he stepped back and let a newcomer to the Byrds, Gram Parsons, take control of much of the Sweetheart of the Rodeo album.
"Because I liked the music so much," he answers. "I was with him until he wanted to fire me and replace me with a steel guitar player."
I ask McGuinn whether he regards Dylan as America's greatest songwriter.
"He's up there," McGuinn says. "I like Joni Mitchell. I would put her up there in that league. There are quite a few songwriters who are very good. Dylan is probably one of the most prolific songwriters."
Dylan is "like a big brother to me," McGuinn explains. "He's always been a year older, always standoffish and aloof, but always a big brother. I love the guy like a brother."
McGuinn, who grew up in the Chicago area, was also close with Pete Seeger and points to a Seeger solo performance at the city's Orchestra Hall as one of the most memorable concerts he attended.
"I had seen him a few times with the Weavers at Orchestra Hall, and I was a little skeptical that he would be able to pull off a whole show by himself," McGuinn recalls. "But I was blown away. He was incredible. He had four or five instruments and got the audience singing in three-part harmony. I made a mental note: That's what I want to do when I grow up."
McGuinn also fondly looks back at a 1961 show by Bob Gibson and Bob Camp at Chicago's Gate of Horn that became a live album.
"I was in the audience, and it was an incredible thing," McGuinn says. "With their harmonies and energy level, it was almost like the Beatles. It definitely was an influence on my concentration on harmony, and Bob Gibson was a big influence on my chording on guitar."