Column
The Rolling Stones in Five Easy Pieces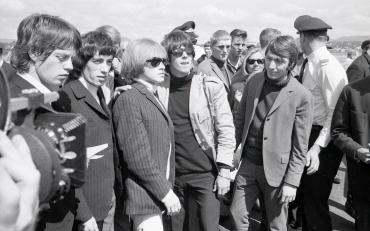 A winter's day in New York should be dark, cold, and frosty, but when the mercury soared into the 60s recently I took a walk across the Brooklyn Bridge. The only plan for the next seven hours was to keep moving in solitary steps from the bottom of Manhattan to the top, with song after song pushed into my ears in digitized random fashion. With an audio gene pool of thousands of tunes from old to new, some were carefully curated but most just snatched from the mothership like a giant claw. As I detached myself from both obligation and responsibility, and carefully glided through a moving landscape with minimum interaction, the music expanded and contracted inside my head from background to forefront. 
There was a brief moment this day when a random thought came to me and refused to budge, which brings us here and now. In the inexperience of youth without the benefit of context or time, I too often skimmed the surface and missed the depth, making it a luxurious privilege to circle back. So with that in mind, consider this a brief mutation of making amends and please allow me to introduce you to five songs the Rolling Stones recorded over 50 years ago.
The first was on the flip side of "The Last Time" single, featuring Mick on vocals and tambourine with Keith picking out the lead on acoustic guitar. Jack Nitzsche added harpsichord and tam-tam, with legendary producer and future convicted killer Phil Spector playing bass lines on a de-tuned electric guitar. The rest of the band are excluded, and it was recorded in January 1965 at the RCA Studio in Los Angeles, the night before they left for a string of tour dates in Australia. 
From the December 1965 Aftermath sessions in England, this song didn't make it onto the album and was given away to a singing duo known as Twice As Much who released it the following May only in the UK, where it barely made it into the Top 40. This version was included on the American-only Flowers compilation album, and features the full band with Brian Jones playing harpsichord.
Recorded four months later in Hollywood in March of 1966 and included on Aftermath, Brian Jones is playing an Appalachian mountain dulcimer and once again Jack Nitzsche is called upon to add harpsichord. This song has been acknowledged by several writers and critics as one of their best during this time period, and it was featured in Wes Anderson's 1998 film Rushmore.
Recorded at the same Hollywood sessions mentioned above, this is the first of three versions that have been released by the Stones. It originally was only available on the UK's Aftermath. It was a number-one hit single for Chris Farlowe, who covered it three months later with Mick Jagger producing. A second, shorter version came out in the US on the Flowers compilation, and the third time around, available on another compilation, titled Metamorphis, took Farlowe's version and replaced it with Jagger's vocals. 
The final song of this quintet was again only available in the US on the Flowers album, but appeared in the UK on Between The Buttons. Recorded in the fall of 1966, I'm guessing it was recorded again in Hollywood, as Nitzsche plays harpsichord again and is joined by Nick de Caro on accordion. Brian Jones plays vibraphone, Keith on acoustic, Bill Wyman on bass, and Charlie Watts tambourine and claves. Along with his vocal, Jagger is credited with adding "finger snaps."
So what caused me to look back over 50 years to these five particular songs? Consider this both the preamble and postscript. In March of 1995 the band re-recorded this song live in at a recording studio in Tokyo. It is a mostly acoustic deconstruction from the electric version released on Steel Wheels, featuring a rare lead vocal from Keith. You'll find it most recently available on the June 2016 release of Totally Stripped. And on a winter's day in New York that should have been dark, cold, and frosty but with the mercury soaring into the 60s, I traveled from Brooklyn to Harlem in seven hours, listening to this song almost a dozen times and recalling that once upon a time I loved this band but couldn't remember why.
You can follow me here at No Depression to get notified when I've added something new. Many of my past columns, articles and essays can be accessed at therealeasyed.com. I also aggregate and post daily on my Facebook page, The Real Easy Ed: Roots Music and Random Thoughts. My Twitter handle is @therealeasyed.