Column
Roots Music Releases: John Prine, Bettye LaVette, Motel Mirrors, Peter Rowan, and More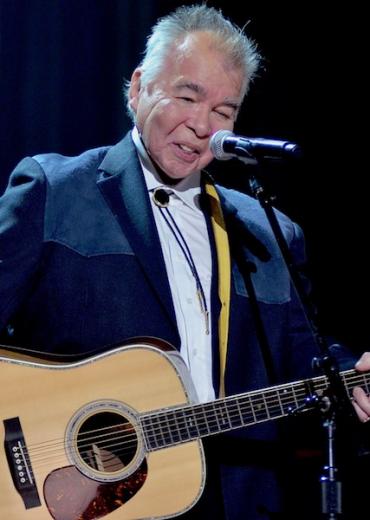 There has been and will be a slew of new roots releases this spring. Here are just some of them: two monsters and others that might have otherwise slipped past your attention. I'm keeping it short to get more of them in.
John Prine - The Tree of Forgiveness (April 13)
Seventy-one is a very good number for John Prine. His first album (arguably the best first album ever) came out in 1971, and he just turned 71. Now he comes along with his first new album of original songs in 13 years. With some able assistance and great admiration from friends Jason Isbell, Amanda Shires, and Brandi Carlille, we are the lucky ones. 
While Prine sounds a bit somber here as he ruminates on his life and our times, his wit and insight are as quick as ever, his playfulness sturdily intact. For instance, in perhaps my favorite track, "Lonesome Friends of Science," who else could find the connections between living "down deep inside my head" to "funky sushi bars" to "bastards in white lab coats." I shudder to think of a world without John Prine.
Bettye LaVette - Things Have Changed (March 30)
I had the good fortune to see LaVette a month before this album was released, doing songs from this album. Of all the recent folks who have done Dylan albums, LaVette does it with an immediacy that grabs you by your collar and doesn't let go. As with that live show, the album opens with "Things Have Changed," which coincidentally Dylan has opened his shows with for lo these many years. Here, it also serves as an anthem, be it one of liberation or desperation.
One of Dylan's geniuses is that his songs are so open to interpretation, and reinterpretation. Prime example is "It Ain't Me, Babe." Dylan, as well as others, use it as an angry kiss-off. LaVette wrings out all the the emotion she can muster, turning it into a song of self-torture as she lets go of a lover. The album, like seeing her live, tears it up from the ground up.
Motel Mirrors - In the Meantime (March 30)
Of all the albums released this spring, this is the one I have been eagerly awaiting. Coming nearly five years after their sublime debut EP, it's been worth the wait. Amy LaVere and John Paul Keith have added Will Sexton and drummer Shawn Zorn to the mix. Notably, Sexton brings his laid-back Austin swing to a sound otherwise deeply rooted in Memphis. Again, LaVere and JPK swap vocals on their original songs, with Sexton taking the lead on perhaps the most affecting track,"Funerals in New Orleans," that's followed by the collective "The Man Who Comes Around," a western-swing cover that's full of playful, joyful double entendres.
There are also a bunch of co-writes that not only highlight individual strengths but also result in a cohesive, seamless feel, so much so that it's difficult to identify where one of them blends into another. The songs themselves swing and roll; as if stepping into a stream on a summer evening, the current may vary, the footing may be improvisational, but it nonetheless results in an invigorating adventure. Easily, this is my favorite album of the year.
John Paul Keith - Heart Shaped Shadow (March 30)
Coincidentally, the Mirrors' Keith's album dropped the same day. So you get to hear his distinct Memphis sound that he honed long before uniting with LaVere and Sexton. His approach is clean, unadorned with the unnecessary. Yet Keith has his own sense of style and a guitar flourish that often makes your heart stop, just long enough for you to catch your breath.
Interestingly enough, JPK credited his work on the Motel Mirrors album in gaining a different perspective and a renewed enthusiasm. Reading between the lines, it seems he's come out of a bit of an emotional shell. The result is an an album that's continually gazing into the heavens while grounded solidly on Memphis soil. His insightful interview with Memphis Flyer on both albums is here.
Lindsay Lou - Southland (April 6)
I spent a lovely afternoon in Lindsay Lou's home during the last AmericanaFest, when she hosted a slate of other musicians. I say this because listening to this album sounds like she's a longtime friend who's playing her new songs in your living room. It has a warm, inviting, immediate intimacy to it. 
The songs on this, her sixth album, demonstrate that she's taken in quite a few musical influences and is at ease in her own skin as she uses those histories to color a distinctiveness that is, in its own way, as danceable as it is listenable. From its open track, "Roll With Me," to its last, "Magic Man," Lindsay Lou stakes out her independence with "love and that ain't all." A beautiful record of shared secrets. 
Kat Edmonson - Old Fashioned Gal (April 27)
Edmonson's gift to us is more than an ode to the jazz singers who dominated the 1950s airwaves and record players; she's become one. As a bonus, she also writes songs that approach the near impossible, creating a new Great American Songbook. The songs are both rooted in that tradition and embrace a modern cabaret sensibility. I'd love to hear her do an album with Stacey Kent. 
She sets off her lilting vocal style that's grown a bit fuller, more rounded, more mature than when I last heard her. Adding some strings, some vibes, soothing background vocals, a muted trumpet, and, most noticeably, a piano makes this album all the more endearing. 
Peter Rowan - Carter Stanley's Eyes (April 20)
I cannot count the albums Rowan has recorded, or the number of times I have seen him in so many settings, from Dylan to crucial reggae to Hawaiian to twang n' groove. However, at his core, at the core of all those different incarnations, he is a Blue Grass Boy at heart. Here, he honors those roots and does so in a way that demonstrates that bluegrass is a literary tradition, a poetic one. With Tim O'Brien, Jack Lawrence, and Don Rigsby (the finest mandolin player you need to pay attention to) and others, he takes songs by the Carter Family, Bill Monroe, Carter Stanley, Lead Belly, and the Louvins and weaves them into a fabric that shows their common threads. 
Rowan does this in an unassuming manner that is uncommon these days when so many folks think they have to "jazz" things up. The centerpiece is his original, the title tune that recounts his first meeting with Carter Stanley. It is stunning in its simplicity, a matter-of-factness that belies what we now know was Rowan's future. This is the bluegrass album for people who think they don't like bluegrass. 
Reissues: Geoff & Maria Muldaur - Sweet Potatoes and Pottery Pie; The Lyman Family w/ Lisa Kindred - American Avatar  (March 30)
There are roots and then there are roots closer to the source. The good folks at Omnivore continue to reissue notable recordings that warrant our attention. First up are the two Muldaur duo records from 1968 and 1972. They were deeply immersed in the roots revival scene of the 1960s and members of the Kweskin Jug Band. They had the good fortune to have seen and played with many of the roots artists that we now only know on records. While these recordings are likely best known today as containing the theme song from the Terry Gilliam movie Brazil, these jazz-county-blues-folk-jug band recordings sound as fresh today as they did then. One could easily call them the godparents of what we take for granted today, an amalgamation of the many roots of the American musical tree. 
It's odd that I had never heard of the Lyman Family, a collective community in Boston, given that my dissertation was on communal societies of the Ohio River Valley. So, it was no surprise I was also unaware that they also did a record, the bluesy American Avatar, with Geoff Muldaur, Jim Kweskin, Mel Lyman, and Kindred on vocals. Originally released in 1969, they treat the blues as an everyday occurrence, without nostalgia.  
Notable covers include "James Talley Blues" and the slow blues-iest version of "It Takes a Lot to Laugh, It Takes a Train to Cry" that you'll likely ever hear. As with the Muldaurs' albums, AV is only one step removed from the source. You'll be all the richer by getting these recordings. 
Now, on to those photos.