Column
Routes to Roots I: What Sparks the Fire in a Young Musician?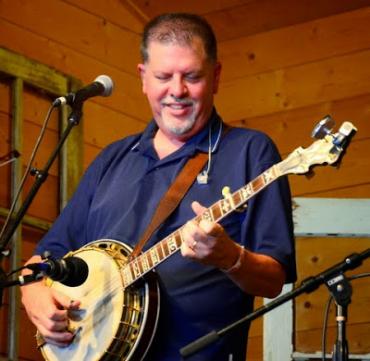 People with special talents rarely, if ever, develop in a vacuum. Mozart's father was an accomplished pianist who recognized a rare talent for composition and performance in his young son. He appears to have been something of a slave driver and exploiter, but Mozart composed his first pieces before adolescence and soon became recognized throughout Europe. The young are given to becoming obsessed with things that capture their imaginations. Don Dilling, father of banjo player Steve Dilling, who has been a key member of three fine bands, tells of his son's being "eaten up" with the banjo. Often, as he tells it, he would go upstairs to say "good night" to Steve, to find him asleep at his desk with his banjo cradled in his arms. Here's a Bass Mountain Boys song from the early '90s. Dilling is seen in the upper left on the album cover:
Steve tells his story this way, "I first became interested in the banjo and bluegrass music at the age of 10. My father had a guy named Richard Wise working for him who played the banjo in a local group in the Raleigh area. We used to go hear him play and practice with his band, and the sound of the banjo just amazed me. Finally my dad bought me a banjo for my 12th birthday. We started going to festivals where I met other musicians and learned to play and jam. I started with my first band, called Stoney Run, at the age of 14 and first recorded at the age of 15. When I was 18, I went to work with a band called Summer Wages, which was my first full-time gig. Then, at age 19, in 1985, I went to work with the Bass Mountain Boys. In 1992, I had a brief stint with the Lonesome River Band, then in July 1993 I went to work with IIIrd Tyme Out. I feel that music came to me quickly because starting at the age of 12, I had lots of time to put into it. I went to school and played banjo." Dilling remained with IIIrd Tyme Out for more than 20 years before leaving for health reasons. It didn't take long for Sideline to be born, putting him actively on the road again.
The video above, showing Dilling with Sideline, is interesting not only as an example of the mature Steve Dilling, but because it features 17-year-old Nathan Aldridge on fiddle. We first saw Nathan sawing away on the sideline at age eight or so, eaten up by the fiddle. He now maintains an honor roll-worthy grade point average in his local high school while touring with a major national band.
Young musicians who learned their instruments during the 1960s often had LP records to listen to. They would listen and imitate what they heard, repetitiously picking the arm off the record to hear and seek to emulate a lick or a passage over and over until they had mastered it. The tape recorder made this study easier, while computers, with their ability to loop small passages, have made it easier still. Nevertheless, most fine young musicians listen a lot and spend endless hours mastering their instrument, often to the neglect of other more conventional pursuits, like academic excellence.
Contests and competitions often become a way for outstanding instrumentalists to emerge. Tony Williams, father of monster guitar player Josh Williams, told me of trekking to instrument contests that were often a feature at local and regional festivals. Josh would find himself in competition with Cody Kilby, another very fine young player who's recently left Ricky Skaggs & Kentucky Thunder to play guitar with the Traveling McCourys. In addition to close, vigorous competition between the two, there was hour after hour of playing in jams, both with other young pickers and more experienced ones. Bryan McDowell, now an experienced pro at age 23, became the first musician ever to win instrument contests on guitar, fiddle, and mandolin in the same year at the renowned festival held in Winfield, Kansas, each year. Here are Josh Williams and a young Bryan McDowell playing Norman Blake's "Ginseng Sullivan" together.
According to William McKeen, in the forthcoming book Everybody Had an Ocean, The Beach Boys were motivated to learn to sing and play because their father, a vicious and dangerous alcoholic, only calmed down when he was singing and playing the piano. They learned to put off his rages by becoming fine harmony singers and then musicians, although there's plenty of evidence that all three of the brothers were pretty damaged by their youthful experiences. Such treatment, whether the violence of Murry Wilson or of Leopold Mozart, who scholars portray variously as a tyranical, overbearing, demanding parent or a devoted father who saw his son's genius and helped develop it, there's no doubt the posture parents take toward their child's development makes a difference.
Paul and Lisa Cambre Meyer are both graduates of the U.S. Naval Academy, who, after their retirement, moved their family to Missouri, where the kids were exposed to instrumental music as part of their home schooling. The parents were casual musicians who wanted to provide their children the opportunity to play music. Let their son John tell the story:
This is one story of many among us siblings of how Mom helped cultivate and encourage a love of music in us. Everything from Suzuki piano lessons for some of us, to taking me to Tuba Christmas in the middle of winter, to eventually starting the bluegrass adventure of buying a banjo at a yard sale. I'm impressed by remembering the ways in which she let us learn what we were somehow already interested in, rather than dictating our interests for us. Smart Mom. I think that's why we still love and play music today, because we always played because we loved it, not just because we had a music lesson quota.

I can't remember a time I didn't love music. But I think a theme very present at the beginning of my musical journey, was the intuition and encouragement of my mother. She was the one who took me seriously enough not to simply laugh, when as a five- or six-year-old I said, 'I want to play the tuba!'

The tuba days are behind me now, but when I was around 13, Mom was also the one to say (after hearing me plunk around on Dad's old guitar), 'John, I think you could play the banjo.'

I was surprised and delighted when a few weeks later she came home from a local yard sale with a five-string banjo in tow. I began taking lessons from a nearby music store called Village Music and had a great time with it. It was fun for me. That was just over 10 years ago now. The acoustic focus and eventually the bluegrass band grew organically out of that first banjo purchase. I think my older brothers tasked with the job of driving me back and forth to banjo lessons began to see how fun this bluegrass thing was.

A brother started on guitar, another on bass, with fiddle and mandolin added soon after. With a few generous donations from Granny to put towards quality instruments, we had a bluegrass band on our hands. Let's just say we were the hottest thing our family reunions had seen in years. Sometimes mamas have a way of knowing! Thanks Mom.
Below is John Meyer playing banjo with Band of Ruhks:
There are many stories about the development of musicians. Many of them start with bluegrass, but it's not at all certain that they end where they once started. I want to take this topic up with the move from traditional to varied forms of music-making in future columns.