Article
Sam Levin Releases the Epic "Frame of Mind"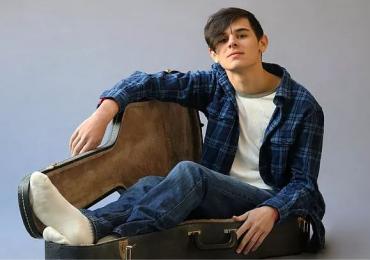 Sam Levin is a natural born musician, he started playing guitar at age 5 and writing music by 7; and now at the ripe old age of 15 he's releasing some of his best work. On his new album, "Frame of Mind," Levin takes center stage on a number of enticing tracks. An all around multi-instrumentalist, Levin plays all of the instruments on the record including Vocals, Acoustic Guitar, Electric Guitar, Bass Guitar, Drums, Beatbox, Bongos, Piano, Hammond Organ, Melodica, Percussion and all instrument Programming
Standout single "Hide and Seek," is an electronic, synth pop, indie fused track where Sam shows his vocal prowess which supersedes artist twice his age. His vocal range and harmonies are quite impressive even though he still has a lot of time to perfect his sound, he is already doing an excellent job at pitch and tone control. The track itself is pretty "catchy," the beat is fun and easy listening, generally speaking he's a pretty good vocalist and his musical styling is appealing. His melodies are soulful while the lyrics are a little melancholy on the track it's still an amazing track and well worth the listen. Other favorites of mine that struck me immediately were "Shades of Pale," and "Because," both which show Levin's range from start to finish. Sam Levin is possibly one of the most eclectic and innovative artists in the current scene right now, and I'm eager to hear what he comes up with next! "Frame of Mind," is out now.
Get Social with Sam Levin
Official – thesamlevin.com
Facebook - facebook.com/thesamlevin/
Twitter - www.twitter.com/thesamelevin
 Instagram - www.instagram.com/thesamlevin