Article
A Short Life Of Trouble/'True Dylan' (1987) by Sam Shepard: Bob Dylan, Jimmy Yancey et al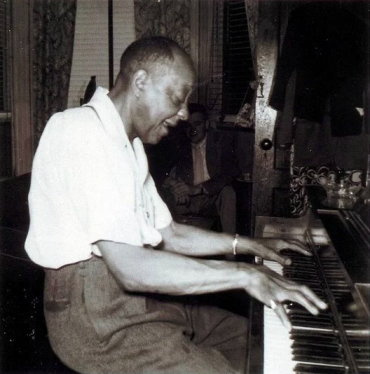 A Short Life of Trouble (or True Dylan) is a one-act play that features only two characters - Sam and Bob. It was first published in Esquire in 1987 and can be seen as a dramatized short 'interview' between Sam Shepard and Bob Dylan, focussing mainly upon Dylan's early days in New York, his meeting with Woody Guthrie, what constitutes 'truth', the greatness of James Dean, his musical influences and his motorcycle crash.

Throughout the play, SAM is taping the interview on a small tape recorder. But whenever he plays the tape back, he hears only a Jimmy Yancey piano solo. Eventually, some of the spoken words come back, but the music of Jimmy Yancey permeates and punctuates the short play, with the tune being one that BOB claims he heard from no known source at the onset of the scene.

The association made by Sam Shepard to Bob Dylan and the mysterious sounds of Yancey, coupled with Bob Dylan's own rolling boogie-woogie (Woogie Boogie?) piano playing style, lead one to believe there could be an influence there.

To quote from Wikipedia:

Yancey was born in Chicago in (depending on the source) 1894 or 1898. His older brother, Alonzo Yancey (1894 – 1944) was also an pianist, while their father was a guitarist. Yancey started performing as a singer in traveling shows during his childhood. He was a noted pianist by 1915, and influenced younger musicians, such as Meade Lux Lewis and Albert Ammons.

While he played in a boogie-woogie style, with a strong-repeated figure in the left hand and melodic decoration in the right hand, his playing was delicate and subtle, rather than hard driving. He popularized a left hand figure which became known as the 'Yancey bass', and was later used in Pee Wee Crayton's "Blues After Hours", Guitar Slim's "The Things That I Used to Know" and many other songs. Part of Yancey's distinctive style was that he played in a variety of keys but always ended every song in E flat.

http://en.wikipedia.org/wiki/Jimmy_Yancey

Somebody also once commented on Yancey's 'almost notes' that were ghost-like "piano tears".

Yancey and his wife, Mama Yancey, recorded a version of the old blues song Make Me a Pallet on Your Floor (1943). This song has been recorded by many artists, but was chiefly known as a Mississippi John Hurt number.

Bob Dylan performed a version of this song on the Billy Faier Show (1962).
Listen to Dylan's recording here:

Make Me A Pallet On Your Floor

http://www.bjorner.com/DSN00150%201962.htm#DSN00260

====================

Listen to Jimmy Yancey perform Rolling The Stone here:

Roots of Blues -- Jimmy Yancey "Rolling The Stone"

====================

Listen to Jimmy and Mama Yancey perform Make Me a Pallet On Your Floor here:

PALLET ON THE FLOOR by Jimmy Yancey and Mama Yancey - 1943 R&B

====================

Mississippi John Hurt performs Make Me a Pallet On Your Floor here:

Mississippi John Hurt Make Me a Pallet on the Floor

====================

Bob Dylan played some 'Woogie Boogie' on the Album Self Portrait.

https://bobdylan.com/songs/woogie-boogie/ 
====================

Sam Shepard's biography says, "After producing the lesser-known "A Short Life of Trouble" (1987)..." and A Short Life of Trouble is listed as a produced play on his career overview here:

http://www.curtainup.com/shepard.html

The German Dylan author Günter Amendt, who tragically died in a freak accident, translated A Short Life of Trouble (aka 'True Dylan') into German.

Manfred Helfert's blog on the subject with video:

http://bobdylanroots.blogspot.com/2011/03/renowned-dylan-author-gunter-amendt.html

The play was performed in Germany.  

http://www.bildundbuehne.de/regisseur_kruse.htm

Jürgen Kruse directed it in 2002, at the Bochum Schauspielhaus Underground Theatre.

http://www.sn-herne.de/index.php?cmd=article&aid=4618 

Lucas Gregorowicz played Bob Dylan. Patrick Heyn played Sam Shepard. 

Review and picture of Heyn as Sam:

http://tinyurl.com/chbb63j

Lucas Gregorowicz: 

http://www.matreus-unterwelt.de/attachments/Image/Lucas_Gregorowicz_03.jpg

====================

Another tenuous Bob Dylan link:

The title is potentially from a Grayson and Whitter song Short Life of Trouble. This was covered by Ralph Stanley in 1996... and of course, Bob Dylan has covered G. B. Grayson's Handsome Molly too.

Grayson and Whitter - Short Life of Trouble:

Grayson and Whitter-Short Life Of Trouble

====================

Grayson and Whitter - Handsome Molly:

Handsome Molly Grayson and Whitter

====================

Bob Dylan - Handsome Molly:

Handsome molly - Bob Dylan

====================

Note - video link captions use the uploaders' spelling, grammar, and titles. 

Original post from my Bob Dylan Revisited page on Google+