Article
Song-A-Day April (Update #2)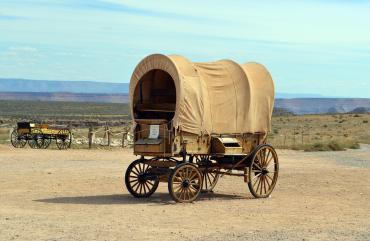 Dear reader, I must confess something to you. It's an unpleasant confession, and perhaps an embarrassing one, but I value our relationship greatly and I feel that I cannot be dishonest with you. Here goes:
I fell off the wagon.
The song wagon, specifically.
For the last month I've been rambling on about my absurd "write a song every day for the entire month of April" project (so go back and read my last post if you have no idea what I'm talking about). I'm happy to report that for 16 days I did well – I wrote 16 songs. That is one song a day, for those of you keeping track at home. About a half dozen of these are totally decent songs, another third are wonky first drafts with potential, and the last third are mostly garbage with a stray redeeming quality or two. (My Day 11 song opened with the unsubtly autobiographical lyric "I'm full of bad ideas and my internal clock is f--ked," but it's got a nice Roger Miller-esque turn of phrase at the end of the verse.)
In general, the first week was pretty solid, and the second week less so. It was around Day 10 that I started having panicked moments where I couldn't quite recall what people are supposed to write songs about. I've never been a particularly prolific writer. I was exhausted and stressed out, and as life tends to do, life got in the way. And then I found myself here, on Day 23, with decidedly less than 23 songs to show for myself. I've started catching up, and by the time this is published, I will have made some more progress on that task. Shame has finally caught up with me (plus I owe a decent chunk of money to the Shame Fund).
Last night, the first real test of my song-a-day output arrived. I was playing a solo set at Club Passim (one of my favorite music venues in the known universe, and my home base as an artist) opening for my friends the Lonesome Ace Stringband. We planned this show long before the song-a-day project even occurred to me, but I did think to myself "April 22? That's months from now. I can surely write some new songs to play." Leave it to me to write all the songs at the last minute.
As a general rule, I spend most of my time onstage accompanying other people's songs. My songs make up a minority of my band's repertoire, and outside of Lula Wiles, I have more sidewoman gigs than frontwoman gigs. I say this to illustrate a point: Combine that with the glacial pace of my songwriting output, and you will understand why, although I'd consider myself a fairly experienced and confident performer at this point, I very rarely play a full set of my own music. This was the second time in the last year I'd done such a thing.
I was nervous, which is a very rare feeling for me to have before performing. Most of that was because I was worried I'd forget my own lyrics (I didn't), but it was also partly because these songs are rawer than others I've written. I didn't have time to phrase things in an elegantly oblique way; I just said what I was feeling because it was 1 a.m. and I wanted to finish that day's song and go to bed. In looking back over the songs, I'm glad I wrote that way, even if I feel a bit freaked out at the prospect of singing those songs for other human beings. But, if I may toot my own horn a bit, I got a really positive response from the audience. I talked a bit about the song-a-day project onstage, and of the seven songs in my set, five were from this month. (Day 2, 3, 4, 5, and 15, to be exact. Dang, that first week was good.)
Even if I don't write any more good songs this month, I want to finish what I started because I said I would do it. And still, a month that yields six good songs is a damn good month by any standard. But it'd be even better to write ten good songs, and from the rest, I can cull 20 fragments of material for the future. The final week of the challenge will be a mad dash to the finish line, but I will write 30 songs in April if it kills me. Wish me luck! Or, more accurately, wish me tenacity and discipline. And, yeah, luck.