Article
Song Premiere: "Gone"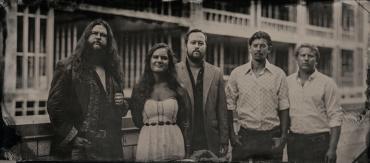 Loss leaves an empty space that's either filled with regret, joy, anger, hope, or left unoccupied to grow and stretch as a remembrance of everything that will never again be complete. We carry loss with us, longing at once to get beyond its ache and mourning and at the same time we're never to be able to live with it. Chamomile and Whiskey's new single "Gone," from their new album Sweet Afton (October 27), captures the sweet raggedness of loss in a spare, mournful ballad that opens with a soulful duet of guitar and fiddle. An aching pedal steel delivers the singer and his thoughts across the song's bridge, as he contemplates life after the he's lost someone close to him: "Now I lay here/try to quiet my mind/chase my thoughts in circles/and evaporate in time/but these nights they just seem to grow more long/I don't want to get used to you being gone."
Lead singer Koda Kerl says, "I wrote this song after my father died. I've found over time that songs like this can change meaning or impact depending of what is going on in your life in that moment... he was a songwriter and I think he'd appreciate that about this one."
"Gone" is a just right blend of the burning of regret and the sweetness of love, much like you'd expect from a cup of chamomile tea laced with a shot of whiskey.