Article
Song Premiere: Hot Club Sandwich serve up "Blackpot Coozie"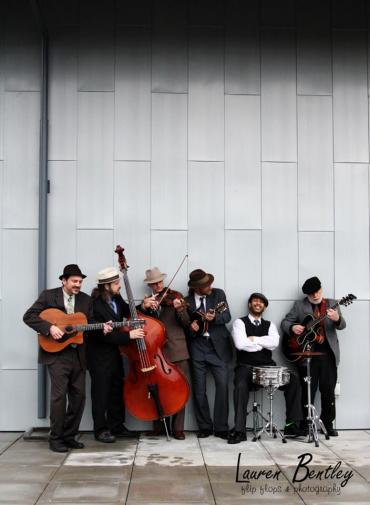 True Northwest originals, Washington State string swing ensemble Hot Club Sandwich has cooked up a delightful batch of new tunes on their upcoming album, No Pressure, due February 16th. The open-minded group may serve up a blend of jazz, bolero, and folk, but feel just as comfortable following a Hoagy Carmichael song with a Peruvian waltz. They let the music be their guide as they adopt their own interpretation of Django Reinhardt and Stephane Grappelli's pursuit of honest, adventurous improvisation while embracing musical forms from around the world.
For this, their fifth album, they invited longtime friend David Grisman to produce and the result is a record that stirs the musical pot with dynamic instrumental interplay. Today, the sextet share one of the album's original tracks, "Blackpot Coozie." The jazzy toe-tapper, inspired by the Blackpot music camp and festival, captures the spirited essence of Louisiana from decades past as each member – Ray Wood (guitar), Joseph Mascorella (drums), Kevin Connor (Selmer guitar), James Schneider (bass), Tim Wetmiller (violin) and Matt Sircely (mandolin) - puts their individual stamp on this timeless tune.
Bandleader Matt Sircely had this to say about the track, "There's a great festival in Lafayette called the Blackpot Festival, dedicated to the celebration of South Louisiana music, dance, and food. Everyone cooks with cast-iron — it's the only rule in the cooking contest.  Out on the prairie, there's also a week-long Blackpot Camp, and I've had the honor of teaching mandolin for the last few years. The musicianship is remarkable, both at the camp and festival, and almost everyone gets out on the dance floor. One time, during the long drive from the Pacific Northwest, I started writing a song from the point of view of a forlorn northerner headed to the festival overland. The whole time, he's driven by this piece of festival merchandise — a coozie for keeping beer cold. So I composed Blackpot Coozie as kind of an homage to all the people who make the festival and music camp happen, and to all the forlorn Northerners who go there with hopeful hearts. After the festival one year, in the backyard of mandolinist Roger Kash, a few friends helped to compose the final stanzas. They're all credited in the liner notes, including Satch, the wonder dog. At this point, "Blackpot Coozie" has airing on KDVS in Lafayette, Louisiana for over a year as the weekly kickoff theme for Freetown Radio, hosted by Kash."