Article
Song Premiere: Ryan Koenig "Cheyenne"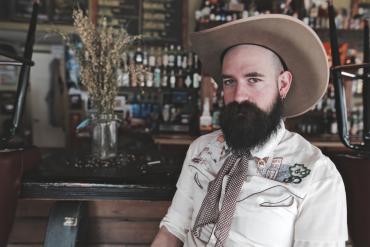 Known as the sideman and harmonica player with Pokey LaFarge, Ryan Koenig has worked both on and off stage to bring his talent to people all across the globe. On October 13th, Koenig will display other, often unseen, facets of himself as singer-songwriter and bandleader when he releases his debut album, Two Different Worlds. The ten-track collection is indeed a special one, touching on numerous topics from gentrification to spiritual loss and the dichotomy of reality and fantasy via genuine country melodies and well-crafted lyrics.
Today, Koenig shares a song from the record, "Cheyenne." Featuring the stellar musicianship of John Horton (of the Bottle Rockets on baritone guitar), T.J. Mueller and Luc Klein (trumpet), Kristo Baricevic (piano), Joey Glynn (bass), Matt Meyer (drums) and Jenny Roques (harmony vocals), who give the tune its rich, reflective, bittersweet tone via Tex-Mex flavored horns and guitar alongside Koenig's distinctive vocals, "Cheyenne" relates the familiar time when one realizes it is time to say goodbye. 
Koenig had this to say about the track, which you can hear below, "There are many things that we must leave behind in life: people, places, times.  There are many ways we leave them behind: physically, mentally, spiritually.  Sometimes all of these things and ways seem to wrap up into one, and this song is about that.  It is a timeless western scene playing out in the mind and heart, with blurred lines between character, place, and action."