Article
Song Premiere: The Tillers Look for Hope on "Revolution Row"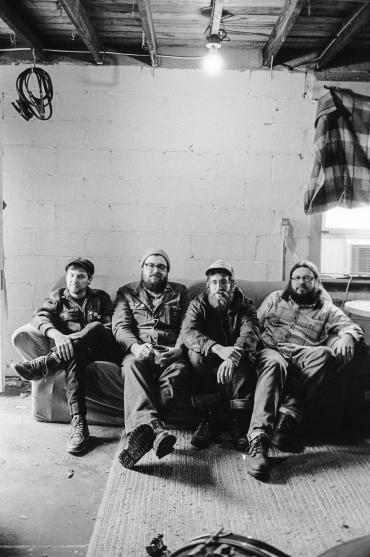 In the beginning Mike Oberst (banjo, vocals), Sean Geil (vocals, guitar), and Jason Soudrette (upright bass) busked for coins and burritos around Cincinnati, playing traditional songs - Woody Guthrie, southern blues laments, anonymous relics of Appalachian woods, churches, riverboats, railroads, prairies, and coal mines. Awarded a Cincinnati Entertainment Award from City Beat Magazine six times, the band caught wider attention nationally when they were featured by news anchor Tom Brokaw in his documentary about the historic Route 50.

Eventually, Soundrette left to pursue other passions and handed over the bass reins to Sean's brother, Aaron Geil and the band soon added Joe Macheret on fiddle. Tragedy struck a few years later when Soudrette passed after a long fight with AML. The band has continued on in Jason's name, launching new tours, writing new songs, and raising new offspring. On March 23rd, the quartet will release their self-titled album, and today share one of the tracks from the project, "Revolution Row," a fiery, socially conscious bluegrass- folk tune that looks for hope in troubled times.
Singer-songwriter-guitarist Sean Geil had this to relate about the track,
"'Revolution Row' was inspired by all the people standing up and speaking out against the evils and injustices in the world. When I started writing it I was angry. By the end of the song I had worked through a lot of that anger and wound up in a more hopeful place. Things are messed up right now, and we have to work together to turn it around."

"Gather round, hear the restless moan
There's better days just up a ways
I can feel it in my bones
Make a sound, give that horn a blow
I'm bound for the Revolution row" 

Website
Facebook
Twitter

Pre-order VINYL: http://www.sofaburn.com/_p/prd1/4667320103/product/the-tillers-vinyl-pre-order
Pre-order CD: http://www.sofaburn.com/_p/prd1/4667320153/product/the-tillers-cd-pre-order
 
The Tillers have played music festivals from coast to coast, toured Ireland and the UK, travelled with Pokey LaFarge and The Hackensaw Boys, and shared a stage with countless icons like Doc Watson, Iris Dement, Jerry Douglas and Del McCoury. For 2018 tour dates see below.

THE TILLERS 2018 TOUR DATES
3/23 Columbus, OH - Woodlands Tavern (w/ Pert' Near Sandstone and Al Scorch)
3/24 Newport, KY - Southgate House Revival (w/ Pert' Near Sandstone and Al Scorch)
3/29 Madison, WI - High Noon Saloon (w/ Pert' Near Sandstone and Al Scorch)
3/30 Chicago, IL - The Hideout (w/ Pert' Near Sandstone and Al Scorch)
3/31 Indianapolis, IN - The Hi-Fi (w/ Pert' Near Sandstone)
4/12 Louisville, KY - Zanzabar (w/ Pert' Near Sandstone)
4/13 St. Louis - Off Broadway (w/ Pert' Near Sandstone)
4/14 Bloomington, IN - The Bishop (w/ Pert' Near Sandstone) 
4/21 Albany, TX - Walk This Earth Fest 
5/31-6/1 Bean Blossom, IN - John Hartford Memorial Festival
6/15 Eau Claire, WI - Blue Ox Music Festival
(additional dates to be announced soon)