Article
Southern Comfort, No Depression, and Baby Robot Media Present the Yard Dog Day Party 2017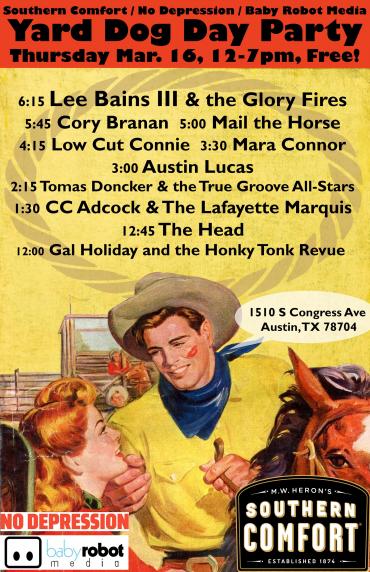 No Depression and Baby Robot Media are happy to announce that we'll be co-presenting a day party at Yard Dog in Austin, Texas on March 16 during SXSW. Starting at noon, the famed art gallery will host 10 great roots and country artists, including Cory Branan, Low Cut Connie, and Lee Bains III & the Glory Fires.
Our spring journal, Heartland, will also be for sale at Yard Dog, so grab a copy while you nosh on Baton Creole's "damn good cajun" food and sip Southern Comfort cocktails.
You can RSVP for this free event on Facebook right here.
The Lineup: 
12 p.m. - Gal Holiday and the Honky Tonk Revue
12:45 - The Head
1:30 - C.C. Adcock & The Lafayette Marquis
2:15 - TOMÁS  Doncker  & The True Groove All-Stars
3:00 - Austin Lucas
3:30 - Mara Connor
4:15 - Low Cut Connie
5:00 - Mail the Horse
5:45 - Cory Branan
6:15 - Lee Bains III & The Glory Fires