Column
Suitcase Junket on Jack White, Buddy Guy, and More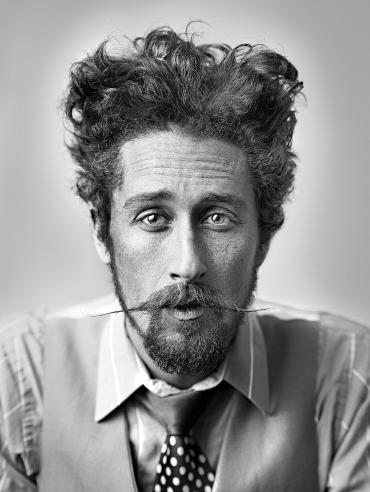 Watching Matt Lorenz perform in his one-man band in a small, crowded club — Daryl's House in Pawling, New York — it's difficult to determine what instruments he is playing. I will let him explain.
"I'm sitting on a suitcase and playing it as a bass drum with my right heel," says Lorenz who performs under the name Suitcase Junket. "My right toe does hi-hat, a box of bones and silverware that operates much like a hi-hat. My left toe plays a baby shoe hitting a gas can, and my left heel plays a cook pot and a circular saw blade. Then there's the guitar and singing which are more visible." 
The Suitcase Junket generates a powerful blues rumble — replete with slide guitar — that sometimes brings to mind the White Stripes or its front man Jack White. Lorenz calls it swamp Yankee music and says White has not been an influence. "I heard him on the radio, but I already had my thing going," Lorenz says.
Another Suitcase Junket song reminds me of the Low Anthem's "Charlie Darwin," but that's just a coincidence, Lorenz says. 'I don't listen to them much or really any music when I'm in the writing process."
 He says it's hard to say who were his biggest musical influences.
"My biggest influences are probably the stuff my parents were listening to while I was in the womb," he quips. "So maybe Boz Scaggs? Steely Dan? I'll ask."
Lorenz's voice is a unique musical instrument. Sometimes, it sounds like he's whistling or a cross between a penny whistle and a didgeridoo.
"Those sounds are overtone singing — or polyphonic singing or throat singing," he explains. "I'm humming a note and moving my tongue in such a way that the note I'm humming gets split into the harmonic sequence. It sounds like whistling, but it's not really whistling."
Reviewer Scott Zuppardo had an apt description of Lorenz's voice when he reviewed the third full-length Suitcase Junket album, Make Time, in No Depression last year.  
"Channeling his inner Tuvan, Lorenz's singing voice comes from somewhere at the fringe of guttural and hummingbird nectar-sweet," Zuppardo wrote. "There's a tinge of (Tom) Waits and a hint of (Bob) Dylan in both vocal styling and social consciousness."
The most recent Suitcase Junket release was a seven-song EP, Dying Star, which came out in March. 
"Musically, it's about rocking out pretty hard," Lorenz explains. "Lyrically, it pretty much involves what happens when a star dies. It kind of reads like a summarized encyclopedia entry."
The main difference between Dying Star and his three previous full-length albums is that Dying Star has a few more instruments overdubbed on some tracks, he says.
"Five of the Dying Star  tunes were recorded during the Make Time sessions and didn't make the cut for the full-length album," Lorenz says. "So I took them home and played around with them, adding violin, saxophone, more voices and percussion.  It's also the first time I've released any live concert recordings.  The last two tracks of the EP were recorded at the Parlor Room in Northampton, Massachusetts.  One is an old tune — the first track off the first album I recorded. That song has changed so much, so I wanted to document it's current state. The other live one is a track on Make Time that has also changed a bit and become an audience- participation number." 
Originally from a rural Vermont town, the Northampton area has become home to Lorenz who studied music at Hampshire College in nearby Amherst.
"I moved to Amherst for college in 2000 and, aside from a couple years of bumming and busking overseas," he says. "I've been there ever since. It's hard to say exactly how an area influences your sound. I was farming, pursuing art and music and living in relative poverty in a big house full of creative types for most of my time in Amherst. I suppose it got me down-to-earth while simultaneously facilitating my flights of fancy.  The location is also perfect for me. I'm a couple hours from a bunch of great music cities, and I get to live out in the woods, which keeps me more or less sane."
The Suitcase Junket "spun out of a band called Rusty Belle," Lorenz says. "I found an old guitar and got interested in making lots of sounds around the tunes I was pulling out of if. I wanted it to be called Some Kind of Junket — as in octet — but, after learning the other meanings of junket, I settled on suitcase as the modifier."
Lorenz doesn't only see the one-man Suitcase Junket in his future. "I like the creativity born of limitations," he says, "so I imagine I will always have some kind of one-man-band or solo project in motion.  However, I also very much enjoy playing music with other people, so that will always be a part of my musical journey." 
Lorenz says the best concert he ever attended as a spectator was a B.B. King, Buddy Guy, and John Hiatt triple bill at a fairgrounds — "maybe near Manchester" — in southern Vermont.
"It was classy, grimy and cool," he recalls. "I was just the right age to have my mind blown. OI can't remember the exact date, but it was the late 1990s or early 2000s."
 Lorenz says it's difficult to choose which concert he attended as a spectator influenced him most as a musician. "That's a tough one," he says. "It can be hard to recognize influences. They sneak up on you sometimes. It might've been the B.B. King/Buddy Guy/John Hiatt concert I mentioned, or maybe seeing Paul Simon or Paul McCartney at a young age did something to me. Maybe it was  Rosenshontz — the local kids' folk group in Vermont when I was a tyke."
What's next for the Suitcase Junket? "I recorded a lot of new material in April between tours, and I plan on putting out a new album this winter or spring," Lorenz says. "I added a little two-octave keyboard to the setup on some of the new tunes, and the sound is big and bad."