Column
Summer is Bluegrass Season in New England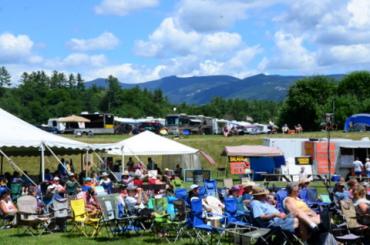 The New England bluegrass festival season is on the horizon as thousands of bluegrass pickers and fans thaw out from the long cold winter. Keeping the flame alive in the cold months has been the Joe Val Bluegrass Festival, held indoors in February in the Boston suburb Framingham,  and jams in people's homes and other warm places. Here's the late Joe Val & the New England Bluegrass Boys in a 1983 performance:
New England comprises six states covering 71,992 square miles with a population of almost 14.5 million people. In size, all six states are a little smaller than all of South Dakota, with Maine comprising about half the region. The population lies halfway between that of West Virginia and Maryland in number. In other words, New England is a small region located in the far northeastern portion of the country. Nevertheless, the region has become the home to major bluegrass and other music festivals, the nesting place of many noted bands, the schoolroom for musicians making their impact across the country, and the site of at least one bluegrass festival per week for its short outdoor season, which lasts from Memorial Day to a week or so after Labor Day. How did New England become such a hotbed of bluegrass and traditional music despite its relative isolation and small population?
In the 1950s, the Lilly Brothers came to Boston from their home in West Virginia at the suggestion of bluegrass hall of famer Tex Logan. In Boston, they joined with Don Stover, from West Virginia, to form the Confederate Mountaineers. Logan had earned his Ph.D. at Massachusetts Institute of Technology, spending most of his career at Bell Labs in New Jersey, while continuing to encourage bluegrass musicians to come to the Northeast. He was an important influence on Peter Rowan and Bill Keith, both of whom became Blue Grass Boys with Bill Monroe, but who were New England natives.
As with so many other people who left Appalachia and, later, the Southern mill towns as they began their moves out of the country and into urban areas, Mack and Hazel McGee, from Georgia and Tennessee respectively, came to New England in the 50's to find work, which was burgeoning with the growing tech and military industries in the 1950s and '60s. They brought their roots with them, founding White Mountain Bluegrass. In their long career, they toured the US and the world, taking their music with them and to the people. Here they sing Si Kahn's song "Aragon Mill" during a live recording made in Holland.
The New England outdoor festival season begins with Strawberry Park in Connecticut on the first weekend in June and ends with FreshGrass, put on by the owners of No Depression, on the third weekend of September. That's a short — but busy — music schedule for the region. The Bluegrass Festival Guide contains a searchable guide to bluegrass festivals throughout the country by region. Go to the Northeastern states section and click on the states in New England for futher information: Connecticut, Rhode Island, Vermont, New Hampshire, Massachusetts, and Maine. Among the festivals listed are some considered to be go-to festivals by knowledgeable bluegrass fans across the country, including Jenny Brook, Thomas Point Beach, and FreshGrass. The best overall source for information about bluegrass in New England is the website of the Boston Bluegrass Union and their subscription newsletter called NEBG-L, which details activities across the region.
Here's a composite video from last winter's Joe Val Festival in Framingham, Massachusetts.
Bluegrass has a storied history in New England media as well as in the region's festivals. Hillbilly at Harvard, founded in 1948 by Pappy Ben Minnich, has been a staple for traditional music while based on the campus radio station at Harvard in Cambridge, Massachusetts. It's still running, streaming on WHRB.org and live every Saturday from 9 a.m. to 1 p.m. ET on WHRB-FM 95.3. Another regional FM station, WHUS, the radio station of the University of Connecticut, serves up bluegrass music hosted by Amy Orlomoski every Sunday afternoon on The Bluegrass Café. The role of streaming music from college and independent radio stations in keeping bluegrass alive and heard across the country and, now, around the world, cannot be overstated.
Berklee College of Music has also kept New England's bluegrass scene vibrant, especially since the development of its program in American Roots Music, producing bands like The Lonely Heartstring Band and Mile Twelve, each of which has received recognition for excellence from IBMA and from audiences around the country. You can count on much more music from this region that respects tradition while forging new paths in Americana and further. Here's Mile Twelve, a bluegrass band whose members come from diverse and nontraditional sources, singing "Ace of Hearts."
FreshGrass is a relatively new festival held in September at Mass MoCA (Massachusetts Museum of Contemporary Art) in North Adams, Massachusetts, and hosted by the parent company of No Depression. While relatively new, FreshGrass is a festival that covers wide-ranging ideas about what bluegrass is and how it sounds. Here's the promo for the 2018 iteration.
It's clear that bluegrass and contemporary roots music in New England isn't simply an afterthought, it's a central part of the music of the region, in its newest and oldest variations. Besides providing wonderful musical experiences, New England features cool summers, a welcome escape from the steaming heat of the other parts of the country. It also has a well-deserved reputation for its fall colors, beautiful mountains and lakes, and unique Yankee color. Be sure to spend some time there!