Column
SXSW 2017 Highlights: Willie Nelson, Valerie June, Whitney Rose, Charlie Faye, and More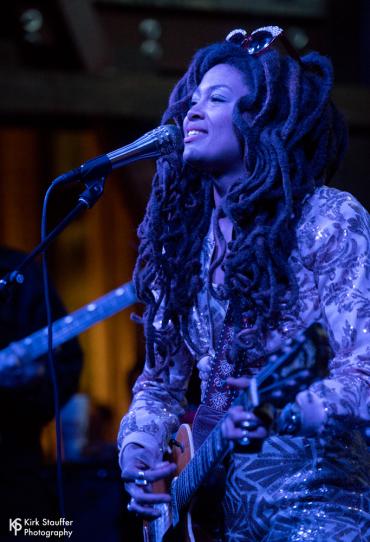 A lot has already been written about SXSW, now in its 30th year on this website and so many others. But suffice it to say, it is no longer a music festival, it is an extravaganza. Many folks I know have either stopped going or, like roots music promoter Cary Baker, say this is their last. For instance, NPR did a piece on 100 artists not to miss. That's not an article, it's something PR folks can use when marketing their clients. One hundred? What, then, is it like not be one of the 100 fortunate ones?
All that said, SXSW is a force to be reckoned with and extremely influential. It is also something that one just has to report on if you've got someone to cover it. As with last year, this column had one of your favorite photographers, Kirk Stauffer, journey on down, and he took a bunch of pictures that we are pleased to share with you.
Here now are some highlights of SXSW 30. 
Ray Benson's Birthday Bash
Ray Benson has a special place in my heart as Asleep at the Wheel began in Paw Paw, West Virginia, over 45 years ago. Not only have I seen them many times, I have all their early albums to boot. It just happens that Benson's birthday is during SXSW, so he throws a birthday bash. This year, apparently being his Route 66 birthday, he went all out, and it was something folks will talk about for years.
First the Avett Brothers joined Benson and band, playing — what else? — Bob Wills. Then the man himself, Willie Nelson, dropped by and went straight into "Whiskey River" before doing another 10 or 12 tunes, including some that were jazz-inspired. A couple of the Avetts seemed awestuck.
But the ghosts of Townes Van Zandt and Guy Clark were not far away, highlighted by the ubiquitous "Pancho & Lefty." When Willie sings that song you see a special glow in his eyes. It's as though of all the great songs he's written, he wished he'd had written this one. Other special treats were "No Place to Fall" and Clark's most Townes-like tune, "Dublin Blues."
That night also featured Charlie Sexton (Dylan's guitarist), Shannon McNally, Carolyn Wonderland, Marcia Ball, and Sunny Sweeney. Film historian and Benson pal Leonard Maltin was in town for SXSW's film festival and was seen in the VIP section eating birthday cake with Benson.
Folks who gave speeches included Nile Rogers, who instructed attendees not to be snobby, and Mick Fleetwood, who gave insight to the current state of Fleetwood Mac. He also spoke about not being impressed when he first heard Peter Green. For the uninitiated, Green not only replaced Clapton in the Bluesbreakers, but also founded Fleetwood Mac and went on to be one of the finest blues and atonal guitarists. (Check out the excellent documentary on Green called Man of the World.)
Rebels and Renegades
Saturday's Rebels & Renegades party at Threadgill's (co-produced by Jenni Finlay and Cary Baker) is alone worth the trip to Austin. Baker, a music insider if there ever was one, who had said this would be his last SXSW, also said, "It was likely the most fun I've ever had at SXSW." So, he's thinking about coming next year just for this event, and, thankfully, even if he does not, the Saturday R&R event will continue. Threadgill's owner told Finlay and Baker it was the most successful SXSW event that the establishment has ever had.
That should be not surprising with a lineup that included the McMurtrys (father James and son Curtis), Charlie Faye, Whitney Rose, Ray Wylie Hubbard, Shinyribs, Sunny Sweeney, and Kinky Freidman, just to name a few. 
Of course, those folks played a lot of other places as well. Rose, who just so happened be one of my "do not miss" artists two years running at AmericanaFest, made the rounds as if it might be the last few times she played in town for awhile. Which just may be the case as I hear the Canadian chanteuse is moving soon from Austin to Nashville. Her set at Yeti's was complete with a '70s throwback look juxtaposed with a no-nonsense sensibility. She closed that set with the Lesley Gore hit "You Don't Own Me" done as an anthem, with a can of Lone Star at her feet.
Charlie Faye, too, got around, with her Fayettes, doing two other sets that took her sweet Motown/Stax sound up another notch and into another realm of deliciousness. As seen with Faye, as well as Rose and Faulkner, the past is not dead, it's not even past. They're so fine, as the Chiffons might say.  
To demonstrate how international SXSW is, there was even Nordic booth there. As they have at many festivals throughout the Americana world, the Swedish sister trio Baskery continues to cut a wide swath and make their presence known, amped up with standup bass, electric guitar, and banjo, you walk away saying, "I've been experienced."
Another outstanding trio of women who front The Wild Reeds, who I first caught last year in Ohio, continue doing what they do best and seamlessly swap vocals and instruments as if it were their second nature. A new album is due next month, and seeing them live you know they deserve the rave reviews that've gotten from the New York Times and NPR. Think country crossed with Laurel Canyon, with energy.
New Discoveries
As with any festival, there's always a discovery. This year, Kirk had two. First, Marie Miller, who also has a new album, Letterbox, coming out on the March 28. Her music is borne out of her love of literature, from Tolstoy to Fitzgerald. She says the characters in those books are so vivid that she cannot help but to write about them. Second, Mignon, whose lone set at the Saxon Pub wowed the crowd, especially with her final song, "Summer Storm."
REMSY, Maggie Rogers, and Alice Wallace also made good impressions upon Kirk. REMSY, from Kansas, now makes Texas her home, and her first single, "Lucky Two," mixes a dream-like vocal with Grammy-winner Jeff Lipton's soundscape that makes everything old new again. She's also got the trappings and the voice to make it all work.
Yes, way bigger names were there, but they're not what draws most folks to SXSW. You want to walk around catch some new talents mixed in with folks like Robyn Hitchcock at Waterloo Records cooing, "Just Like a Woman." Or Shinyribs bringing the hippy-hip shake to cowtown. Or Kasey Chambers and her young fellas at Cooper's BBQ, melting the house with "I Ain't No Little Girl." You have to see her do this song to believe how gut-wrenchingly intense it is.
Valerie June
I have saved the best for last. On the heels of her new album, and as it climbs the Americana charts, Valerie June brought a stripped-down, but no less intensely intriguing one-of-a-kind sound to her two formal sets. Clearly enjoying herself, she closed one set with "Get Soul," while spraying water around the stage, which reminded me of a production of Orpheus I saw in New York a few years back, where water played an instrumental role in depiction of the underworld. While June does not travel there to retrieve her Eurydice, she mined the depths of love, Tennessee, working women, and all the astral planes in between. You have just got to see her. 
Now enjoy the photos by Kirk Stauffer, and, with the permission of Cary Baker, his photos of Shinyribs, Whitney Rose, and Willie Nelson and Ray Benson.