Column
Tommy Talton Recalls Last Gig with Gregg Allman and a Lesson from The Band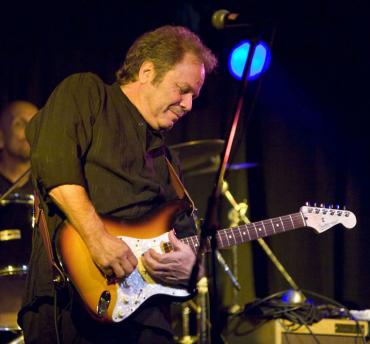 Memories of the night of Oct. 29, 2016, at Atlanta's Lakewood Amphitheatre will forever be etched in the mind of guitarist and songwriter Tommy Talton. It was the last time Talton spoke to and played with Gregg Allman, joining him onstage for "Melissa."
"I am so happy we could share the stage one last time before his passing," Talton tells me. "Actually, it was strange and a bit eerie that it was his last gig, and it was the same day that his brother and my friend, Duane, died in Macon after his motorcycle accident."
Talton says he and Gregg that night "talked about fun times in the distant past and how great it was to see each other and have a little time to talk."
"Up until that night," Talton says, "it had been a very long time since we relaxed and had a fruitful conversation."
Allman's show that night was part of his Laid Back Festival, which he and his longtime manager Michael Lehman created with Live Nation in 2015 and spread to five cities a year later. Besides the music of various acts, the festival included food and drink supplied by regional restaurants, food trucks, breweries, and wineries.
The festival continued last year in various cities despite Gregg Allman's death — a passing that has weighed heavily on Talton's mind.
"How does one feel after they lose a friend they have shared some of the highest moments with in their life?" Talton asks. "Beyond words, certainly a sad, sad time. Surely, Gregg will always be known as the voice of Southern rock — although he disliked the term Southern rock as much as I do."
Allman's death hasn't, though, stopped Talton from making new music. Last year, he released Somewhere South of Eden, his fifth solo album since 2018. The project started in October 2015, was finished in January 2017, and was released in March that year.
"I started the recording with just the basics of drums by Bryan Owings, the bass of Chris Donahue,and me guiding them through arrangements of each song, including some that were created as we played," Talton says. "We did all 11 songs in two days at Boomtown Studios, a cozy recording facility just outside Nashville run by David Pinkston, an old friend from my Capricorn Records days in Macon, Georgia."
Pinkston and Talton realized it would take quite a while and a lot of traveling to do all the overdubs necessary at Boomtown. So Talton called Markham White, the owner of AfterDark Studios in Smyrna, Georgia, and Markham finished the project at his studios, just 16 miles from Talton's home.
"It still took longer than any solo project I have worked on," Talton says. "There were many reasons for that, including Markham's schedule, my schedule, and waiting for the desired musician on whatever cut to be able to add his part."
Talton mentions three songs as his favorites on the album.
"Lyrically, I like the title track 'Somewhere South of Eden' simply because I had been wanting to use that title for at least four years," he says. "After more editing than I normally get involved with, I feel like it conveys a strong visual the listener can get lost in. 'Poblano' is fun because I have never before recorded an instrumental, and it had some fine playing from Chuck Leavell on piano. Stuffed poblano con carne is also my favorite Mexican dish. 'Don't Go Away Sore' is high on my faves list because of the lightness, the general good-time feel, and what Rev. Jeff Mosier brought to the song with banjo and harmony vocal."
Talton is most likely on the faves list of many Gregg Allman fans, because Talton's excellent guitar work is on two of Allman's best solo albums, 1973's Laid Backand 1974's The Gregg Allman Tour. The cover of the 1974 album says "with Cowboy/Boyer & Talton and accompanied by a 24-piece orchestra."
Cowboy, formed by Talton and Scott Boyer in Jacksonville, Florida, in 1969, was a country-rock band signed by the Allman Brothers Band's label, Capricorn Records, that never got its due.
"I think, perhaps, we have a small recognition of being among the first country-rock bands that melded rock, folk, country, and a bit of rhythm and blues into the mix," Talton says. "Certainly, we'll also forever be connected to the Allman Brothers Band. We all grew up in Florida at the same time and toured extensively together in the early '70s. Scott's beautiful song 'Please Be With Me,' recorded by Cowboy with Duane Allman on dobro, is legendary for being the last song Duane recorded in the studio before his very young passing."
Talton also played on the Allman Brothers Band's classic album Brothers and Sisters, Dickie Betts' Highway Call, and a few albums of Bonnie Bramlett.
He says the best and most influential concert he attended by another artist was a show by The Band.
"In 1969, while living in Los Angeles, my mates and I heard that The Band were going to be doing their first concerts in San Francisco after the release of their first album Music From Big Pink," Talton recalls. "We had been wearing it out on the turntable and, of course, could miss it! We were with our recording genius friend on that trip who happened to bring along a high-quality reel-to-reel recorder and captured the entire concert.
"What influenced me most was the concentration and attention to the music they all had. As a visual performance, it could not be rated very high. That was not their purpose. Their purpose was to go to the very heart of the songs and communicate the feelings to the audience. They did that superbly, and I have not ever forgotten the power that can bring to people."