Column
Like a Train: Glen Hansard at FreshGrass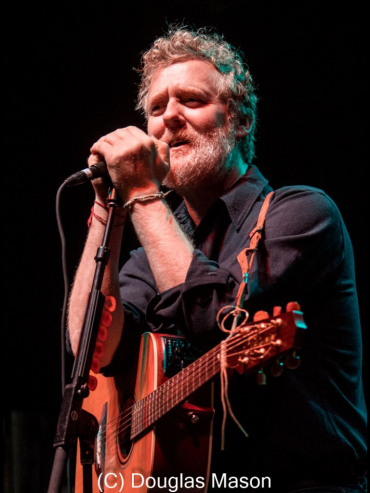 Joe's Field behind the Massachusetts Museum of Contemporary Art, or MASS MoCA, in North Adams, MA, is half a lopsided bowl, with a flat playing surface parallel to the museum and to the walled spill of the Hoosic River, and a long grassy shoulder against the railroad tracks. You don't see the tracks, because they're hidden by a tall stand of sumac and scrub trees twenty feet high -- but as Glen Hansard started his set at the Freshgrass Festival Friday night, you knew suddenly that they were there.
Hansard, the Irish singer songwriter still best known for "Once," but increasingly for much more, opened with a good song for a starry night, "Winning Streak," and its evocation of the Southern Cross.  He interrupted himself in an instrumental, announcing, "This is for Bernie Sanders. He did more good than he knows." The Vermont border is less than five miles from North Adams; both the hometown folks and the many who had come from far away for the festival weekend cheered. As the cheer faded, a rolling thunder rose though the sky was clear -- and the heavy head of a freight train engine soared up over stage right, while a whistle more an approving hurrah than anything lonesome rang out.
Hansard laughed delightedly as the long freight began to pass. "A train!  Quick, a train song." David Mansfield, the musician closest to the tracks, grinned back at him, and after a quick confab they wielded, respectively, fiddle and guitar. What else but "Mystery Train"? Everyone sang along, those "train trains" full of heart and twang. As the song faded out, so did the jingle, the rumble and the roar. Hansard waved a farewell from the stage, and shook his head and laughed. So did we all. How do you choreograph anything better than that for the rest of your gig?
They managed. For a long lyrical set, Hansard fulfilled a certain Irish stereotype, and not a bad one, with his discursive, personal intros to his passionate songs.  The best was to "Renata." Hansard had played at Carnegie Hall and was still floating from it, as well as apologizing for having no voice left (not so). Renata worked, or works, at an Irish bar in New York he still frequents, and had gone to after the night at Carnegie Hall. Everyone loves Renata's conversation, and her looks. One night, an ex-boyfriend petitioned Hansard to write a song to help him win Renata back. They turned it out together in ten minutes. It didn't work; she didn't believe the former lover had written it.
The performances of individual songs were grand, yes. Hansard's band, with its gorgeous string section elevated stratospherically by the legendary, and rightly so, talents of Mansfield, were pure pleasure to listen to from feet away. However, I've only a few times see a performer do what Hansard did early in his set, and never heard one give their reasons. Gesturing to the crowd, he said, "come, fill in these empty seats." The seats were in the VIP pit area right in front of the stage, roped off, and appallingly empty. No one obeyed. Hansard beseeched security: he knew they were VIP seats, but, he insisted, and unapologetically, "performers feed off this energy." He wanted hs audience close. People didn't need to be asked twice. The seats were full, and the show went on, warmly.
Hansard did beautiful unpretty songs, like that inspired by the "hard, sad" men who his father brought home sometimes, when he was young, to recover and then move on; said Hansard with only half a smile, "we called them our druncles."  He did irrevocable love songs. He played with percussion magazines and distorted and reverberated his distinctive voice to say what he wanted to say, do what he wanted us to hear. It seemed singularly appropriate to have his mix of tradition and progression that first festival night in a bright venue made of an old Massachusetts mill town.
Please tune in later this week for a full report on my first time at FreshGrass.