Column
United States of Americana: New Tunes and Old Friends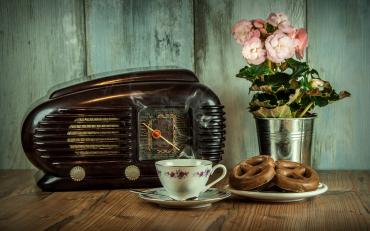 Like many of you, I'm always on the hunt for new music that'll perk up my ears and lighten my soul. In the past I've relied on websites such as No Depression; a handful of blogs that I've followed through the years; the Americana Music Association weekly radio charts, which are both interesting lists to check out; and Bill Frater's Americana Boogie, which offers a list of weekly releases. And since crossing over to the dark side and fishing in the deep digital stream, I'm finding that curated playlists have added another fast and easy way to catch a keeper.
It wasn't all that long ago when your friends would show up at your house with a stack of their favorite new albums under their arms, and you'd each take turns spinning your faves on the turntable for each other. And the neighborhood record stores that were like Cheers, the bar where everybody knew your name. Maybe you're too young to have experienced that, or too old to remember. But in that spirit, I'll show you mine if you show me yours.
Here's a handful of new music (or old music that I've recently found) that's been buzzing inside my ears for the past few months.
It's hard not to read a review about this Juno award-winning Canadian duo that doesn't draw comparisons to Gillian Welch and David Rawlings. They each dwell in that same valley of old-time music played with acoustic stringed instruments with exquisite vocal harmonies, and there is similar tone and timbre. Their sixth album will be released in May, and I have been blessed with an advance copy that I can't stop listening to. Here's the title track.
Gellert, a vocalist and fiddler who was a member of Uncle Earl before releasing solo and duet albums, teams up with her friend Kane, who is a legendary songwriter, performer, producer, and record label owner. Leaving Nashville for upstate New York, where Kane owns a bunkhouse, they bring a bunch of string instruments, stack some microphones on top of cinderblocks, and record one of the prettiest sets of harmonic wonder and simplicity.
A "late bloomer" who didn't begin his music career until his forties, Woodstock-based Romanoff releases his second album supported by an interesting cast of players. Produced by Simone Felice, the collaborators include Rachael Yamagata, Kenneth Pattengale of the Milk Carton Kids, guitarist Cindy Cashdollar, The E Street Band's Cindy Mizelle, and Larry Campbell along with his wife and duo partner, Teresa Williams.
It's been nine years since this Canadian singer was signed to a publishing deal. In 2012, a single she released a single titled "No Good Woman" jumped into the top ten of our northern neighbor's adult contemporary radio chart. Two years ago she recorded her debut album of covers from the Chess Record's catalog, where she is backed by The Dap-Kings, and which features The Roots' Questlove and Captain Kirk Douglas. Just released in February, this project is more about reinterpretation of the originals, and all the more interesting.
I got a chance to see JT Nero and Allison Russell, who play as the Birds of Chicago, a few months ago and was blown away. Had no idea who they were, what to expect, or why my friend would book them into a 400 seat theater with less than 70 advance tickets sold. But he knew something I didn't, because not only did they almost fill the space with walk-up customers, the band also presented a staggering showcase in advance of their new album being released on May 5 by Signature Sounds. This is a little taste from last year's EP with Rhiannon Giddens on harmonies and banjo and Steve Dawson on guitar.
Like dozens of other musicians over the past couple of years, Canty has made the move from New York to Nashville. Not that it matters all that much, since I don't think there's anyone who has traveled more miles criss-crossing America with that big Recording King guitar of hers and that devastatingly clear-as-a-bell voice. I've seen her perform alone and in various musical configurations, and she sparkles and shimmers on every occasion. When I listen to the new album it makes me just want to stop, lay down, and set cool slices of cucumbers over my eyes. Every note and word draws me deeper. Two songs: the first from her new album, and the second is a few years old and the one that got away.
The Tree of Forgiveness – John Prine
In the evening on the day when the new album is released, Friday, April 13th,I'll be inside Radio City Music Hall in NYC on my feet and applauding loudly as Prine comes out on the stage. Don't know what you might call it, but I believe it's a blessing.
Many of my past columns, articles, and essays can be accessed at my own site, therealeasyed.com. I also aggregate news and videos on both Flipboard and Facebook as The Real Easy Ed: Americana Roots MusicDaily. My Twitter handle is @therealeasyed.