Article
Video Premiere: Callow Expose Raw Emotion on "A Vein"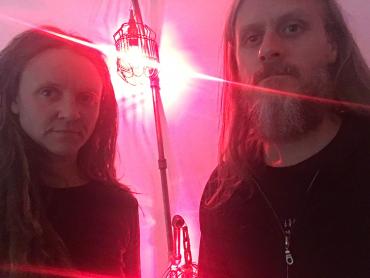 Red Moses and Sami Knowles met by chance at a party where they found themselves engaging in a fight over the preferred lighting. Yet, instead of the disagreement pulling them apart, the two began collaborating, creating a channel for the energy they were generating, and in 2009 they formed Callow.
The duo, which features Moses on vocal and guitar and Knowles on drums, keys, and vocals, have since released two LP's and toured the country extensively. Having now settled back into a routine in the East Bay, Callow is preparing to release their third LP, Mothdust.
Largely inspired by the imbalance of wealth in society and the struggles of routine, the album is paradoxical in sentiment and takes cues from its namesake - a creature of the night that's drawn to the light. Perfectly imperfect, Mothdust harnesses the duo's feelings into a visceral representation of contradictions between the self and society.
Today, the duo share the video for "A Vein" a piano-led track that engages the listener with striking images of the space program, channeling feelings of reflection and desolation. Red Moses shares the story behind the track noting, "I wrote this song a long time ago - over ten years ago - on an acoustic guitar, like a lot of our music is written. It's been re-arranged and re-composed a few different times, but the lyrics have stayed the same.  One of the lines is "I'm not that alive," as in, I'm not alive enough - I'm never going to be alive enough to realize why I'm here. It's an expression of frustration over our constant need to make meaning out of nothing."
Watch the video above and for more information visit HERE