Article
Video Premiere: "Death Dance" by Dylan Walshe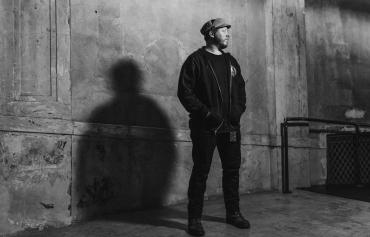 In advance of his debut studio full-length, folk artist Dylan Walshe has had a video made for his song "Death Dance." Pieced together with live performance bits taken from Dylan's tour with Flogging Molly and the Muddy Roots Festival in Tennessee, along with coastal European images captured in the artist's native country of Ireland and a few creative uses of stock footage, this lyric video by Mindspin Media is quite well made and expertly matches the mood and topic of the song. Recorded in East Nashville by Jake Stargel, the players on "Death Dance" are Dylan Walshe (acoustic guitar, vocals, and harmonica), John Mailander (fiddle), Evan Penza (electric guitar), Jake Stargel (upright bass and mandolin), Chris Compton (percussion), and Cody Martin (drums). Regarding the inspiration and meaning behind the song, Dylan had this to say: "It's quite a layered piece of writing really. Lots of meaning to it. But it draws on trickster mythology, travelling away from home, and how all is equal in the Death Dance...Danse Macabre. I guess it's essentially about struggle. But in the bigger picture, it's nothing. And it all passes away eventually." 
To date, Dylan Walshe has released a live album on Muddy Roots Records, Live from the Hell Soul Cafe and a limited edition vinyl pressing of his single "Blind is Blind" on Germany's Squoodge Records. His most recent recording endeavor, a studio full-length titled All Manner of Ways, although yet to receive a release date, is somewhere on the horizon and will feature guests such as James Fearnley of The Pogues and Andy Gibson of Hank III. So it is definitely one to keep and eye and ear out for.
It seems Dylan still has a handful of US tour dates coming up in August and September. See dates and locations here. If he's not performing in a city close to you, not to worry, he is an Irish expatriate residing in Nashville, so he tends to play a lot of shows on both sides of the Atlantic.
While his sound is primarily folk, Dylan Walshe's music touches on other roots genres such as country and blues. And because of the quality of his six-string strumming and picking, strong vocals, and excellent song composition skills, one can equally appreciate his singer-songwriter efforts as his full-band arrangements. And if the rest the album is even nearly as good as "Death Dance," it will certainly be one for the collection.