Article
Wartime Singer Vera Lynn Celebrated at Age 100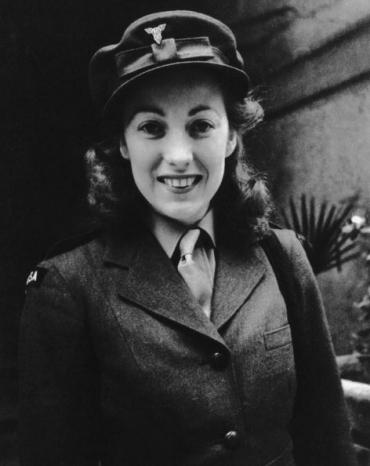 Vera Margaret Welch was born in London, in East Ham, on March 20, 1917.  The Great War was raging, George V was king of England, and Woodrow Wilson had just been inaugurated for his second term. Five days before Vera was born, Russia's last tsar, Nicholas II, had abdicated. A young man named Babe Ruth was a star pitcher for the Boston Red Sox.
Little Vera had a sweet, clear voice, and had begun singing in public by the time she was seven. She sang for radio broadcasts and with dance bands, adopting her mother's maiden name as a professional surname and performing, by the time she was 11, as Vera Lynn. When a second World War began in 1939, and England declared war on Germany in September, one song performed by the 22-year-old Lynn quickly became the unofficial anthem of British troops.
Composed by Ross Parker and with lyrics by Hughie Charles, "We'll Meet Again" spoke for soldiers leaving their homes and families. 
We'll meet again
Don't know where
Don't know when
But I know we'll meet again some sunny day
Keep smiling through
Just like you always do
'Till the blue skies drive the dark clouds far away

So will you please say hello
To the folks that I know
Tell them I won't be long
They'll be happy to know 
That as you saw me go
I was singing this song
We'll meet again
Don't know where
Don't know when
But I know we'll meet again some sunny day ...
Everyone from the Ink Spots to Johnny Cash to the Byrds to the Dropkick Murphys has covered "We'll Meet Again," but nothing matches the crystal strength of Lynn's tones on the original.
Pink Floyd's "Vera" (1979), from The Wall, reimagines "We'll Meet Again," and pays tribute to Roger Waters' father, Eric, killed at the Battle of Anzio in 1944. Tom Stoppard's magnificent play Rock 'n' Roll (2006) swirls around and about Syd Barrett and Pink Floyd as inspirations and guides both for the plot and for the main character Jan. Every time he, under the repressions and persecutions of the Czechoslovakian regimes from 1968 to 1989, speaks his tag phrase for optimism, "some sunny day," that day becomes closer — until the play concludes with the triumphant release of rock and roll, live, in Prague in 1990: The Rolling Stones, playing in the rain before an elected president, Václav Havel.
Yet this was not the song that would earn Lynn the nickname "the Forces' Sweetheart." The Battle of Britain was raging by the middle of 1940, with Hitler's armies having conquered France and other countries across the Channel, Strait of Dover, and North Sea from England. The White Cliffs of Dover, overseeing the Strait with their high, chalky faces, were symbolic of England since before Shakespeare memorialized them in King Lear (1606) or Byron numbered "thy cliffs, dear Dover" among "Albion's earliest beauties" in Don Juan (before 1824). In 1941, Walter Kent and Nat Burton wrote "(There'll Be Bluebirds Over) The White Cliffs of Dover." The song improbably praises a bird not native to England, implying a connection between the bright, swift little birds and the intrepid Spitfires. The small Birmingham-made planes with Rolls-Royce engines not only embodied English spirit but, along with the larger Hurricanes, saved England from German bombers and flew into legend. Their pilots, as the lyrics of the song describe them, were "the people I met braving those angry skies. / I remember well as the shadows fell, / the light of hope in their eyes. / And tho' I'm far away, I can still hear them say 'Thumbs Up!'" Lynn's recording of the song, and her live performances for troops, quickly became legend too.
Lynn has continued to record from 1935 until — perhaps — the present day. In 2009, she became the oldest artist (supplanting Bob Dylan with Together Through Life) to have a number-one album on the British charts. In honor of her centennial birthday, Vera Lynn 100 was released on March 17 by Decca Records. Boasting both new arrangements and vocals, it sold out instantly at Amazon.co.uk, which lists it at the No. 1 position for both Classical and Easy Listening, and No. 2 in pop. Earlier this week, Lynn's image was projected onto those White Cliffs. 
Dame Vera Lynn, 78, sings at the 50th anniversary celebrations for VE Day, 1995