Column
This Was Not Your Dad's MerleFest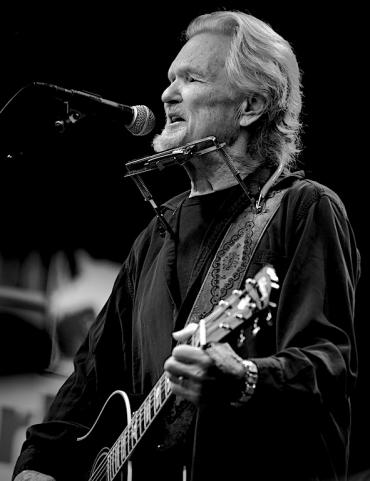 "This is not your Dad's MerleFest." — Overheard Comment
I heard that comment during Shinyribs' invigorating set at the Watson Stage Thursday afternoon, and as the four days of "traditional-plus" festival MerleFest, came and went, that was my assessment as well. Lots of artists, young and old, doing lots of different things that made you sit up, get out of your seat and take notice. I wonder what Bill Monroe would think if he saw two dreadlocked mandolinists joyfully, and expertly, taking his instrument in different directions? Along with the traditional, it was that kind of festival. Here are my takeaways.
Kris Kristofferson 
Let's give credit where credit is due: Without Kristofferson there would have been no Willie, Waylon, and the boys, no Outlaw Country, no alt-country, no No Depression. As with Dylan, he changed the landscape of what country could be and in the process the rest of popular music. It was with a great anticipation that a full crowd, on opening night, stayed as it rained to hear the pilgrim, the poet, the prophet sing his songs. Backed by Merle Haggard's band, The Strangers, he also did two Haggard songs.
While the voice may have gotten lost somewhere along the way, Kristofferson's wicked grin, piercing eyes, and generosity of spirit brought his lyrics home. I saw some folks being brought to tears. And in case you were not around during his heyday, as my friend Greta told her husband, "Honey, I love you, but if Kris comes calling I'm out the door." Maybe I shouldn't say this, but god, how I miss those days.
Americana
Somewhere folks, even many on stage, have gotten the impression MerleFest is a bluegrass festival. I never thought it was, as Doc and Merle did not play bluegrass. They played the essence of North Carolina roots, their roots, mixing in everything they heard, from bluegrass to swing jazz. The fest over the years has highlighted many of the branches from those roots, and this year there seemed to be an abundance of Americana artists.
The three most notable I heard were Lindsay Lou, Dead Horses, and Jeffrey Foucault. I enthusiastically reviewed the new albums of the first two, and their lone sets here were even better as they fleshed out the nuances of their music. Foucault's new album, Blood Brothers, won't be out till June, but I listened to a preview copy on my drive to the festival. I had to play it several times to make sure it was that good; it only got better. I caught both of his sets and even though his guitarist Bo Ramsey(!) couldn't make it, he was spellbinding. A direct link to Kristofferson.
International
Along with Americana, the other theme seemed to be international artists. There was a lot on offer, from the quiet, lilting vocals of My Bubba (Sweden and Iceland) to the high energies of Ireland's We Banjo 3 and Scythian (founded by sons of Ukrainian immigrants), demonstrating that everyone has their own roots music.
Others included Andrew Collins Trio (Canada, featuring twin fiddles and twin mandolins at times); Cardboard Box (UK); Doolin' (a Celtic band from France); Rosie & the Riveters (Canada, '40s swing vocals); Sarah Jane Scouten (Canada, a softer Lucinda); The Lonesome Ace Stringband (Canada); Tommy Emmanuel (Australia); and, of course, The Kruger Brothers who moved to the US years ago. 
Let's Dance!
The third thing I readily noticed was a lot of energetic music, the kind that made you get up and dance. But, other than the Dance Stage, none of the stage areas accommodates dancing. Not only that, but getting up and moving to the music is frowned upon and outright discouraged. We Banjo 3's set at the Walker Center got around that by having the audience get up and dance in front of their seats.
Dancers at the Hillside Stage had to improvisationally congregate at stage right, out of sight of the music being played. Yet, near the end of the Devil Makes Three's Sunset Session, many audience members ignored security, came down the hill, and danced in front of the stage. It was joyous. MerleFest, if you going to have danceable music, provide places to dance. In other words, let the people move and groove.
New Discoveries and Two Moving Moments
Cicada Rhythm, fueled by Andrea DeMarcus' tantalizing bass lines, mixed folk, blues, and jazz. Every year Roy Book Binder introduces us to new blues artists we now can't live without. This time it was Jody Carroll, whose textured blues and other roots were dark and haunting. Savannah Smith and Southern Soul's very early Friday morning set was so captivating that I forgot I had almost no sleep the night before. At ND's Henry Carrigan's suggestion, I also caught The Way Down Wanderers and I am glad I did. As Mother Church Pew magazine said, this banjo-mandolin based quintet "embarks on a locomotive-like barn-burning adventure and beckons us to join" in. They did that and more.    
As evidenced by the above and the photo slideshow below, there were many wonderful moments. However, in addition to Kristofferson, I found two others to be unbelievably moving. First was Alison Brown's sets featuring acoustic piano and flute. When I saw a very pregnant Brown at my first MerleFest in 2002, I was struck by the keyboard in her quartet. Especially so as I found her playing very piano-like. She kicked off one set with a Chick Corea tune from 1972's Return to Forever that originally featured the great Joe Farrell on flute. The sets, with some guests, only got better.
The other one was Hubby Jenkins' lone set at the Traditional Stage, where he presented to a nearly all white audience brutal stories and some of the history of African Americans in this country. I got the impression this was the first time many folks had been presented with the truth. As Richie Stearns says in the song "Get Around Behind Me," "Tell me how the West was won, in the language of the Sioux." We need more of this truth telling.
Chris Austin Songwriting Contest
While the contest has been going on for many successful years, the winners had been limited to playing their songs in a single combined set at the Cabin Stage. This year, each winner was given a 30-minute set to show the depths of their talents. This year's winners were: Vickie Austin (bluegrass), Beth Lee (gospel/inspirational), Amanda Fields (country), and Cliff Ritchey (general). I hope this continues so we can hear more of what folks like past winners as Gillian Welch, Tift Merritt, and Martha Scanlan have to offer early in their careers. 
Now, on to a scad of photos. My fingers are still sore from all that clicking.