Article
Watch Sally and George Fall in Love in 'Tip My Heart' Video (Premiere)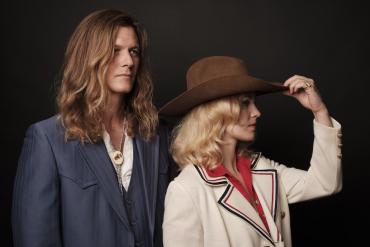 Sally and George, the new project from former Della Mae bassist Shelby Means and Sol Driven Train's Joel Timmons, is a fresh spin on a classic sound. The group's single "Tip My Heart" gives a nod to country duos like Johnny and June with an added dose of doo-wop. 
"Imagine a brother and sister in their early toddling years. They say to each other, 'Let's fall in love again.' They grab hands, position themselves side by side with their backs to the soft bed, count to three and go weak in the knees. The siblings fall simultaneously 'in love' and onto the bed in a pile of giggles," Means explains. 
"The whimsical lyrics of 'Tip My Heart' initiated from my early memories of the falling in love game. Twenty years later I was reminded of that feeling when talking to a gentleman with charming eye contact. I tend to fall in love just by looking into someone's eyes as the eyes are a window to the soul. Love can be dangerous, sometimes I slip and fall and crack wide open to a deep ever-flowing river of love and get washed away down the rapids, never the same."
Same, Shelby.
Means and Timmons actually got engaged back in the summer of 2016, so the doe-eyes in the video below are pretty real. The group worked with director Scot Sax to come up with the concept, which they shot in East Nashville. It's a silly, playful clip but there's a lot of heart in the underlying song which involves an easy bass rhythm, chicken pickin' guitar work, and call-and-answer vocals. 
Sally and George's debut record Tip My Heart is out now.