Column
A Weekend at Stuart's Opera House: Anna & Elizabeth, Valerie June, River Whyless, and More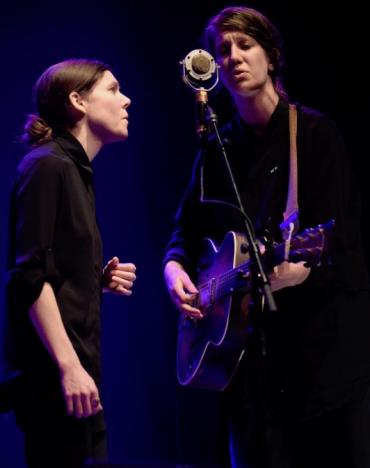 This week features two shows on successive nights at Stuart's Opera House in Nelsonville, Ohio, which I have written about before and in whose turn-of-the-century wooden seats I have witnessed many magical moments. From this past weekend, on the Nelsonville Square, surrounded by gentle Ohio hills where spring was waking up the land, are a few more.
Bob Boilen
First time I heard Bob Boilen, director of NPR's All Songs Considered, was, I believe, before NPR Music had its own dedicated website, when he introduced live streaming shows from Washington, DC's fabled 9:30 Club. He had a gracious enthusiasm that was endearing. I heard that in his voice again this past weekend when, for the second time in two years, he hosted a Songs That Changed My Life show at Stuart's Opera House. This time he presented Valerie June, Julie Byrne, and River Whyless. Here's my column on last year's visit.
River Whyless
I think Boilen and I have more than a few things in common. One of which he revealed that night: He enjoys attending shows where he knows nothing about the artist. Such was the case with Asheville's River Whyless, who he saw during an AmericanaFest, and whose sound, he said, "blends Americana roots with the finesse of Paul Simon." The song the band chose that changed at least one member's life was Graham Nash's "Military Madness." They had the good fortune to play with Nash during that week in Nashville. Here's River Whyless' Tiny Desk Concert.
Julie Byrne
By her own admission, Byrne was influenced by her father's guitar playing at an early age: "I grew up with the sound of his playing, which was fingerstyle guitar, so I would say that my style is completely rooted in his influence." The song that influenced her is two-fold: Jackson Browne's "These Days," as done by Nico. Byrne's dreamy lyrics punctuated by some tasty fingerpicking left me thinking her overall effect is that of a folky chanteuse. 
Valerie June
June needs no introduction. Playing solo with just a banjo or guitar, she spoke of her 520 teachers from the churches she attended as a child. It seems she would always sit next to different people at the two Churches of Christ: The black one had a congregation of 500, the white one, 20, and she'd sing like whomever she sat next to. To her embarrassment, because she didn't know, at the time, John Lennon's band history, the song that changed her life is "Imagine." It was done as the collective encore — to a standing ovation, as one would expect.
Anna & Elizabeth 
Anna & Elizabeth's live show began comfortably enough, drawing upon their experiences from when they lived in southwest Virginia and working their way through their new album, The Invisible Comes to Us. However, about halfway though it took on both a cultural and musical dissonance. While somewhat on the plaintive side, it certainly harnessed the invisible forces that only seem to be a distant relation and put them front and center. I have always felt the avant garde is just a stone's throw away from the unfettered traditional. 
A highlight was when Elizabeth LaPrelle picked up a laptop that played a Margret Shipman's "Jeano" from a scratchy 78 rpm record from 1943 then seamlessly went into their song, "Margret." With the minimalistic assistance of a breathy saxophone, tiny keyboard, or hushed percussion, what we witnessed that night was no apparition, it was spellbindingly real. The evening, like the album, to paraphrase the album's liner notes, took the people and the landscape in the songs these two women heard in kitchens and living rooms and put them in a world they saw. The tradition is not past, it continues, it reaches out its guiding hand and, if we are quietly inquisitive, the unknown becomes known. Like spring itself, tradition is in a perpetual state of renewal. 
Now, those photos, with a few from a friend from home who hosts a show on the local indie radio station and serves with the state film festival, Rafael Barker.