Column
What the Hell Is SXSW (Today, Anyway)?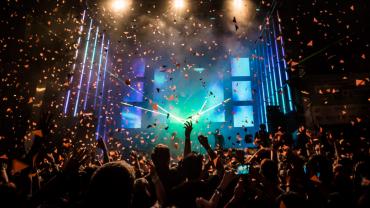 Lots of people I know casually, or even personally, people who are either my virtual or actual friends and acquaintances, seem to be going to something called SXSW that's happening in Austin, Texas, this week. "Is this extravaganza something for me?" I asked myself, knowing full well that for the couple known as Ted & Irene, it wasn't in the cards. When we were last in Austin, in the late '70s for a presentation I was making, the city was already a jumping place, filled with bars and clubs, quaint shops, and lots of music. It serves as the state capital and home of the state university, a potent combination. But it wasn't the center of world culture it appears to have become. I wanted to find out what goes on there nowadays, so I embarked on a virtual exploration of this thing called SXSW to find out and share it with y'all.
SXSW is the acronym for South By Southwest, an annual extravaganza founded in 1988 that back then attracted 170 registrants and an audience of around 700 for a music festival. The initial effort was designed to highlight Austin as a musical/cultural center of worldwide importance. It seems to have accomplished its mission and grown some.
This year, SXSW will host over 2,200 performers from 67 countries, a musical feast almost beyond comprehension. Featured are performers even well-informed music consumers and industry people have never heard, musical legends, and everything in between. In describing the festival, SXSW's website suggests the scope, describing the event thus: "Record labels, booking agencies, management and PR firms, export offices, publishers, media outlets, lifestyle brands, festivals, and more curate showcases with brand new, developing, and established talent looking to enhance their careers, gain unparalleled promotional exposure, and reach new audiences." Fortune Magazine estimated that last year's edition attracted somewhere north of 135,000 people with an economic impact of $317 million. In case you think you'd like to go, here's a beginner's guide.
But music is only one thread of this massive event, which has come to attract media Illuminati, promising political figures (Sen. Cory Booker of New Jersey was a keynote speaker this year, along with Joe Biden speaking about his war on cancer), and cultural, political, and entertainment observers and participants from around the globe. With three major threads – Music, Film, and Interactive (broadly: technology) – divided into performance and conference segments, SXSW has managed to include almost everything of interest to a living human. It's little wonder that the event has become a major outlet for media and commercial elements seeking to introduce and expand their influence. The speakers at the conferences draw as many people as do the performances of legends while every possible performance venue has live music. Given the location and the climate, Austin during SXSW has also become a major spring break destination for college students. You try to figure it out!
Cary Baker, a music writer and entrepreneur who attended all but the first SXSW, in an article telling how he has aged out of the festival, describes the scene like this: "I looked north on Congress to a sea of brake lights on the bridge between Riverside to Cesar Chavez and it dawned on me that the fastest way to get to my next show was not to hail a cab but rather to walk. Twenty-four blocks later, I arrived at St. David's drenched in sweat. But I got there. And that was 58-year-old me."
The film festival program in 2015 included 150 feature films and 106 short films from over 7,000 submissions. Along with film viewings, the concurrent film conference holds over 250 meetings of various kinds with more than 750 speakers, including top performers and industry movers, shakers, and innovators. The film industry uses SXSW to showcase comedies and to try to gauge how films will do in wider circulation. The event describes itself as celebrating "the convergence of the interactive, film, and music industries."
Veteran music writer and publicist Regina Joskow has this to say about the changes in SXSW over the years: 
I've been going since the late 1980s, when the whole thing was housed under one hotel's roof. And I would bounce from gig to gig with a pack of fellow publicists and writers. SXSW used to be THE music fest and conference. Now? Best for tech, film, and marketing professionals. I remember my fury, around 2008, when Doritos built a stage for Lady Gaga. Once, I had a bunch of writers say they would come see a developing artist, and they all bailed because Metallica was playing a "secret" club show. It was disappointing, to say the least. We used to kick off the conference with an annual gathering of writers and publicists, which was known as the "Hacks & Flacks" dinner, where everyone would sit around going over the schedule of bands, and recommending music to one another. Back in the day, there were no day parties, so your days were free to attend panels or explore Austin and have a nice dinner before showcases started. Now, if you want to attend a show that starts at 11:00, you probably need to be at that venue two or three hours ahead of time simply to make sure you get in. It's too big, too chaotic.  
Joan Kornblith, longtime on-air talent and writer for the Voice of America and currently a communications specialist with a government agency, commented: 
When I started attending, SXSW was first a business conference. Yes, there were showcases, but it called itself a music conference, not a festival. When I started going, there was only one conference, and I went to get "face time" with the people who sent me CDs for radio shows, the publicists who scheduled my interviews, the managers I needed to convince I was "big enough" for them to send me artists to interview. The showcases were secondary, it was pure business. And business did get done in those days, bands were discovered. Now, music is probably the least influential of the three events and I'm not sure who actually gets business out of the event these days. It grew so much from the original intent. Which was to get attention for unsigned or unknown artists from a particular part of the country. Now you have big name bands, huge names, taking part, along with acts from all over the world. And SXSW started as a music event. Now there is SXSW Film, SXSW Interactive, all [overlapping] in a two and a half week period. SXSW Music is no longer the big draw. Interactive is king!"
If I still had the energy, and money, to get to Austin, to try to study and make sense out of the huge schedule, and was consumed with the desire to see and share space with opinion makers and shakers from the entire world of big entertainment, big media, and big politics, I might try to get to SXSW. Here, for instance, is the complete list of music showcases. You try! But it's beyond me. NPR offered a list of 100 Artists to Watch at this year's SXSW. Impossible! And I can only find one bluegrass band in the entire schedule, a band called Wood & Wire.