Column
What Lives Behind Language: Rosanne Cash on Songwriting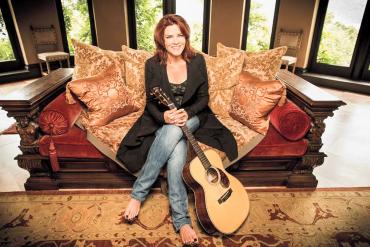 Last week I drove down to Raleigh, North Carolina, from Chicago. Now, in spite of the several map sites' suggestions that the most direct route was through the hills of Kentucky and the mountains of West Virginia and Virginia, I decided to head down to Nashville and over through Asheville; I knew the roads, and I thought I'd stop in Nashville—which is roughly halfway—if I was tired or the dark was coming on. On my way down, I stopped in to see some friends in their office—as well as to charge my phone and check email and get a good cup of coffee—and, in addition to running into John Oates in the lobby (my interview with him about his new autobiography is coming soon to this space), I was chatting with Craig Shelburne, and he said off-handedly, "you know what's going on over at the City Winery tonight, don't you?" When I told him I was still trying to decide whether to drive on east or to spend the night in Music City, he told me that an event called "The First and the Worst" was happening there—an annual event at which songwriters sing their first and their worst songs (which are sometimes one and the same)—and that Rosanne Cash, Steve Wariner, Sonny Curtis, and Frank Rogers were going to perform and that Peter Cooper was going to be the emcee for the night. I decided to spend the night and head over a couple of blocks to hear what songs these writers would call their "worst."
Following a songwriters-in-the-round format, each artist shared her or his worst or first song. Sonny Curtis—famous for writing the theme for The Mary Tyler Moore Show and "I Fought the Law"—broke up the audience with a "talking" song called "Clone," about a man self-reproducing himself and also a son named Cy Clone. Frank Rogers, who's written hits for Brad Paisley and Darius Rucker, won the "Crappy" Award for worst song for his tongue-in-cheek song that he swears is about animals called "Playing Possum." Wariner shared his first song, "The Whole World is Smiling but Me," which he played for Chet Atkins at RCA in 1977; Atkins said, "Um, that's interesting." Rosanne Cash sang the first song she ever recorded, "This Has Happened Before." "I wrote this song when I was 20, and I haven't played it live in 40 years. This is a lesson in public humiliation," she laughed.
Yet, for those few minutes while she was singing her first song, Cash held the room spellbound. I've no doubt that folks were saying to themselves—I know I was saying it to myself—"Rosanne Cash can't write a bad song; in her hands, even a song she's not proud of comes across as a moment of beauty and wonder." Peter Cooper said it out loud, though, when he declared that "most writers would give two fingers for a song like that, Rosanne." Cooper then reminded us that Cash had written one of the finest autobiographies he'd ever read.
Listening to Cash's music that night—she went on to sing "I Don't Know Why You Don't Want Me," on which Rodney Crowell joined her, as they sang the song together for the first time ever; "Seven Year Ache"; and "Blue Moon with Heartache"—reminded me just how powerfully her lyrics and her music transport us to a place beyond ourselves. Her carefully and lovingly crafted lyrics attest to the poetry of life—its ugly corners, its crevices filled with despair, its cracked hopelessness, its tender redemptive embrace, its enduring hope, its unfolding and nurturing love—and her music carries us along on a meandering stream whose waves undulate, toss, and caress.
What Cash achieves in a song, she also achieves in her compelling and entertaining autobiography. Following that evening last week, I returned to her book, Composed: A Memoir (Viking), which is now seven years old, to hear her voice as she tells the stories of her childhood, her youth, and her early attempts at songwriting, her marriages to Crowell and John Leventhal, her journeys in childbirth, and her brain surgery, but, most of all, to listen to her rich voice talk about writing and her moments of losing herself in songwriting and music. Indeed, you can read Cash's memoir to discover the intricate and sometimes fraught web of relationships with her mother and father or with her siblings, and while those moments offer a glimpse into Cash's identity, the real beauty of the book lies in a few passages in which she smartly, cannily, and with deep elegance describes her songwriting and the mystery and beauty of it.
On the very first page, in the very first paragraph, we know we're in different territory than we are with any other memoir when Cash bares herself: "For my entire life I have been trying to give voice to the rhythms and words that underscore, propel, inform me. Because my peripheral vision is more acute than my direct powers of observation, and my love of an A-minor chord is more charged and refined than my understanding of my own psyche, I have often attempted to explain my experiences to myself through my songs: by writing them, singing them, listening to them, deconstructing them, and letting them fill me like food and water. I have charted my life through not only the songs I've composed, but the songs I've discovered, the songs that have been given to me, the songs that are a part of my legacy and ancestry. Through them I've often found meaning, and relief, while at other times I've failed to recognize or understand a rhythm or a theme until it became urgent or ingrained and I finally came across a song that captured the experience." Do we really need to read any further? With that heart-on-sleeve honesty and probing wisdom, we know we're in the presence of an artist whose restless desire to meld lyric and music has taken hold in the her deepest soul and resides there.
Much later in the book, she reflects on that first song that she sang last week. "The first good song I ever wrote took me the better part of a day. I lay on the floor of Renate Damm's apartment in Munich in 1978 and didn't lift my head, except to quickly eat something or to go to the bathroom, until it was finished. It was called 'This Has Happened Before'. It's a young woman's song, tentative and too self-referential, too navel-gazing, but not to an extreme that would make you squirm. It's well-constructed, painstaking even, and I can hear the hard work in it. I was very proud when I finished that song, and it was the first time I felt like a real songwriter. I was 20 years old." It's that last sentence that's revealing; it's an admission both of a felt inadequacy and at the same time an embracing of the ability that she's earned from years of writing, as well as a recognition that she'll write even more beautiful songs as she grows older in time and experience and reflection.
In the last few pages of her memoir, Cash shares firmly and directly her vision of herself as a songwriter. Go read those last five pages of the book; they're worth the price of admission. I can share only a fragment here, but Cash's view of herself here reveals why the crowd last week was spellbound when she sang that first song. "I want to know what lives behind language," Cash writes. "I am both ennobled by words and rhyme. The songs have been an attempt to discover the mysteries. In a more proscribed way, my life is contained entirely in my songs."
And she shares her fears: "I have a fear that I have a personal quota, bestowed at birth, of first-rate songs allotted to me, and I worry, after every new song I write, that I have finally reached the magic number. So, inevitably, mixed with the satisfaction of accomplishment is anxiety and sadness that this might be the end. The uncertainty is vexing, but it keeps me humble. I am always a beginner." When Rosanne Cash—whose songs radiate beauty, mystery, and honesty—opens her soul like this and admits to her fears as well as her embrace of humility, then every songwriter probably wants to listen closely and consider carefully the arc of their own craft.
In the end, Cash admits: "I sing to the six percent, and they are me. I am not a pane of glass. There is light and it always available. Much of it comes through music; at least half. And it turns out that a lonely road is a bodyguard."
By the final few pages, Cash has so pulled us into her heart and her struggles that we don't want her to still her voice. We have her songs, of course, but in Composed she shares herself and her insights into her songs that draw us into her world as if we were sitting on her porch and she were talking to us. The good news is that she considers this a "first installment of an ongoing story" and promises there is more to come. And that is welcome news indeed.