Column
When Great Musicianship Isn't Enough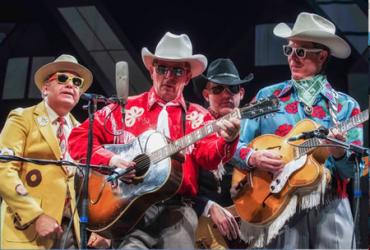 Every bluegrass fan can think of a newly formed band that had them thinking, "Wow! This band can't miss. It's packed with stars and strength at every position. A sure thing." Or a musician who's clearly a great technician on his or her instrument, or a singer who stands out. But then, after a few years of full schedules, they begin to loose steam and, sometimes slowly, sometimes quite abruptly, disappear from the scene.
But the bands that make a splash and also stick around, almost without exception, are ones that combine fine musical performance with entertaining presentation. Just as bluegrass music rewards improvisation in the music, it also recognizes originality and entertainment in what goes on between the songs. For many bands, finding the right combination of musicality during their songs and entertaining interactions between them spells the difference between fleeting admiration for instrumental excellence and stardom.
That between-song banter can be carefully planned and choreographed or much more spontaneous, and, like the music, it's complicated by the fact that different audiences and different fans prefer different interpretations of what bluegrass is and how it should be presented. Reactions range from "shut up and sing" to "there's nothing happening up there on stage."
Del McCoury is one band almost universally admired, largely because of the warmth of McCoury's presence, along with the virtuosity of his band. Here's an example called "Eli Renfro."
Early bluegrass was often leavened by baggy-pants humor hearkening back to the days of vaudeville. The featured comedian, either the bass player or the banjo player, became the clown. One musician in this vein who's still touring and entertaining is Little Roy Lewis, the youngest son of the famous Lewis Family from Lincolnton, Georgia. Here's an example of them singing "There's Honey in the Rock" with characteristic energy, merging the family's commitment to gospel music with broad humor.
Despite the nostalgia many feel for the music of the Lewis Family, and many others like them, both the expressions of faith and the presentation of bluegrass the music have changed considerably. And so has the comedy.
Ron Thomason, the founder and lead singer of the Dry Branch Fire Squad, brings contemporary humor and subtle, often satirical humor to the stories he tells. Since his son enlisted in the armed services after 9/11, Thomason has been singing the song below, which celebrates the sacrifices Americans make for their love of country. To me, Thomason's performance of this song is one of the strongest manifestations of patriotism, love of family, and loss to be found in bluegrass today — but even as his intro of the song is heartfelt and takes on some serious subjects, it's delivered with a dose of humor. Written by Gussie L. Davis in 1899, the song commemorates in the strongest way the loss of a loved one.
The Gibson Brothers are unusual in bluegrass, having grown up in the far northern reaches of New York State on a farm just south of the Canadian border. Raised on hard work, country music, and bluegrass, they soon found their voices melded pleasingly as they began singing together in church, and eventually took their singing and playing to festivals and then touring. Winners of numerous awards for songwriting, they have also been twice named IBMA Entertainer of the Year. Much of their appeal comes from the honest warmth of their singing combined with the biting humor of their sibling rivalry, which never crosses the line into nastiness or becomes cringeworthy. Here's a three-song medley of a performance of theirs recorded at their alma mater, Plattsburg State University, where they both majored in English. It captures both their performance and the natural interactions between the two brothers, separated in age by only eleven months.
Hot Rize was founded in 1978 with new ideas and strong musical appeal. They toured nationally with great success until disbanding in 1990, with occasional reunion tours until the death of guitarist Charles Sawtelle. In 2002 they re-formed with Bryan Sutton on guitar and continued with limited tours. Hot Rize, besides being noted for its overall musical quality, created a change of pace by incorporating a faux western swing band called Red Knuckles & the Trailblazers. Red and the Trailblazers (who may seem a tad familiar if you look close) perform during an intermission between Hot Rize's two sets, appearing in bizarre costumes as a humorous change of pace. Here are Hot Rize singing the Pete Wernick song "Just Like You" followed by "Roughneck Blues" by Red Knuckles & the Trailblazers. Seemingly a gimmick at first, the inclusion of the Trailblazers is always a much anticipated part of a Hot Rize show.
Many bluegrass musicians must work a part- or full-time straight job in order to make a living. That makes it difficult for bands to get together regularly to rehearse and refine their performances, to work on bits as well as songs to enliven their shows. Yet success often depends on what goes on between the songs. Whether the appeal is built on the relationship between two people on stage (Rhonda Vincent and her son-in-law Hunter Bery, Jamie Dailey and Darrin Vincent clowning with Jeff Parker, Doyle Lawson's controlling the impish Josh Swift) or creating interesting by-play, entertainment value counts. Building a show is equally as important as arranging a song. It's the mix of music and personality that creates great bands that have broad impact. Finding that unique niche that sets one band apart from another is hard, hard work ... and worth every minute of it.