Article
The Whiskey Gentry Meld Twang and Psychedelic Rock on 'Looking for Trouble' (Premiere)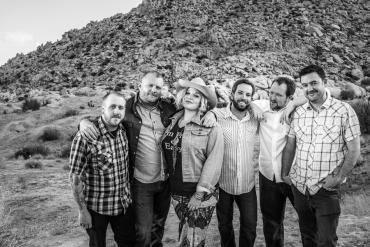 Dirtbox Telecaster and a ten-gallon acoustic guitar break open the Whiskey Gentry's new single "Looking for Trouble," a cut from the Atlanta band's next record Dead Ringer. 
"To put it simply, 'Looking For Trouble' is about being in a committed relationship. It's really hard sometimes, and it takes work to compromise and change traits or habits about yourself that don't make your partner happy," the band's Lauren Staley tells No Depression. 
Speaking of dead ringers, Staley's vocals fit nicely into the Kacey Musgraves/Maren Morris gallactic country orbit. This gentry, however, has a whole lot of Western influences and a trunk full of guitar tremolo that makes "Looking for Trouble" feel like an authentic ride through the desert. 
"It's a new crowd favorite for our fans," she adds. "Not only because I think the lyrics are human and relatable, but also because it's kind of spacey and psychedelic, which is a different vibe for us. It's definitely one of the highlights of the new record for me."
After the second chorus, the song really does venture into psychedelic territory with phasers set to kill. It's an interesting coda, capping off a great straight-forward twang rocker with drama. 
The Whiskey Gentry's new LP, Dead Ringer, comes out April 7 on Pitch-A-Tent Records and is available for pre-order right here.

THE WHISKEY GENTRY TOUR DATES:
Mar 09 - The Buckhead Theatre w/ Dwight Yoakam - Atlanta, GA
Mar 15 - SXSW - Atomic Music Group Presents @ The White Horse - Austin, TX
Mar 17 - SXSW - NoiseTrade & PledgeMusic present FryeDays @ The Blackheart - Austin, TX
Mar 18 - SXSW - Brooklyn Country Cantina @ Licha's Cantina - Austin, TX
Mar 31 - The Willow Tree - Johnson City, TN
Apr 01 - Barley's Taproom - Knoxville, TN
Apr 07 - Center Stage - Atlanta, GA
Apr 08 - 40 Watt - Athens, GA
Apr 27 - New Brookland Tavern - Columbia, SC
Apr 28 - The Evening Muse - Charlotte, NC
Apr 29 - The Grey Eagle - Asheville, NC
May 5 - Jack Rabbits - Jacksonville, FL
May 11 - The Burl - Lexington, KY
May 13 - The Basement - Nashville, TN
May 19 - Revelry Room - Chattanooga, TN
May 31 - The Broadberry - Richmond, VA
Jun 1 - Hill Country - Washington DC
Jun 2 - Hill Country - New York City, NY
Jun 3 - The Shaskeen - Manchester, NH
Jun 4 - Atwoods Tavern - Cambridge, MA
Jun 7 - Sellersville Theatre - Sellversville, PA
Jun 8 - Howlers - Pittsburgh, PA
Jun 9 - MusicBox Supper Club - Cleveland, OH
Jun 10 - RibFest - Chicago, IL