Column
The Women of Harpeth Rising Reflect on Places and their Influences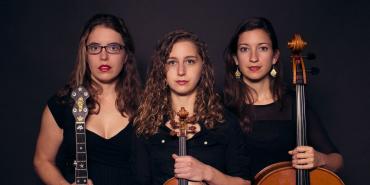 Hailing from three very different locales, the three members of Harpeth Rising unified behind a shared love of classical music to forge a new sound.
"We majored in classical music in college," says cellist Maria Di Meglio, who was born and raised in Brooklyn, New York, and now lives in Columbus, Ohio. "It's one of our biggest influences and the language we speak when we write. We also add to it our love and passion of folk and the great songwriting tradition, rock, old time, gypsy jazz, and other styles to inform and express ourselves in the truest and most honest way that we can."
Most music critics would probably simply call Harpeth Rising a folk group, but, with Michelle Younger on banjo and Jordana Greenberg on violin, and all three sharing vocal harmonies, the resulting sound is so much more. Younger hails from Charlottesville, Virginia, and Greenberg grew up in Ontario, Canada.
Di Meglio paints an Old New York picture of her upbringing in Brooklyn's Carroll Gardens neighborhood.
"It was an Italian-American blue-collar neighborhood then — block parties, open fire hydrants in the summer, stickball in the streets after dinner, and let's not forget the pasta and pizza," she says.
Di Meglio says growing up in a multicultural city gave her a deep respect and appreciation for other cultures.
"If I wanted to be a part of the conversation, I had to open my worldview," she says. "That absolutely influences my approach to music making, and I feel that learning and performing different styles of music makes me a better musician and interpreter."
Younger has a very different take about her hometown.
"Charlottesville had a lot of influence on my music, but not until after I left," she says. "That part of Virginia has a lot of banjo music flowing through it. I don't know how, but somehow I didn't hear it! I didn't start playing banjo until I was living in Rochester, New York, working toward a master's degree in classical guitar performance."
Younger worked at a vintage banjo/guitar shop to help pay the bills while in school.
"I got hooked on banjo very quickly and immediately fell in love with Appalachian old-time music," she says. "The more old-time I learned, the closer it brought me back home, musically speaking. I learned to play the banjo from several recordings made in and around Charlottesville, so it was a big influence on my banjo playing despite the fact that I was living 500 miles away. Now it's a part of me as a musician."
Greenberg lived her first few years on Ontario's Manitoulin Island, a freshwater island in Lake Huron, but then moved to the US with her family.
"My family moved to Paoli, Indiana, when I was 8. Paoli is deep southern Indiana, almost to Kentucky. There are 3,000 residents. My parents moved there to pursue a dream of owning land and building a log cabin. ...
"The music we listened to in the house growing up was a lot of Canadian folk; Stan Rogers is our Yoda, Leonard Cohen is our god. But I studied classical violin in the pre-college program at Indiana University and played old-time tunes with musicians in Paoli, so those are huge influences for me. I've never had a strong national identity. I am now a member of my community — in my Price Hill, Cincinnati, neighborhood and my hometown of Paoli — and those are deeper ties than I feel to either country."
Harpeth Rising points to its most recent album, Against All Tides, and Shifted as the works most representative of the band today. The group has begun recording a live album in a former firehouse where Greenberg is a youth-orchestra instructor down the street from her house in Cincinnati.
Against All Tides differs from Shifted for various reasons.
"There are some obvious technical changes, such as the appearance of guitar on
certain songs as opposed to banjo and the opening track featuring bluegrass-style picking versus clawhammer," Greenberg says. "There are also pretty significant differences in the writing. The songs on Shifted, though written in late 2014-2015, are an expression of the period of my life in the seven to eight years preceding its release. They are largely internal and a reflection of the emotional and mental evolution following my brother's death in 2007.
"Against All Tides is much more immediate," she says. "The songs were reactions to my real-time experiences in the past 18-24 months. Some are overtly political responses; others come from the time I spent living on my parents' farm
in southern Indiana, relatively isolated from people but surrounded by nature and its unapologetic cycle of life. For both albums, our only real objective was to present the songs honestly, and I think we did that. Honest looks different for every musician. For us, that means arranging the music in a very detailed way. It's not always straightforward, but I do think it is authentic to us."
What's the difference between Harpeth Rising on an album and the group live?
"Harpeth Rising recorded is where we can breathe deeply and focus on creating a version of our songs that rings true to who we are," Di Meglio responds. "It's music that we can hold up to the light and, upon inspection, find every detail lovingly recorded so you can find new things each time you listen through."
"Harpeth Rising live is like watching a sporting event in the sense that every action and movement affects and moves the game forward," she says. "In our live shows, we feed off the energy of the audience and each other, and, through our cues and phrasing, we communicate and switch things up on the turn of a dime. It keeps our shows energetic for us and our audience."
The best live show Di Meglio has ever seen by other musicians was a performance by the Beaux Arts Trio in Bloomington, Indiana.
"Their pianist is Menahem Pressler, who has a full concert calendar and is 94 years old," she says. "When he sits at the piano and plays, you are transported. It made my hair stand on end and electrified me. In their playing, you hear such
respect and reverence for the music. It was so tender and vulnerable and showed me the capability of music."
Younger says the concert that stands out in her mind is one by the Wood Brothers in Rochester, New York, at the Rochester International Jazz Festival in 2015.
"I had never really listened to their music before that day, so I was going into the concert not knowing what I was about to hear," she recalls. "I was absolutely blown away. I loved it so much that I waited in line for an hour or so right after
to see their second concert. Their musicianship and skill were incredible, their stage banter was funny and engaging. But what really struck me was how they played together. They really knew the ins and outs of each other's playing, and it really came through in the music. They were stunningly tight as a group and as individual players."
Greenberg vividly remembers a Leonard Cohen concert in Louisville, Kentucky, in 2014.
"He managed to communicate through every gesture and every phrase—even when he spoke the words to songs that he used to sing," she says. "His reverence for the musicians on stage with him was palpable, as well as his immense
respect for the audience. I hope to be that kind of musician by the time I'm in my 70s."