Album Review
Matt McGinn - Latter Day Sinner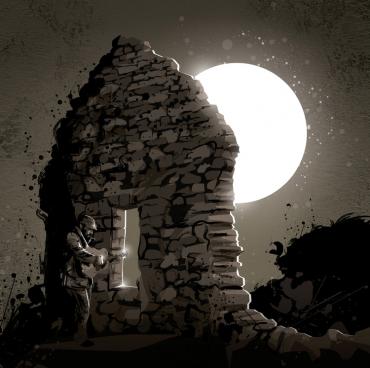 Latter Day Sinner is Matt McGinn's second studio album. It mixes folk with Americana, crafting landscapes and small silhouettes that try not to be seen.
The acoustic folk-rock singer from a Mourne Mountains village in the North of Ireland released his debut album Livin' in 2010. Two years later, he was performing at the Belfast Nashville Festival with Nanci Griffith, and this led McGinn to Nashville itself where he started collaborating with Canada's Madeleine Slate. Three of their co-writes appear on Latter Day Sinner.
"I'm Not Looking Down Anymore" is a good example.  Simple guitar opens it like a barefoot walk across the lawn. Then McGinn's voice strolls over, singing to itself. The melody is yearning and beautiful. When Slate starts singing, she sounds young and careworn, but her voice layers well with the peat and bark in McGinn's.
"World Of Time" is another co-write with Slate. The key is different, the tone of voice is stronger, the guitar is sparse and mollifying, like it's trying to keep things calm. By the time we reach the chorus, he is composed, and his Mourne country accent is round and clear. ("…And as far as I can tell, my good is good enough.") The last "good" is lengthened to prove his point; and with a calm final flourish on the guitar, the song ends. Time's up.
Are those drum brushes on "Fall into You"? The track has a lovely background whisper, like clothes being folded. Then dream-heavy harmonies manage to lift it up after McGinn's clean voice washes a path through it all. This song is gorgeous. There is a touch of Van Morrison here, at his romantic best. The best of it opens an ache in you, or puts words to an ache that you've had for a long time.
Country blues are on offer as well on title track "Latter Day Sinner". McGinn's voice naturally falls into sandy country vocals; it even gets a bit breathy in parts. The clapping and Hammond organ hint at a TV preacher channel playing in the background, while strident guitar resonates between verses.
As I listened, I found myself studying the album's sepia artwork in a way that reminded me of buying LPs all those years ago and making stories out of the graphics. From sight and sound, this album truly is beautiful.
Latter Day Sinner mixed by Matt McGinn and Gareth Dunlop. Cover illustration by Mark Reihill
Video: Matt McGinn & Band - "Live in the Living Room". This review was originally published in GiggingNI http://www.giggingni.com/