Discussion
Win a Copy of the Grateful Dead's 'May 1977: Get Shown the Light' Box Set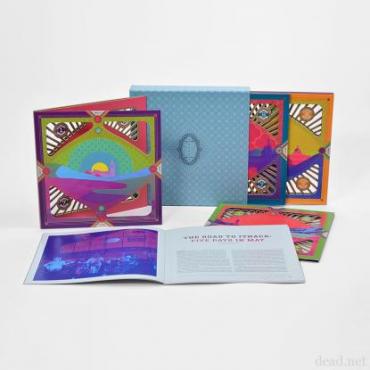 Do you want an absurdly amazing Grateful Dead box set? Of course, you do. We're giving away a copy of May 1977: Get Shown The Light, an 11-disc box set that features the Grateful Dead's Cornell University show (5/8/77) along with three other previously unreleased concerts, to one lucky member of the No Depression community.
From a press release:
The Grateful Dead played more than 2,000 concerts, but none continues to spark interest and provoke discussion quite like the band's performance at Cornell University's Barton Hall on May 8, 1977. It is one of the most collected, traded, and debated concerts by any band ever, has topped numerous fan polls through the years, and was a favorite of the group's longtime archivist Dick Latvala, who stated: "Enough can't be said about this superb show." Even Uncle Sam got into the act in 2011 when the recording was "deemed so important to the history and culture of the United States" that a copy was added to the Library of Congress' National Recording Registry.

To celebrate the 40th anniversary of that magical show, Dead.net will release MAY 1977: GET SHOWN THE LIGHT, a new 11-disc boxed set that features the commercial debut of the Cornell University show (5/8/77) along with three other previously unreleased concerts: Veterans' Memorial Coliseum, New Haven, CT (5/5/77), Boston Garden, Boston, MA (5/7/77), and Buffalo Memorial Auditorium, Buffalo, NY (5/9/77). As if that weren't enough, the source for these recordings is the legendary Betty Boards, which Jeffrey Norman has mastered in HDCD for unrivaled sound quality. The transfers from the master tapes were produced by Plangent Processes, further ensuring that this is the best, most authentic that Cornell (and the other three shows) has ever sounded.
To enter: Comment here with your favorite Grateful Dead memory, whether it was a show, an album, or just the right song at the right time. We'll choose one winner and send them a copy of the album. Comments posted on social media don't count toward the contest. Anyone may enter but prizes can only be sent to US addresses.
Comment anytime between 12:01 a.m. Eastern on Friday (May 12) and 9 p.m. Eastern on Thursday, May 18. The winner will be announced shortly thereafter.
(More info about the album, including a full track listing, is available here.)