Discussion
Win a Copy of "The John Mellencamp Vinyl Collection 1982-1989"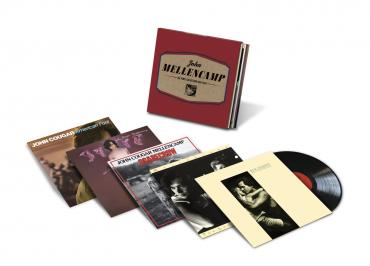 From 1982 to 1989, John Mellencamp released some of the finest, most popular work of his career, including hits like "Jack and Diane," "Hurts So Good," "Pink Houses," "Authority Song," "Paper in Fire," and the list goes on. Well before we called the stuff "Americana" -- and certainly well before Americana radio was even a thing -- Mellencamp was making rootsy rock and pop music via these chart-toppers. 
So, we're teaming up with the fine folks at Universal Music to give away this box set of five albums from that period of Mellencamp's career, on vinyl. 
To enter, simply comment on this thread telling us a story about a time you remember hearing one of Mellencamp's biggest hits, or share some of your favorite lyrics. We'll choose one lucky ND reader to get a copy of this collection in their mailbox. 
You have until midnight Pacific time on Thursday, June 16, to enter. Comments posted on social media don't count toward the contest. Anyone may enter but the prize can only be shipped to a US address. 
From the press release: 
Five John Mellencamp albums have been scheduled for reissue on 180-gram vinyl LPs on June 10 by Mercury/UMe. New lacquers for American Fool, Uh-Huh, Scarecrow, The Lonesome Jubilee, and Big Daddy were cut from their original analog master tapes by Chris Bellman at Bernie Grundman Mastering, with the vinyl LPs manufactured by Record Industry. The albums are available now for preorder, individually and gathered in a limited edition 5-LP vinyl box set, The Vinyl Collection 1982-1989.
John Mellencamp's career in music, spanning more than 35 years, has seen him transition from pop star to one of the most highly regarded songwriters of a generation. The Voice of the Heartland continued to evolve artistically with Plain Spoken, John's 22nd full-length album. Mellencamp is incredibly acclaimed. He is a member of the Rock and Roll Hall of Fame, a Grammy winner, a recipient of the John Steinbeck Award, ASCAP Foundation's Champion Award, the Woody Guthrie Award, and Americana Music Association's Lifetime Achievement Award. He is also one of the most successful live concert performers in the world. Recently, at the 33rd annual ASCAP Pop Music Awards in Los Angeles, Mellencamp added another prize to his collection: the Founders Award, the top honor assigned by the American Society of Composers, Authors and Publishers. The social activism reflected in his songs helped catalyze Farm Aid, the concert series and organization that has addressed the struggle of American family farmers for more than 25 years.